Best And Worst Zodiac Signs At The Box Office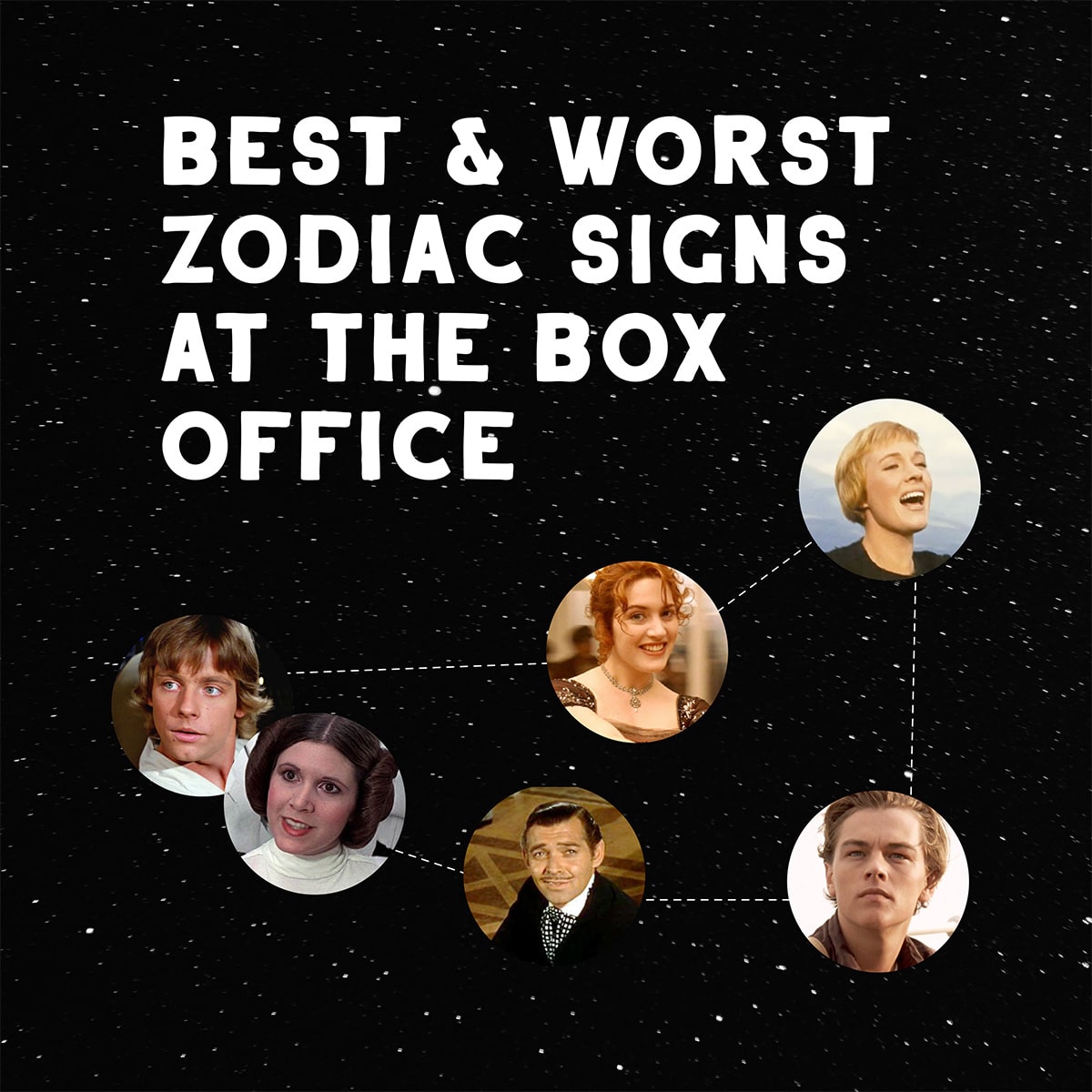 The most successful movies of all-time all have one thing in common — great stars. But what if other types of stars helped fuel the most passionate on-screen romances, nail-biting dramas, and knee-slapper comedies?
The film industry was decimated by Covid-19. Movies stopped production, actors were out of work, and viewers were so starved for entertainment that we made ourselves believe "Tiger King" was actually good.
Thankfully, it appears the movie industry is finally making its "Rocky"-like comeback. This summer two films have already crossed the $400 million threshold: "Top Gun: Maverick," starring Tom Cruise, and "Doctor Strange in the Multiverse of Madness," starring Benedict Cumberbatch and Rachel McAdams.
And it could not have come a moment too soon, because during The Great Movie Shortage, our team analyzed the zodiac signs of the actors in the highest-grossing movies all-time to see if we could spot trends. And much like those kids in "Goonies," we found a treasure trove.
We analyzed the 200 highest-grossing movies all-time at the domestic box office using inflation-adjusted numbers from IMDB's Box Office Mojo and can report the following:
The Best and Worst Zodiac Signs at the Box Office
Most Commercially Successful Actor for Every Sign
The Most Represented Signs in the 10 Highest-Grossing Movies
Best and Worst Zodiac Signs at the Box Office
Scorpio ranks No. 1, which makes sense, as they are emotional, intense, vengeful, and known to be the sex gods and goddesses of the zodiac. If you ever wondered why you could not stop staring at Leonardo DiCaprio, Ryan Gosling, or Julia Roberts, now you know.
Libra came in at No. 2 likely due to their extroverted and charming nature. Their strong desire for justice shines during dramatic scenes on screen. A-listers such as Matt Damon and Kate Winslet are among Libra royalty in Tinseltown.
Scorpio and Libra are the two top signs in large part to two actors — Leo (a Scorpio) and Kate (a Libra). The pair are famous for their roles in "Titanic," which earned an inflation-adjusted $1.2 billion, making it the fifth-highest grossing film in history. The love compatibility of these two signs is an intensely sexual one, evidenced by the steaming up of that automobile below deck. However, they also are known to have trust issues, so had Jack survived (there absolutely was room on that door) and there was a sequel it may have gotten testy.
Capricorn was the No. 1 worst sign. Known for being stoic, stubborn and inflexible, this may make them less adaptable as actors, though Denzel Washington and Jared Leto would quibble with this.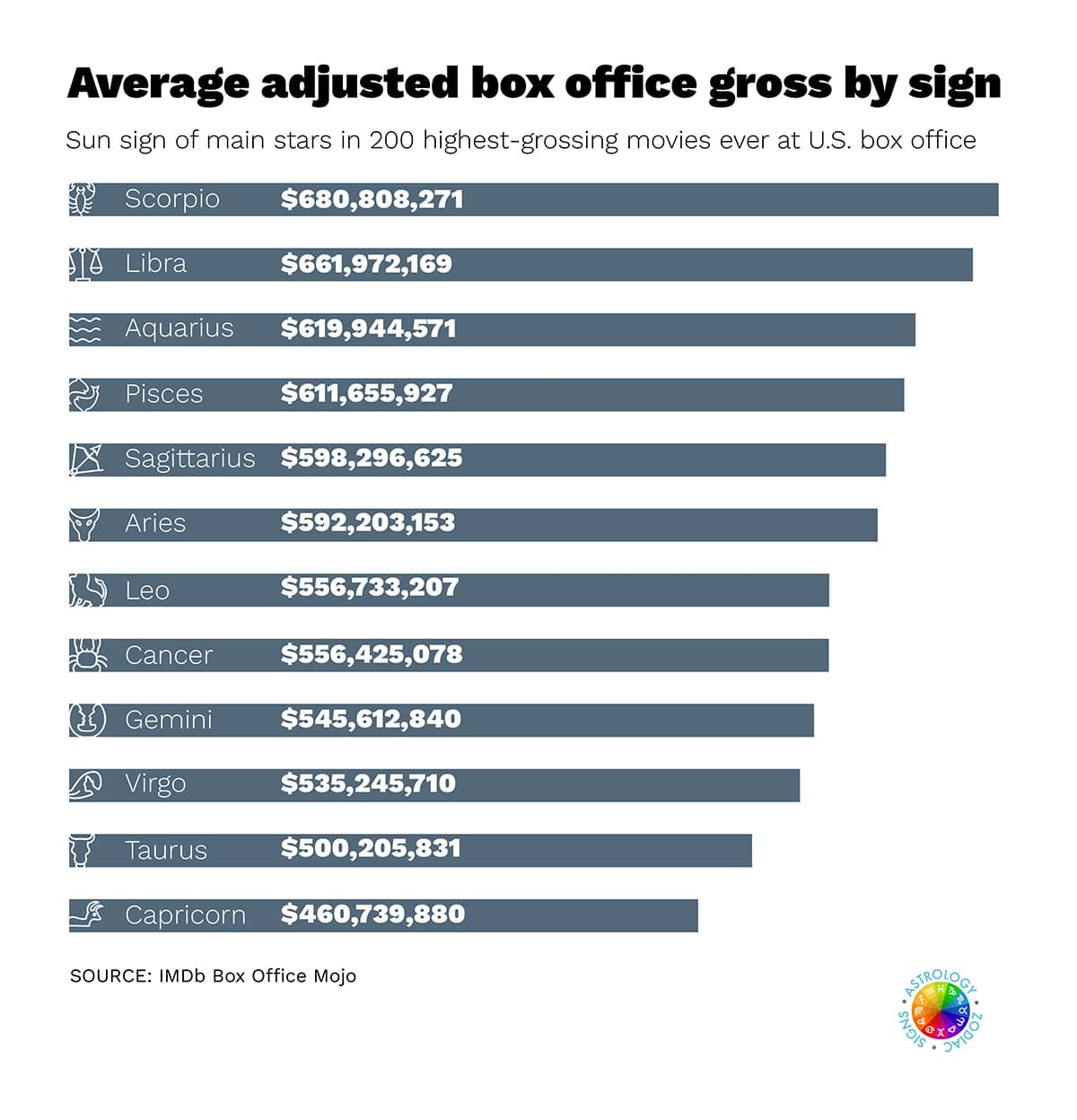 Highest-Grossing Actor for Every Sign
The list includes classic leading men and women like Al Pacino, Ellen Burstyn, and Kate and Leo; character actors such as Liam Neeson and James Earl Jones; and due to the success of "ET," child actors such as Drew Barrymore and Henry Thomas.
But they all fell short of the actor with the highest average gross (since 1970), Academy Award winner Alec Guinness, an Aries. In addition to starring as Obi-Wan Kenobi in the original "Star Wars" films, the English actor, who died in 2000, also appeared in two other films listed on the top 200, "Lawrence of Arabia," No. 84 on the list, and "The Bridge on the River Kwai," No. 93 on the list.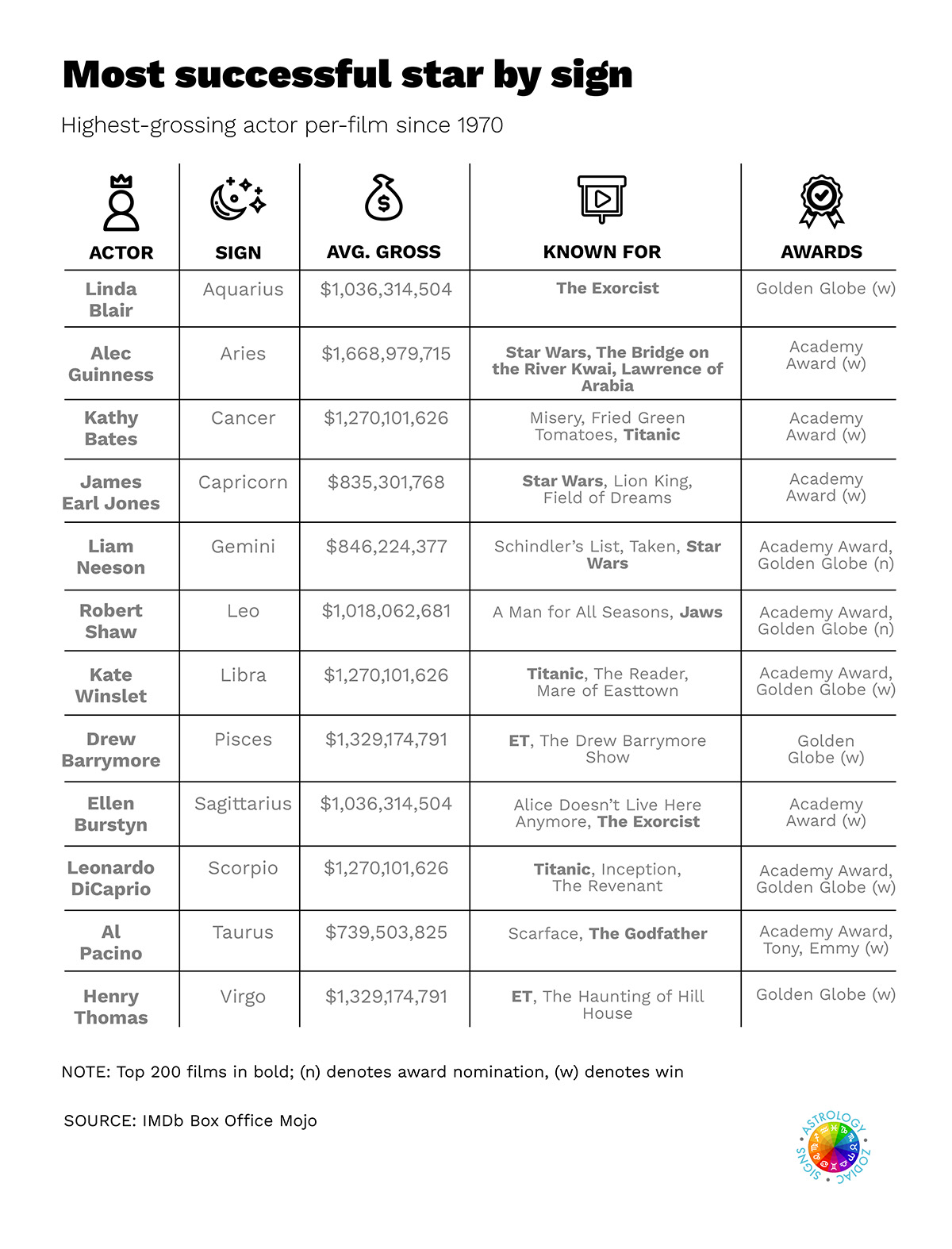 Top 10 Movies by Sign
None of the movies in the top 10 had a star born under Capricorn, which was the only sign not to be represented by at least one star in the top 10 all-time list. Gemini and Taurus had one actor each, while Virgo had only two. Libra was the most well-represented, followed by Sagittarius.
Most movies had only one star in a given sign, but two of the films had some overlap, with "Jaws" and "Doctor Zhivago" both featuring more than one star with the same sun sign. Roy Scheider, who played Chief Brody, and Richard Dreyfuss, who played marine biologist Hooper, are both Scorpios, which perhaps helped them battle the title character in "Jaws." And the two main stars of "Doctor Zhivago," Omar Sharif and Julie Christie had natural spark, as they were both born under Aries.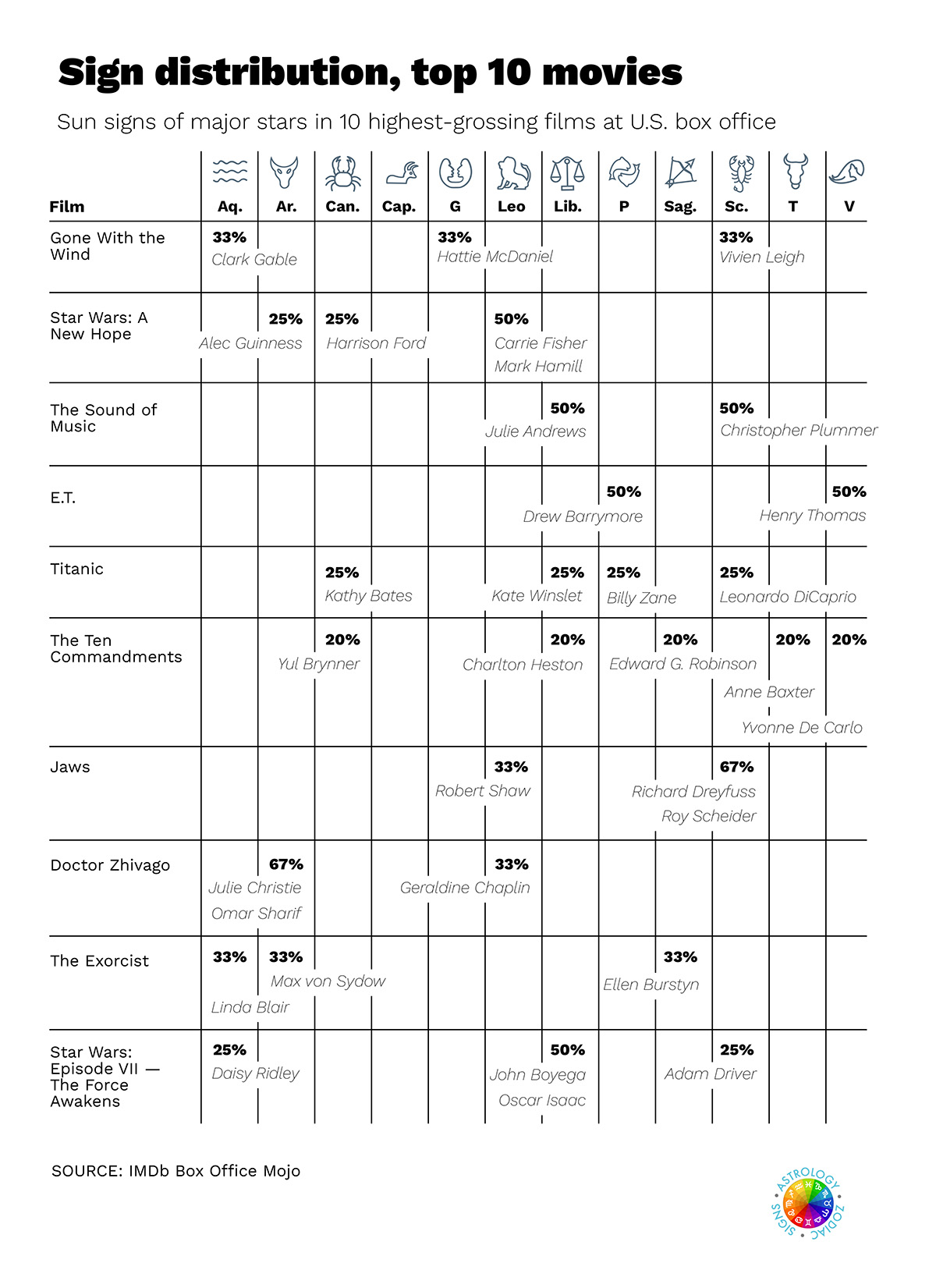 Conclusion
Actors are actors for a reason — because they can pretend to be someone unlike themselves. However, our analysis shows that certain signs may connect with moviegoers more than others, depending on their role and how they vibe with their astrological co-star. If you are an aspiring actor but fall under one of the 'Worst' signs on our list, do net fret. The list should be taken with a grain of salt since we only examined the 200 most commercially successful movies of all-time. Obviously, had we factored in any movie starring Corey Feldman (Cancer) the rankings would look different.
Methodology
We analyzed the 200 highest-grossing films of all time based on the most recent inflation-adjusted data for the U.S. domestic box office from IMDB's Box Office Mojo. We used inflation-adjusted numbers to create a level playing field and to avoid recent movies monopolizing the analysis. We then compiled a list of the main stars of each film, which included at least one actor per film and as many as five, depending on the movie, as well as their sun signs.