Bravery Rewarded By Venus In Leo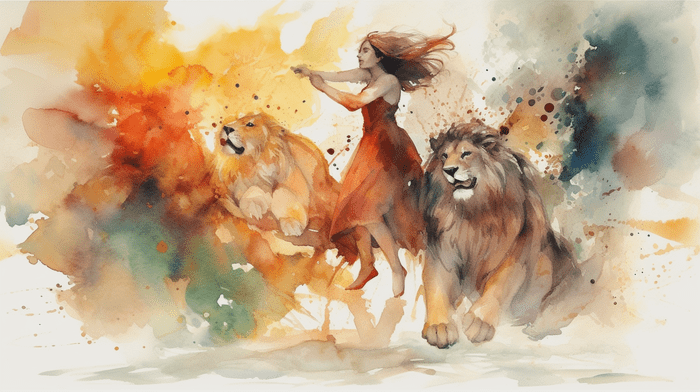 Times of Venus in retrograde motion in Leo are behind us and its direct movement is beginning to feel as empowering as it should be. Lessons of this transit all come down to self-love and the creative initiative we have when we are in tune with the higher truth. Consciousness has had to rise above trauma and fear, so we can bravely respect our authentic selves, no matter the challenge and pressure of the environment.
Returning to the Past
Feelings that come down to the responsibility of other people have been at work. Ties to the past had to be broken or reestablished and while some of us had the task of bravely letting go, others remembered how much love they already have in their life, through social circles and contacts that they somehow lost along the way. Venus in Leo wants us to celebrate life, have fun, and give love selflessly, but not before we've established the foundation for our own emotional needs and love for who we truly are in our core.
The problem with this position hides in the fact that the sign of Leo has a problem understanding or accepting Saturn's order, the trauma and separation of Uranus and the divine essence of Neptune. It is not an easy task to bring love down to oneself with so many distant entities involved, creating an atmosphere of illusion, imprisonment, or emotional drainage. Risks of letting go to the flow and simply enjoying life were overwhelming at times, leaving us with no other option than to deal with triggers that point out where we were never responsible for someone else's image or beliefs imposed.
Healthy Foundations
Even though Leo isn't exactly the first sign we think of when it comes to grounding, it carries information about grounding ourselves in our authenticity. With Venus there, it requires an emotional foundation that is synchronized with the core of who we truly are, and there is no compromise around needs that have been neglected by now. A way must be found to make a move, initiate a new cycle that supports life and our own higher truth, so that the fall of Neptune in Leo no longer interferes with our creative impulse, intoxicating and weighing down our inner child.
With Mars entering Libra, adding to the hazy atmosphere of so many retrograde entities in the sky, we all got triggered to deal with fears that have been keeping us stagnant for who knows how long. Its cardinal motives are now pulling us towards instinctive fulfillment in healthy relationships and emotional balance that we lacked in the past. Even though Mars is in detriment here and problems with anger and sexuality easily come to light, this is also the sign of Saturn's exaltation, where order is reestablished and responsibility properly distributed among people in our lives, as well as ancestors that left their baggage for someone else to claim.
You will know that you are on the right path as you shake off what isn't yours to carry to have some fun and enjoy life for a while. There seems to be little room for survival tactics that no longer serve your growth or fences and limitations that make your heart ache. Relationships have become clearer and boundaries should be established on our instinct and personal hunch. People who are good for us will bring joy into our world no matter the challenge of this transit of Mars.
Leo's Bravery
Venus is a gift. This is something to remember while its transit through Leo pushes us off balance and into all sorts of emotions that we haven't dealt with by now. If gifts of life aren't coming, something is not in tune with who we truly are. The sign of Leo is brave for its ability to overcome trauma (Uranus), to overcome distance where warmth and respect are needed (Saturn) and to find faith in the Divine Truth (Neptune). Once we start dealing with unhealthy and toxic ways, ties to the past and our ancestral issues, the gift of Venus becomes visible on a day-to-day basis.
Depending on the ego, some will feel each movement towards joy as if they had to die a little, while others have a much easier time respecting their own needs for love and commitment. Confidence that doesn't come with authenticity is torn down by feelings of inadequacy or guilt, until we are ready to truly go with the flow that matches our honest core. The inner child won't stand for compromises anymore and our inner teenager is ready to burst in flames if relationships aren't respectful and loving enough.
Make Room to Shine
Expose yourself, show the world who you are no matter the criticism and lack of width in your surroundings. Small steps will be enough to see the rewards and gifts of Venus in your life, now that you've dealt with emotions from the past and released some of them after a long time of struggling. Its purest gift here is love, and these days, you just might come to find that love is all around you, waiting to be collected, as soon as you give yourself a break, rest, and make room to love the person you are right now.
Don't expect the gift of acknowledgment if you tear yourself apart, try hard enough, or work too much. This is the gift of purity in human contact, the gift of touch, dance, beauty, and a firm hug. Even though your choices could create confusion in regards to laziness, lack of commitment or lost focus on existential goals, it is what we all currently need so we can raise awareness and connect on deeper planes with one another. This path is the essence of healing and while we are on it, we might as well have some fun and let go of all the seriousness and social pressure that has been holding our hearts back.