Choosing A Direction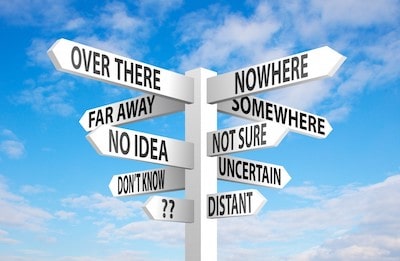 To start off with this topic, we have to remind ourselves of the current situation in the sky. Six planets are in retrograde motion and Mars already in its shadow, preparing to turn backwards as well. The only way to choose a direction in any area of life in a moment such as this one is to dive inside your inner world, speak less, contemplate more, meditate, and communicate with spiritual guides to give you the answers you seek. Some mistakes might be made, but this is not really a tragedy when we are pulled by knots that need to be untied. Every retrograde movement with all its dilemmas and ties to the past is connected to the sign of Pisces and Neptune. However, these are untouchable spheres that remain far from our reach if we don't deal with visible and earthly matters to begin with.
The Dark Side of Jupiter
The most potent and biggest of all celestial entities in the Solar System (apart from the Sun) is Jupiter. It is the symbol of all things that are about to come, the fortune and abundance, the light at the end of the tunnel, and all those possibilities that can be envisioned. On the other hand, Jupiter is the traditional ruler of Pisces where illusions hide, which is our primal connection to all those retrograde movements and lost tracks that don't help us move forward in a certain direction. Apart from its width and protection, it also has a strong gravity into a poisonous atmosphere that may become suffocating if we don't know what we wish to pursue, and if we don't follow the emotion that is clear and childlike. Light is only found where we feel light.
Whenever the choice is made to give in to the world of resentment, fences built toward feelings of love, Jupiter pulls us in for an unpleasant lesson, lesson of haziness and lack of clarity. Over time, it becomes our hardest task to cough out the lies we fed to ourselves as we tried to protect our hearts from contact that we honestly craved for. Hiding from emotional pain won't make it go away if our Soul needs us to go through it and see what is on the other side. This may seem self-destructive and our boundaries should not be taken lightly, but with the right dose and a steady, calm approach, any tangled situation can be untangled and seen in full clarity of the heart. The truth is always waiting to be seen.
Untrue beliefs may make things fuzzy, especially in people whose Jupiter (or its ruler) are positioned in Gemini and Virgo. This is exactly where rational, common sense comes in to "save the day", while really distancing us from our truth, and away from acceptance of reality as it is. Here we find thoughts to serve as excuses to not pursue our passion while trying to live a normal life. The consequence of different (typically surrounding) views on what is "normal" and well-accepted by the world, or by our own inner moral compass, becomes in the worst case scenario - loss of meaning and loss of Self. Giving up on our own heart is leading to depths of depression that may feel impossible to get out of. The feeling of impossibility itself is the core of Jupiter's darkness, seemingly opposing its values and what we usually don't see in its role. It is the point where we don't know what to do but wait to be pulled out and saved from our own choices by someone or something from the outer world.
In other words, Jupiter fallen and in detriment, brings a loss of belief in ourselves and makes us feel incapable to get out of our own problems, as we learned from others that we don't have this capacity. Luckily, those "others" were wrong and what we really need is a change of perspective, one that allows us to see the small steps that we have done right. It is really perfectionism (Virgo) and too much talk (Gemini), kicking us down. Without external or internal words of criticism, unnecessary expectations from our own deeds, it may be much easier to control our lives and our daily surroundings. Climbing out of Jupiter's dark pull comes down to simple daily tasks, additions to the routine that will help our nervous system regenerate, and activities that help us release the tension from our minds as we focus on that innate feeling in our chest where the truth resides.
Sometimes, Jupiter will play such a role even when it is not set in low dignity but simply found in the "wrong" house, in challenging aspects with an ascendant ruler, or as a challenged ascendant ruler.
Big or Small Steps Forward
As with all challenging aspects and astrological healing, the key to finding balance is somewhere in between, in a place where Jupiter's signs is not so grand and untouchable, and Mercury's signs aren't so small and filled with criticism. Mistakes will be made but forgiveness for Self opens doors to make some more mistakes and get out of them more quickly. The key seems to be practice, repetition, as it always does with the process of learning, just find meaning in those little steps you take to set yourself free from your own conditioning. Issues and beliefs will differ from one person to the other, but the shared truth comes down to one's inner world, where no advise is given and there is nothing more than the feeling in one's heart. Jupiter exalts in Cancer, where the Soul resides, where our ancestors are loving and at peace. It is a place where we feel the most joy and we are not to choose to protect ourselves from joy, even when this means shoving away loyalties and letting many people down in the process of making ourselves happy.
On the other hand, there is always a tingling feeling in our heart that is calling out for contact. A few words from the right person, even if they are dismissed by our entire system, may help build the exact confidence you need in your current situation.
The greatest lesson here is to not let ourselves down while trying to meet someone else's grand expectations or what seem to be "expectations of the world". You don't really have to think much where your heart finds its joy. There is only so much to look forward to from our human perspective and we should never stop ourselves on this path, facing the pain that might come at the end of the road. As one door closes, another one will open. We might as well let go and enjoy things while they last, aware that they are neither our last resort, nor life vests that will save us, even though some of them just might.