Most Common Zodiac Signs Of Serial Killers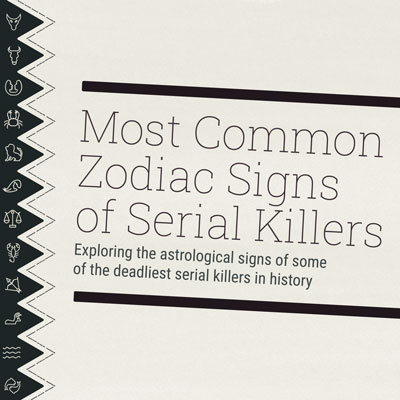 With Halloween just on the horizon, many people are turning their attention to the scary and the spooky. And for many people, that means serial killers. At all times, but especially during this season, interest in this strange breed of violent criminal remains high, and the fascination for true crime produces huge audiences for podcasts, TV shows, and movies.

The interest is peaking whether the cases are solved, unsolved or ongoing like the death of Gabby Petito and the breaking news that a group specializing in cold cases believes it has finally identified the Zodiac killer which terrorized San Francisco in the 1960's.
And though they've been the subject of tireless study for decades now, the building blocks that make a serial killer remain elusive even to the most perceptive and educated psychiatrists, academics, and criminologists in the world — is it child abuse, mental illness, something else, or all of the above?
Scientists have learned a few things about serial killers, but there's still a lot to learn, and in light of the unprecedented boom of astrology since the pandemic (it's now a $2.2 billion industry), we wanted to examine the most common astrological signs of known serial killers.
Are most of them fiery Leos or crafty Libras? To understand which signs may be overrepresented among some of the most notorious killers in history, we studied almost 500 known serial killers from across the globe. (Check out our full methodology at the bottom of this page.)
Key findings:
Four signs — Cancer, Pisces, Sagittarius, and Scorpio — account for almost 40 percent of serial killers. Gemini and Taurus combined account for only 11 percent.
Killers born in the sign of Capricorn accounted for more victims total and on average than those in any other sign. Combined, they killed more than 800 people, or 19 on average; the lowest average was for Virgo killers, with seven victims each.
The water signs (Cancer, Pisces, and Scorpio) accounted for the highest number of killers and victims in our analysis — 28 percent of killers and 27 percent of victims.
What's Their Sign?
Of the 485 serial murderers included in our analysis, a few sun signs dominated the list: There were 46 each of Pisces, Cancer, Scorpio, and Sagittarius, making them the four most common signs among serial killers. The least common? Taurus and Gemini, which were tied with 27 each.
Combined, the four top signs account for 38 percent of all serial killers included in our analysis, while the bottom two account for just 11 percent.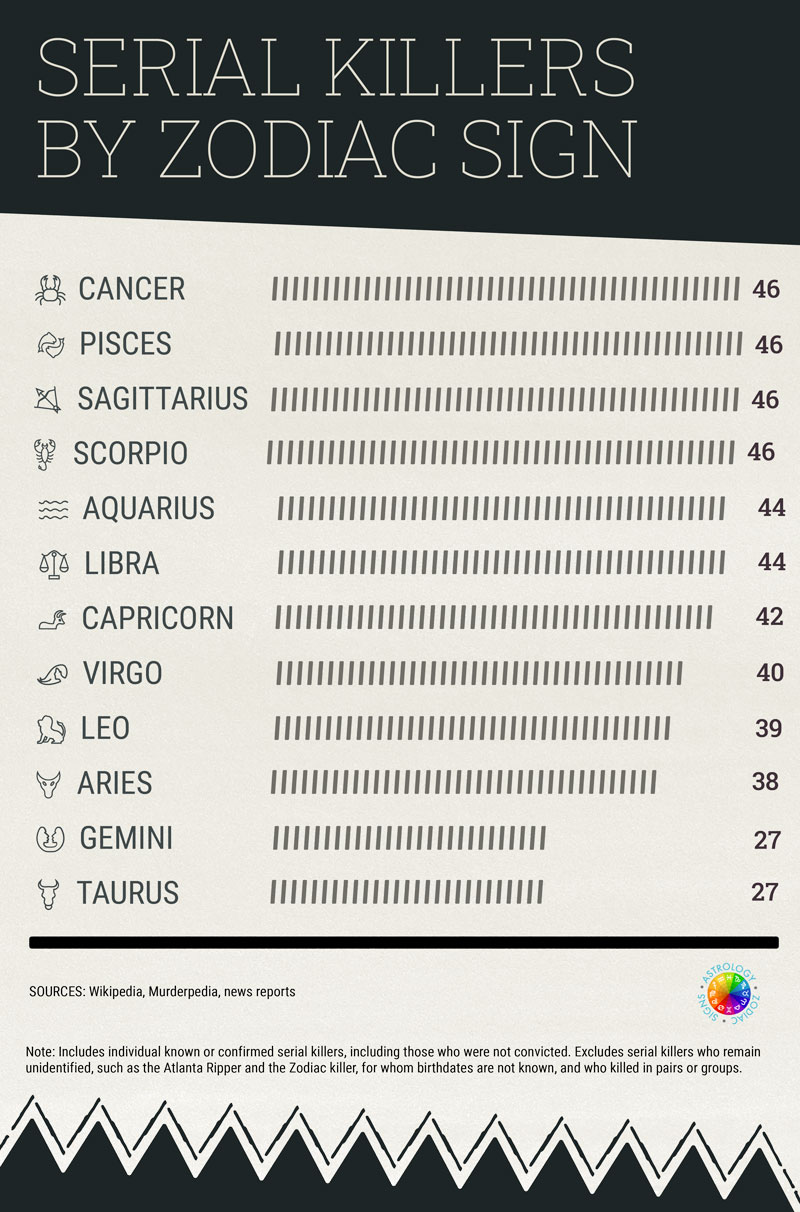 Many people who follow astrology likely won't be surprised to find Scorpio at the top of this list, given that the sign's biggest weaknesses include violence, manipulation, and jealousy. Similarly, Pisces may be prone to allowing their outer emotions to run out of control, while Cancer may feel isolated, as they are unable to blend in with the world around them, and Sagittarius approaches life with no filter on their words or actions.
How Many People Did They Kill?
The killers on our list accounted for at least 5,125 murders. It's important to note here that we used legally proven or generally agreed-upon numbers when it comes to how many people each killer murdered, but many serial killers are suspected of many more deaths than authorities have been able to prove.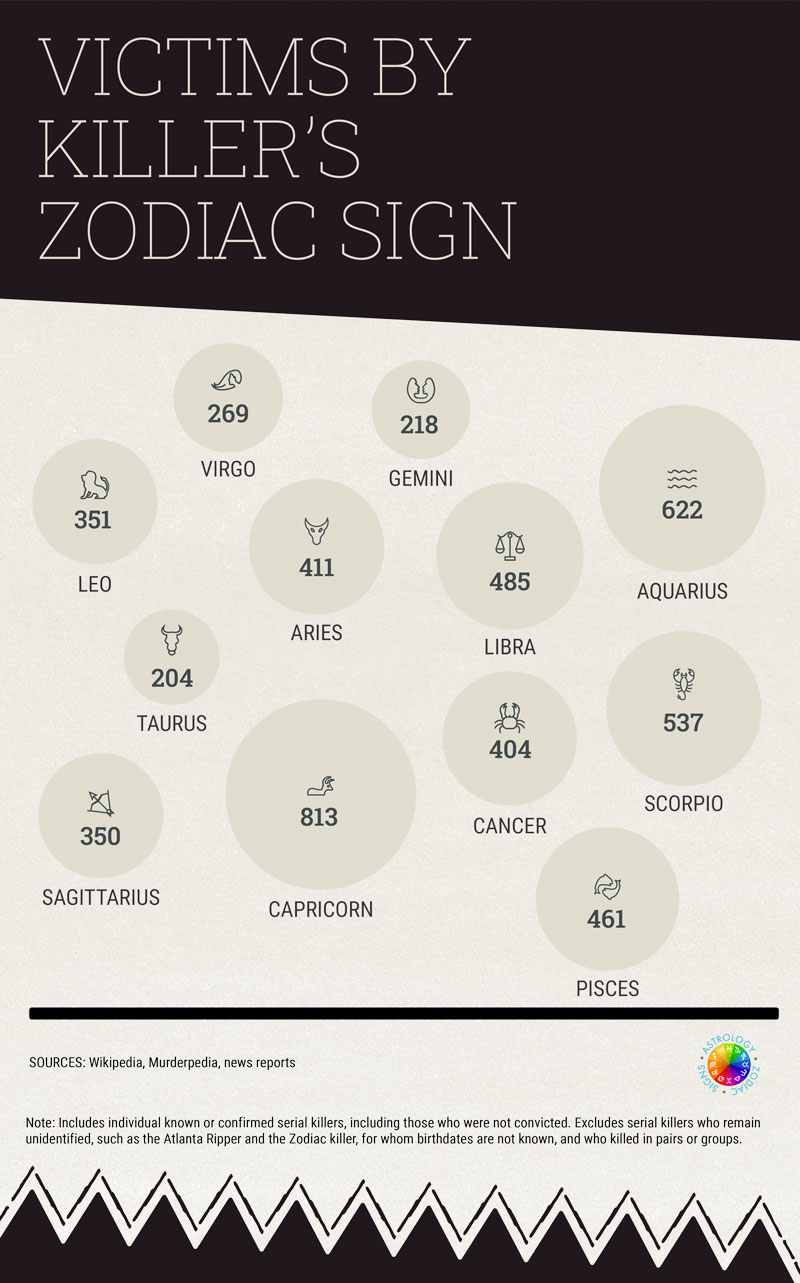 Still, some signs are considerably deadlier than others when it comes to how many people they killed. Capricorn serial killers, though they accounted for fewer overall murderers than signs like Scorpio or Sagittarius, were far deadlier overall, killing a total of 813 people. On the other hand, Taurus killers account for just over 200 murders.
The fact that Taurus is known for being stubborn, possessive, and uncompromising, it may be surprising to see that sign at the bottom of the list when it comes to the total number of victims of Taurus serial killers. Though Taurus is stubborn, they are also emotional and tender.
Looking at the number of people killed per murderer by sign, we see clearly that Capricorn killers are much deadlier than those of other signs, while Virgos account for the fewest average victims per killer.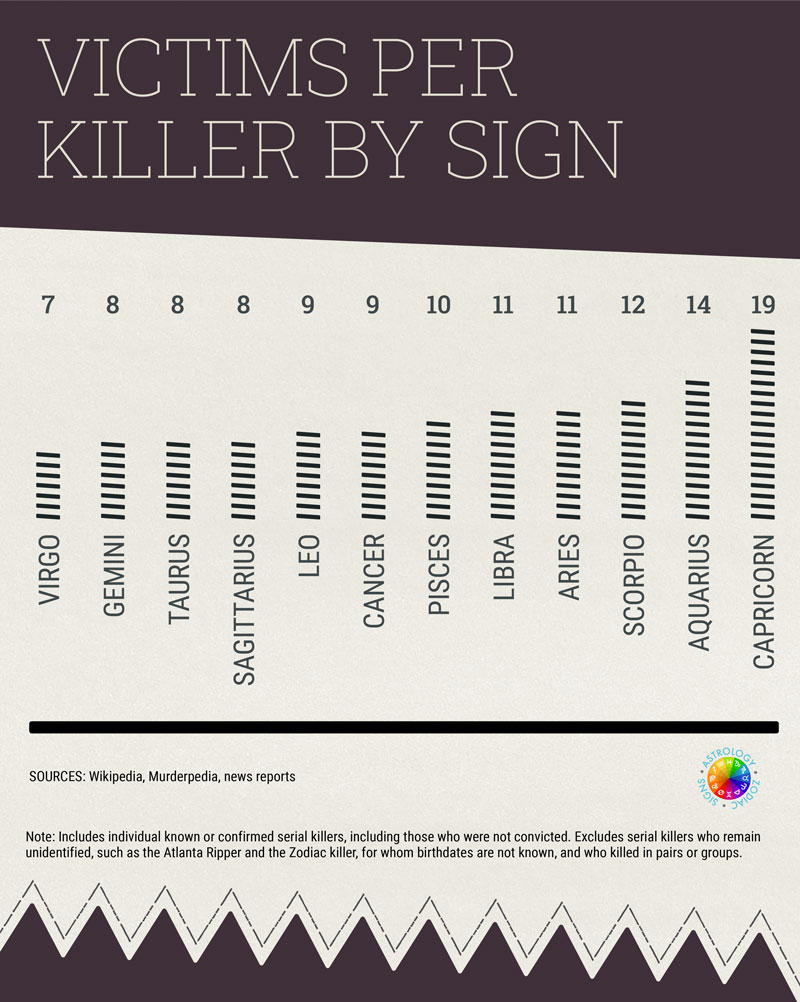 Given that Capricorns are known for being disciplined and having good self-control, serial killers born in this sign may be fighting their nature. However, Capricorns are also known for being rigid when it comes to forcing others to conform to their values. They are also quick to respond with defensiveness, as well as being prone to secrecy.
Killers & Victims by Element
Water signs — Cancer, Pisces, and Scorpio — account for the highest number of killers on our list and the highest number of victims. Earth signs — Capricorn, Virgo, and Taurus — account for the lowest number of killers, while fire signs — Aries, Leo, and Sagittarius — account for the lowest number of victims.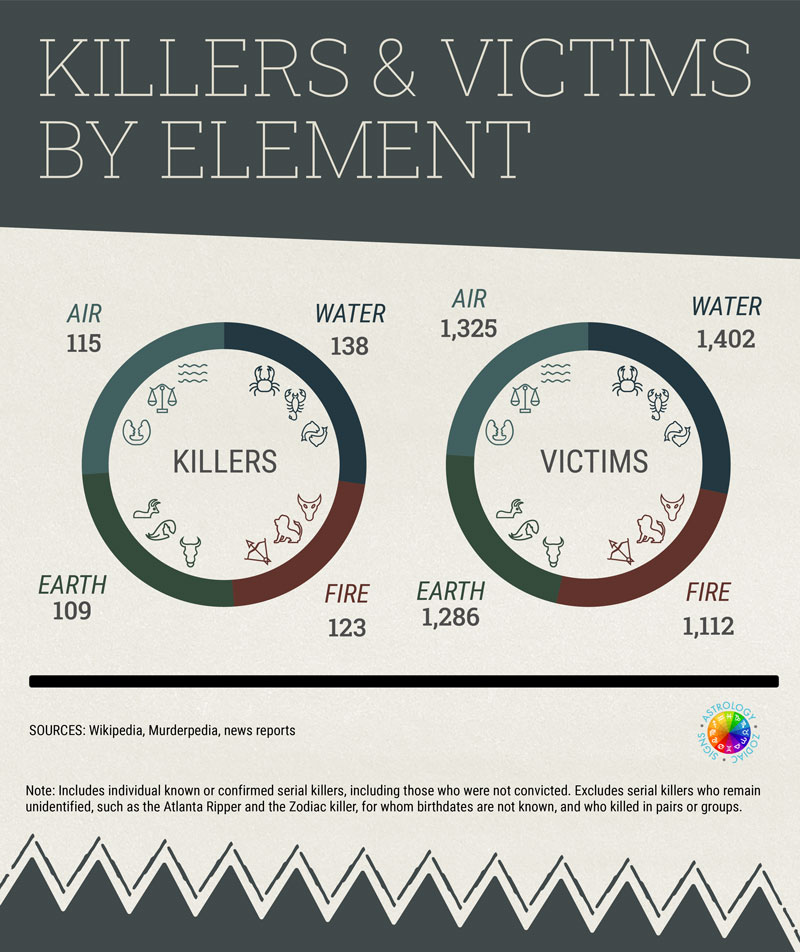 Deadliest U.S. Killer by Sign
The deadliest killer included on our list is Harold Shipman, a UK physician who is believed to have killed more than 200 of his own patients between 1975 and 1998 by injecting them a form of medical heroin and then falsifying their medical records to make it seem like they were in poor health. Shipman was convicted of 15 murder counts and later took his own life in prison. Shipman is one of the 42 Capricorn serial killers on our list.
Samuel Little is the deadliest American serial killer on our list. Before his death in prison in 2020, Little confessed to 93 murders between 1970 and 2005, though only 61 victims have been confirmed. Because Little frequently targeted vulnerable groups, such as sex workers and people addicted to drugs, many of the murders were not thoroughly investigated, making it difficult to definitively link the killings to Little. Little is one of the 46 killers on our list whose sun sign is Cancer.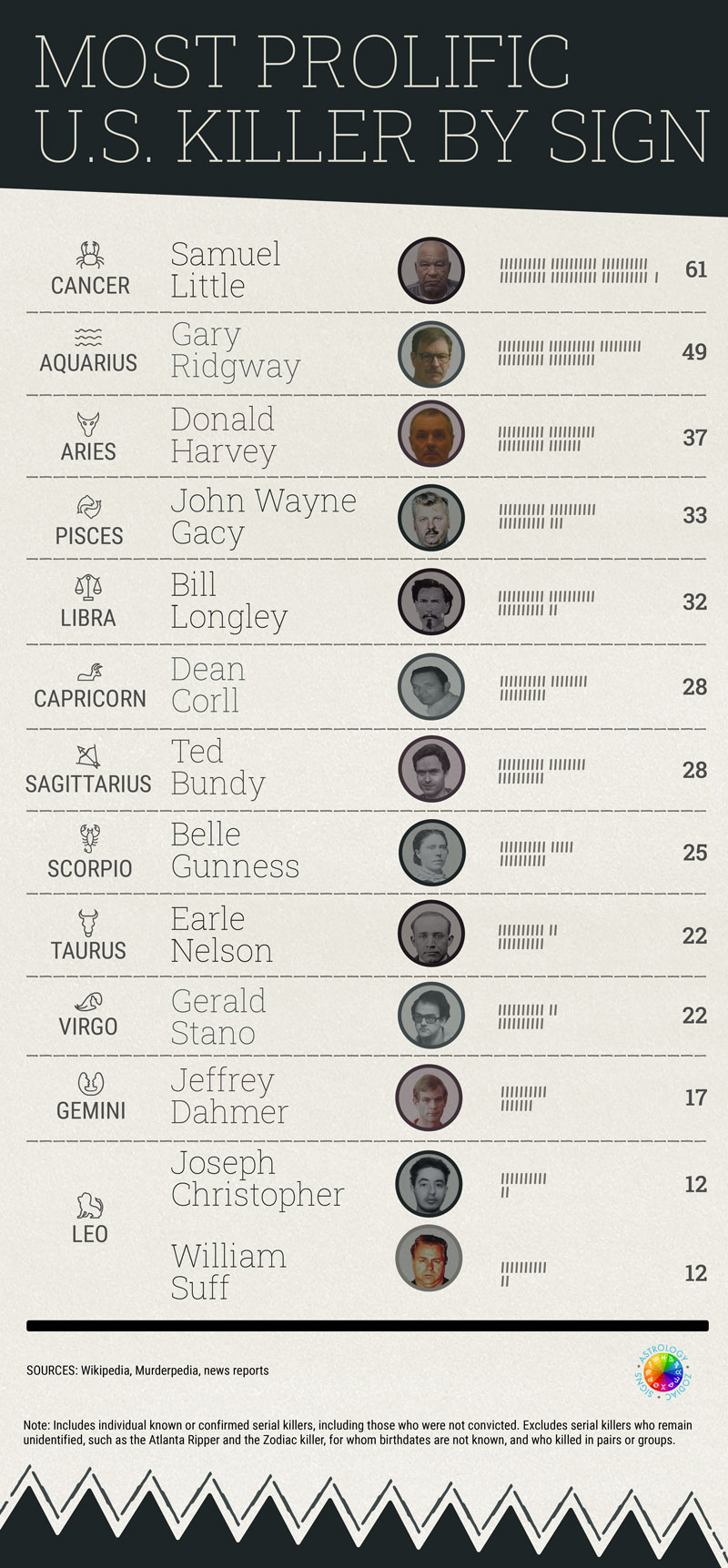 Victims by State
In addition to understanding which sun signs are most common for serial killers and what that might say about their proclivity to kill, we also wanted to understand which states account for the most victims. To do this, we turned to a recent analysis by World Population Review, which used FBI data and found that the highest number of serial killer victims per 100,000 residents in each state is Alaska, with just over 7 per 100,000. Louisiana, Kansas, Missouri, and Indiana round out the top five.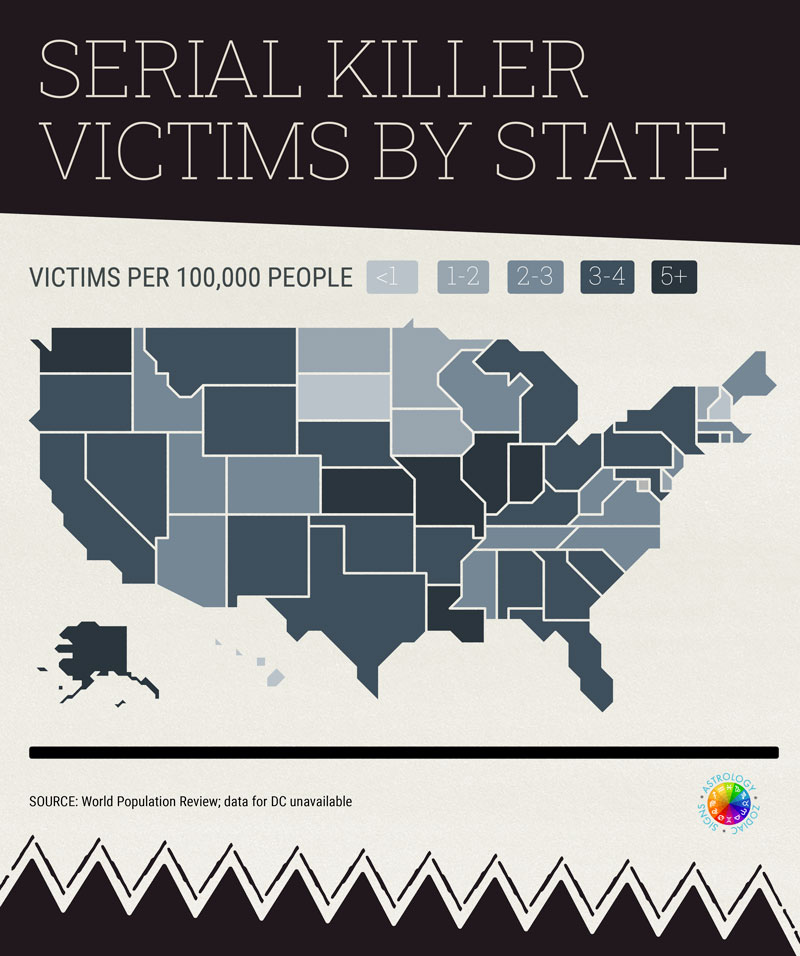 Conclusion
The list of things that must go wrong in a person's life for them to become a serial killer is long, and none of it really has anything to do with what sign they were born under. That said, it's clear that a few sun signs are greatly overrepresented when it comes to known killers throughout history.
Methodology
We gathered a dataset of 485 individual serial killers whose birth dates were available. This excludes killers who murdered in pairs or groups as well as those whose birth dates are not known. We used the FBI definition of a serial killer, which is a person who commits two or more murders in separate events. This definition excludes those who have committed mass murder events, as well as governmental or political leaders. Our data came from a variety of sources, including Wikipedia, Murderpedia, and several news organizations, and we conducted our analysis using each person's sun sign.