NBA Players & Zodiac Signs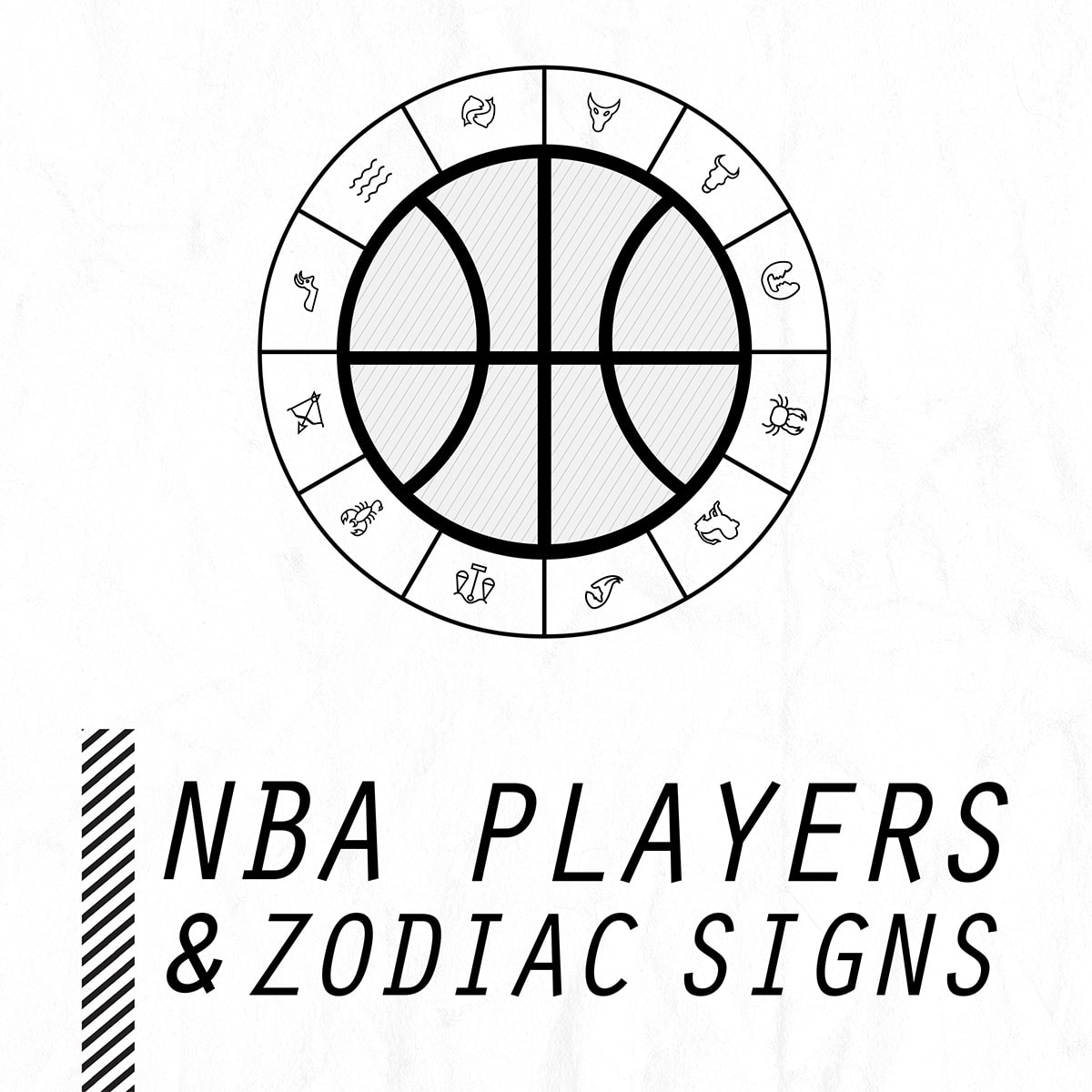 What makes someone a great basketball player? Oh, sure, you might say height or speed or competitiveness. But what about something that's less obvious? Or maybe even celestial in nature?
With the NBA Finals rapidly approaching, we wanted to take a look at all players who suited up during the 2021-22 NBA season to see which zodiac signs produced the best ballers. Using data from basketball-reference.com, we compared players and their sun signs across offensive and defensive statistical categories.
Here are our key findings:
Virgos represent an outsized share of NBA players this season, with nearly 12 percent of players born under this sign. Sagittarius had the lowest representation, just over 6 percent.
Players born in Virgo and Pisces averaged nearly 10 points per game during the regular season, the highest among all signs. Capricorn players had the lowest per-game average.
Taurus players had the highest number of offensive rebounds per game and the second-highest number of defensive rebounds per game.
Virgo, Gemini Most Common Signs Across NBA
If the league were perfectly balanced, each sign would comprise about 8.3 percent of all players. But as we mentioned, Virgo is the most over-represented zodiac sign in the NBA, accounting for 11.6 percent of players. Gemini is the second-highest, with 9.4 percent of players, followed by Pisces at 8.9 percent.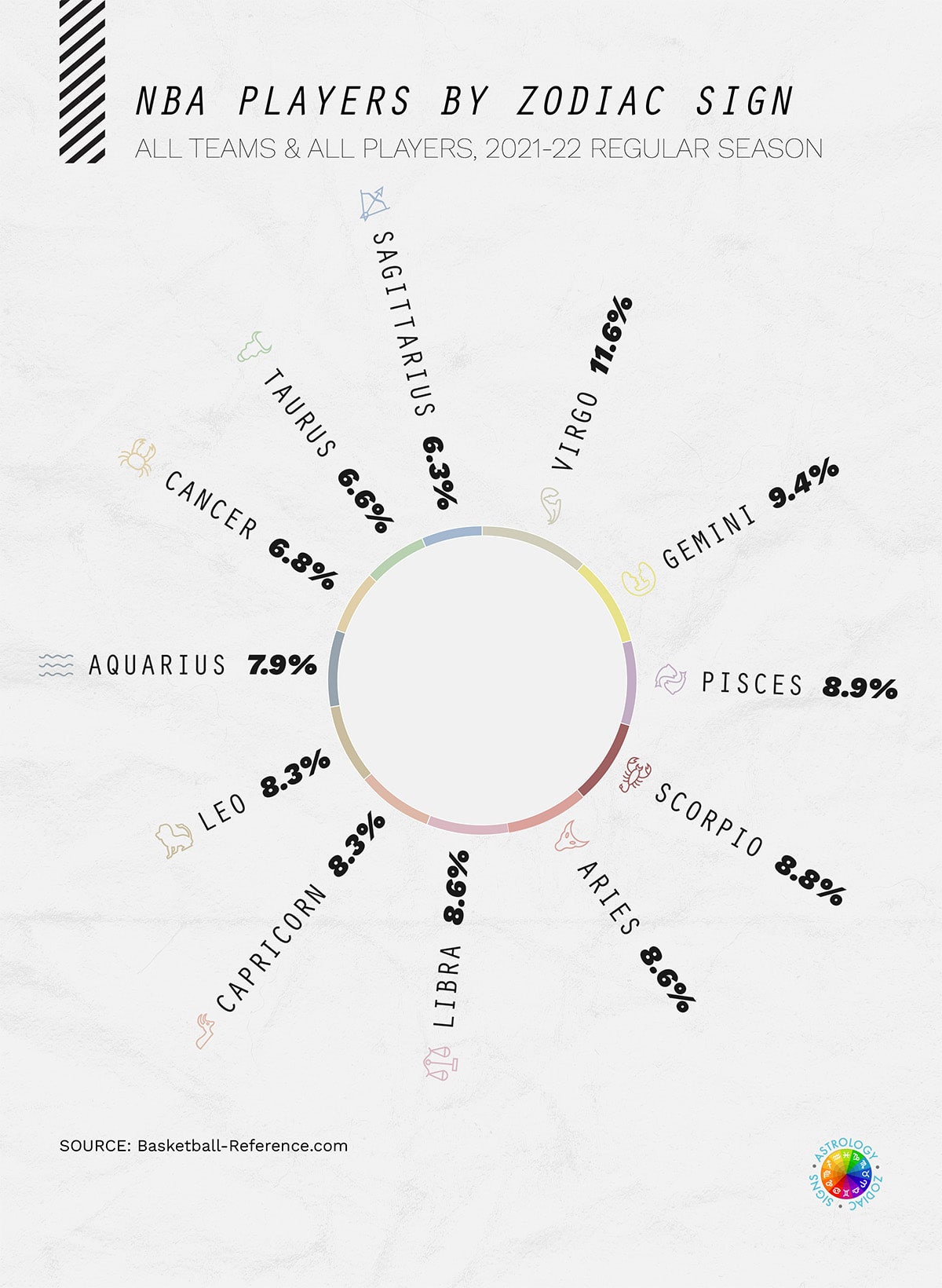 What about your favorite team? Every team has at least one sign that's not represented, but a few of them are massively skewed to one or two signs. But given that an NBA roster can only consist of 15 players at a time during the regular season (and 20 in the playoffs), it's easy for one sign to show up many times on one team.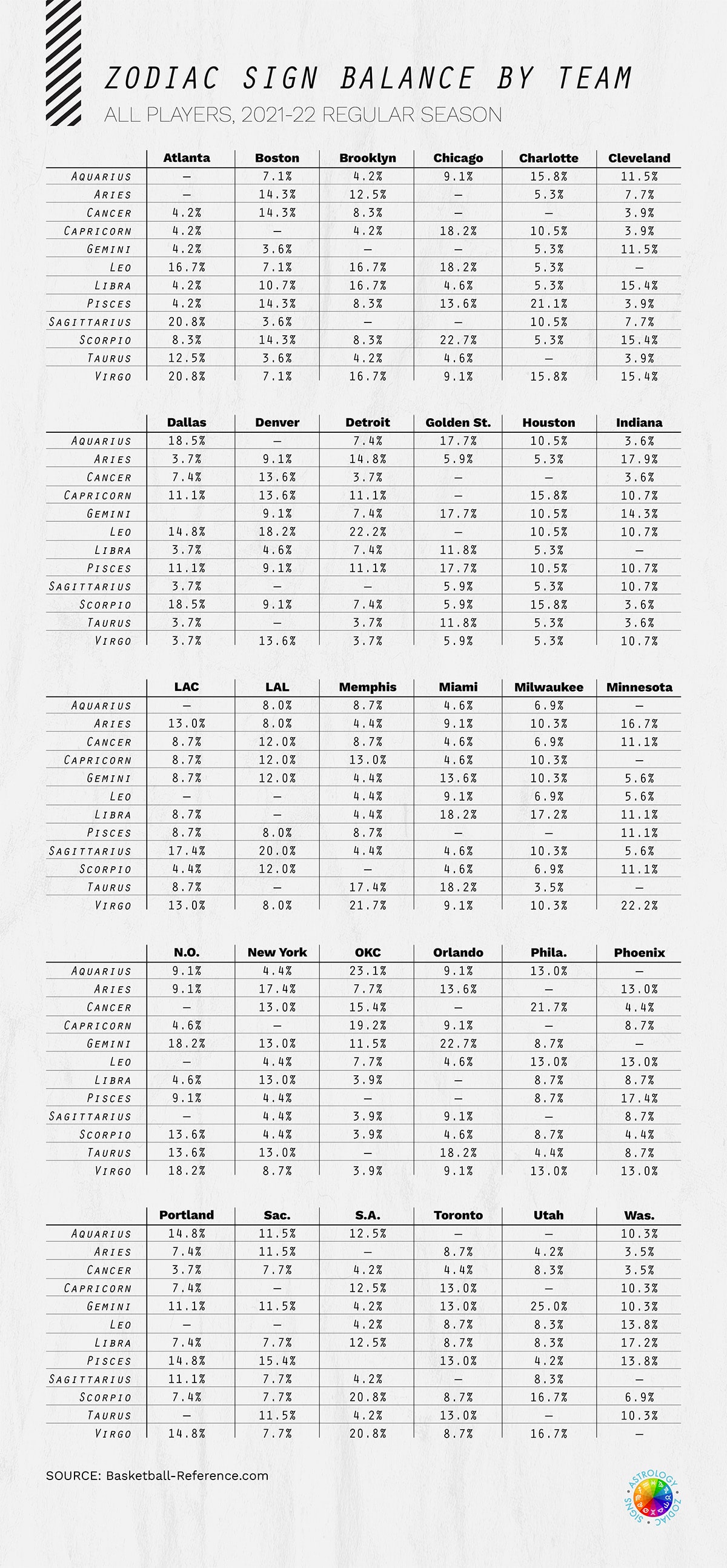 Virgo, Pisces Highest Per-Game Scorers
The average Virgo and Pisces players scored nearly 10 points per game during the regular season, making them the two highest-scoring signs. The two signs also had the highest number of assists per game on average, though Taurus and Cancer players had the highest number of offensive rebounds per game.
Virgos are hardworking; in fact, they tend toward overworking, which may be a liability in most fields but could be a positive attribute in professional sports. It should perhaps not be a surprise that players born in Taurus are good rebounders since they tend to be stubborn and uncompromising. In addition to their top position for offensive rebounds, Taurus players also have the second-highest number of defensive rebounds per game.
Pisces, the second-highest-scoring sign, leads in per-game assists, which may speak to their selfless nature.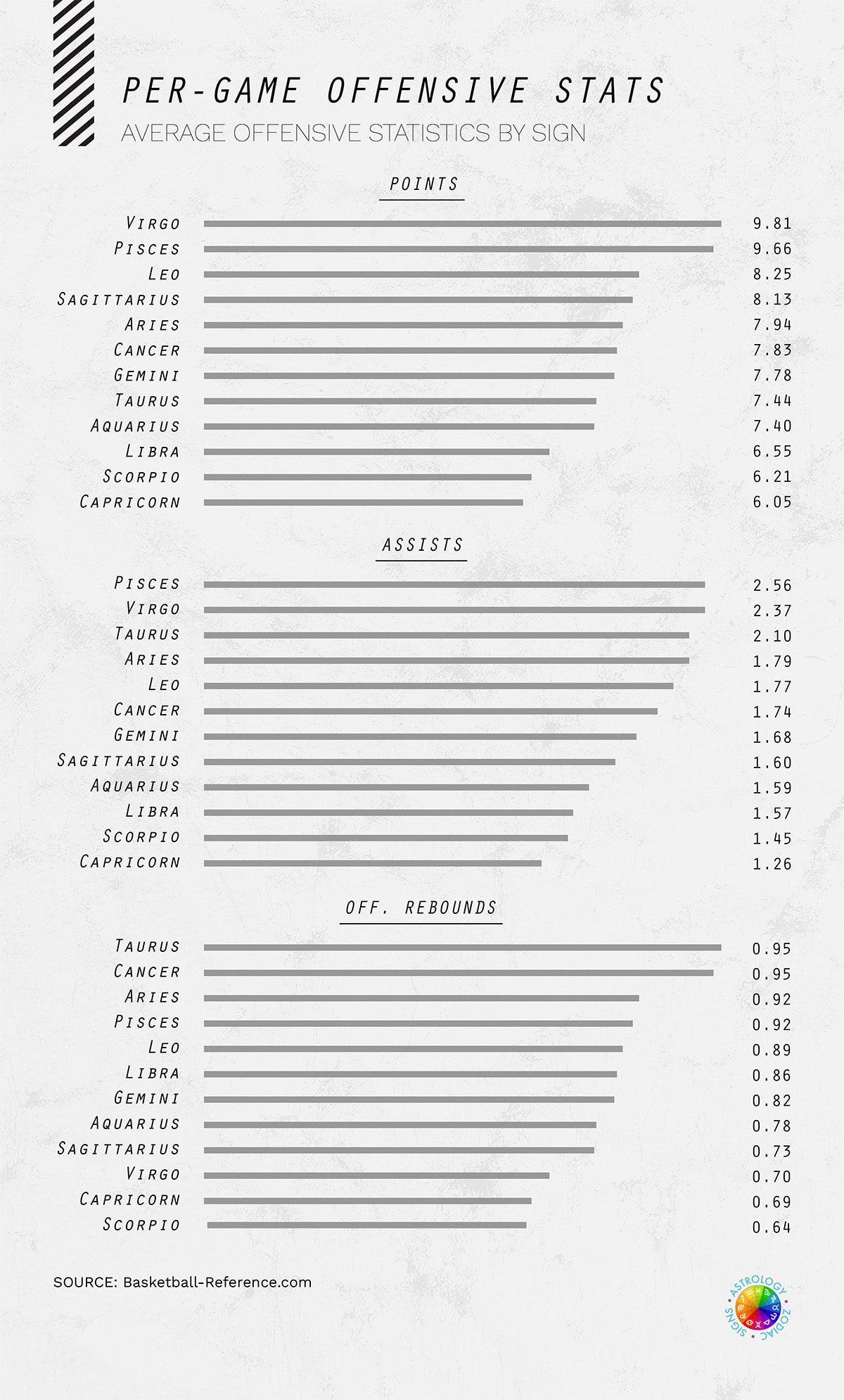 Pisces Leads League in Steals, Defensive Rebounds
On the defensive end, the average Pisces player has the highest per-game number of steals and defensive rebounds, and they rank third for blocks per game. Scorpios rank at or near the bottom in all three defensive stats, while Capricorns are at or near the bottom in two of the three.
People born in Pisces are known for being highly intuitive, which could help make them ideal defensive basketball players, perhaps sensing the best time to go for a steal.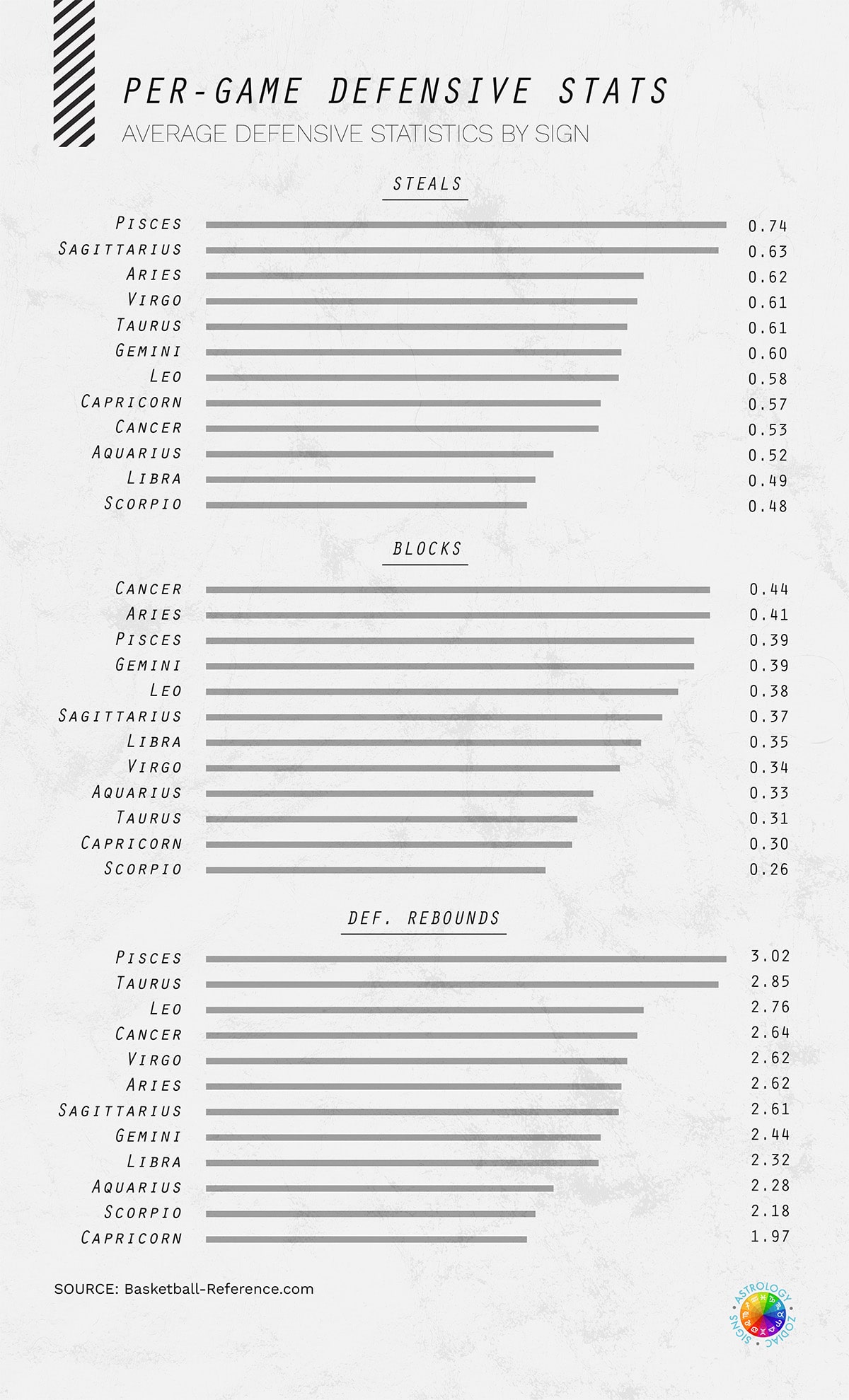 Libras, Scorpios League's Most Accurate Shooters
Though Libras only average about 7 points per game, they are the NBA's most accurate shooters, both from the field and beyond the three-point line. Libra players' average field goal percentage (0.468) makes them the only sign to exceed the regular season league average of 0.461.
No sign exceeded the league average in three-point shooting, but when it comes to hitting three throws, both Aquarius and Virgo eclipsed the league average.
Highest Scorers by Sign
Joel Embiid, a Pisces who plays for the 76ers, finished the regular season with the highest per-game point total (30.6). Looking at the top five scorers in each sign, in most cases, all five players had per-game averages of more than 20 points, though there were some exceptions.
Capricorns, for example, were led by LeBron James' 30.3 points per game, but none of the other top players in that sign broke the 20-point mark, and the fifth-highest-scoring Capricorn, Will Barton, averaged just under 15 points per game.

Still, looking for the best fantasy players? It's hard to go wrong with a Pisces; the top five Pisces players all average more than 25 points per game, including this year's NBA MVP, Nikola Jokic, and Embiid, runner-up for the honor.

Conference Finals Teams
The four teams represented in the conference finals have diverse astrological composition that could skew the proceedings in favor of a couple of teams. Of the four remaining teams in the NBA playoffs, Golden State, one of the two Western Conference finalists, has the highest share of Pisces players, about 18 percent (remember that Pisces players had the second highest per-game scoring average during the regular season). About 14 percent of players on Boston's roster were born in Pisces, which puts the Celtics at a clear advantage over the other Eastern Conference finalist, Miami, which does not have any Pisces players.
On the other hand, the Heat could have a defensive advantage, with just over 18 percent of its roster being born in Taurus. Players born in that sign were at or near the top of the league in most defensive categories during the regular season.
Conclusion
Success at the highest levels of basketball isn't just about physical prowess, and being born under certain astrological signs may indicate that a player's personality makes them more or less prone to excelling in aspects of the game.
Methodology
Our analysis of NBA players' per-game stats used data from Basketball-Reference.com, covering the regular season only to create a fair analysis of all players. We also used that resource to research each player's birthday so we could determine their sun sign.