The November Blood Moon: The Secrets That You Keep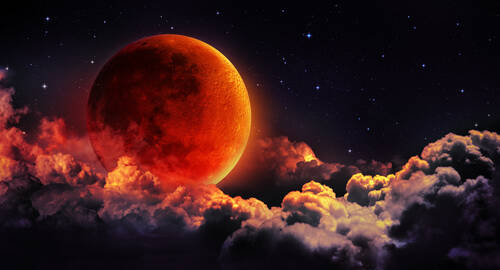 Each eclipse casts its shadow over human affairs for at least six months. Solar eclipses, where the moon blocks the light of the sun, bring us new beginnings and opportunities, whereas lunar eclipses, where the earth gets between the sun and the moon,bring fated endings, breakdowns or breakthroughs. A total lunar eclipse is called a blood moon since the light of the sun must pass through the earth atmosphere to reach the moon, which casts a reddish hue on Earth's faithful satellite. This eclipse is a lunar blood moon.
This lunar eclipse is on the powerful Scorpio—Taurus axis since Pluto the planet of power and transformation rules Scorpio and Taurus is ruled by the planet of money and love, Venus. At each end of the eclipse other planets cluster at those points lending their power to the configuration. Mercury and Venus join the Scorpio sun, while Uranus joins the Moon in Taurus.
The Scorpio/Taurus axis talks about the use of power on mundane issues. To gain or retain power, Scorpio will hoard secrets. Scorpio peers into the subtext of issues to understand deeply how to use the power it has gathered. This sign isn't afraid to delve into esoteric practices if it helps to secure the desired effects. Taurus believes in the proper distribution of resources to create a comfortable life. You can say meat and potatoes is the Taurus religion and you would not be wrong. Taurus hates being left out, and Scorpio's attempt to hide information vexes the bull. The result is an essential struggle between the darkness and the light, secrets and open knowledge, withholding and sharing. This November Blood Moon is about the secrets that you keep.
Aries — Often filled with nervous energy, the Ram doesn't have an off switch. Sensing that success and destiny is almost within your grasp, you push harder and farther than usual and take risks that might not work to your ultimate benefit. The problem is, Aries is what you don't know can hurt you. Check and double-check information from others, and make sure you cut no corners with finances and taxes. This is not the year to fudge on facts and figures that might come back to haunt you.
Taurus — Relationships are your focus for the next six months, and you may feel that others are getting the attention, kudos, and acclaim you deserve. It doesn't help when things come at you out of the blue, pieces of intel that you should have been told about. This is a time to keep your cool and make no assumptions. At the end of this period, things will turn for the better.
Gemini — Resources such as 401Ks, insurance, taxes, credit, and other lending are your special challenge for these six months. If you are looking to borrow, you might find that lenders keep asking for the same documentation. If you file an insurance claim, the adjusters and the insurance company may not have the same sense of urgency you do. The way to handle this stressful period is to keep copies of all documents, send documentation through priority mail, so you have a delivery record, and keep making those phone calls.
Cancer — People may try to keep you down, Cancer, but you've learned much since the powerful planet Pluto opposed your sign for the past fourteen years. It's been a long, hard haul, but you have girded your loins and come through the fire. Now in the last gasp of Pluto in Capricorn you put your acquired mettle in on full display. You accept no excuses and take no prisoners You may be ruled by the moon, but that doesn't make you a pushover.
Leo — Duties and responsibilities slow your roll while you face one obstacle after another. The worker bees keep stirring up trouble, while the career climbers are more poker-faced than usual. And you, Leo, must rally the troops and keep them focused while upper management loses their mind. Listen to quirky Aquarius who may have a solution that you have not previously considered. You might learn something.
Virgo — You may feel friends have shunted you to the sidelines. Sorry, you have been. This is not all bad, Virgo, because for the next six months it seems like friends and co-workers are at odds with each other. It so much better to keep your head out of the fray. You might want to concentrate your efforts at what you do best, nailing down the details, and analyzing problems to determine the best solution. Working in larger settings benefits you now.
Libra — You become the keeper of secrets for the next six months. As flattering as that is, you aren't comfortable with the role. You don't want to be part of any situation that would offend friends, associates and loved one. The second is, and you know it's true, you are horrible at keeping secrets, especially big, fat juicy ones To keep your mind off nefarious affairs find some way to donate your time for a worthy cause. Visit loved ones who may not be able to get out to see you.
Scorpio — Through adversity seems to follow you, this is actually a time to pull a hat trick and come out ahead. Your zodiac sign is making a harmonious aspect to the planet of abundance, Jupiter, and the planet of commerce and the planet of money bracket your sun. Keep your eye on the prize, and don't let a heavy work load get you down. Brighter days are ahead.
Sagittarius — Money issues occupy your thoughts for the next six months, and it seems that no matter what you do, other people are pulling the rug out from under your feet. You tend to jump first and ask questions later, and this is not helping you. Slow down and ask some trusted friends for advice to help you see the forest for the trees.
Capricorn — If the women in your life seem standoffish and uncommunicative, nay, a bit cranky, it may be you've been trying too hard to push your agenda on others. People may wonder why you think you are the boss, and resist your efforts to help. Sure, you only have their best interest in mind, but have you asked if they wanted your help?
Aquarius — The planet of duty and responsibilities sitting with your sun has been sapping your energy, and perhaps leave you feeling a bit down. The planet of energy, Mars, is making a harmonious connection to your sun, so he's lending you some get up and go. The women in your life may be acting in unusual or comprehensible ways, and it's best to offer a supportive ear, but otherwise, stay out of their way.
Pisces — This is the time to tackle those projects you've been thinking about. The planet of abundance, Jupiter, and the planet of dreams traveling through your sign occupy the fifth house of creativity in the eclipse chart. This will give you an extra boost of creative energy. Or if you wish, you can start or expand your family.If possible, ignore the drama swirling around you and take the high road. People looking to draw you in are only causing trouble.