Your Song Of The Moment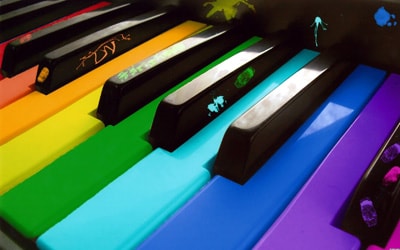 Music is one of the most recognized forms of creative expression and always stands as a pillar of someone's inner emotional world that is let out to shine. Just like a book, or an image that reminds us of our emotional core, it serves our hearts to recognize that we are not alone and the world shares in our feelings, however joyful or dark they might get. There probably isn't a single emotion you ever had that is impossible to find the perfect song for.

To determine your song of the moment, we used Horary Astrology. Its symbolism led us to certain emotions, flow of music, and energy we'd expect to hear. Even if the song we chose is not exactly your cup of tea, close your eyes and give in to its flow. Let your heart feel what it might, believing it will lead you where you need to go.
Aries

To meet their need to live in the present and color their moments with energy and vigor, Aries representatives need to feel things now, today, without any delay. Time won't hurt them for as long as they nurture feelings in their warm fiery hearts, and they need to be reminded of the energy it carries. Their song of the moment is Love Runs Out by OneRepublic.
Taurus

There seems to be a dependency that needs to be fought off in the world of many Taurus representatives right now, as if their waters are tainted by ties of love and the past. Sinking into their world of known pleasure and hedonism, they will recognize their cravings instantly. Whatever they hold on to too firmly, a good song to fit their state of mind is Bloodstream by Ed Sheeran & Rudimental.
Gemini

One of the human signs of the zodiac, set apart from animalistic and godlike projections, Gemini show to be just human, once again. There is something realistic and grounded in their energetic state, while they are at the same time highly aware of the role, meaning, and the mission their life sent them on. Their direction will be found soon enough, and until then, they could fight off loneliness with Rag'n'Bone Man's song Human.
Cancer

In the world of Cancer representatives, this seems to be the time for compassion and shared feelings with women who have been hurt and bruised, those that fell into the hole of hatred and anger. This isn't an easy energy to live by, but it will be made easier if they find a way to vent and let their negative emotions out. To face the anger their theme song is You Oughta Know by Alanis Morissette.
Leo

There is something energetic and jumpy, bringing happiness to hearts of Leo representatives, set on a mission to turn their focus to the future and positive things that are yet to come. They need to find the stone-cold truth in other people, and see why they wish for some to stay in their lives, and why others need to be left behind. Their song of the moment is There's Nothing Holding Me Back by Shawn Mendez.
Virgo

A bit nostalgic and on the verge of depressive thoughts while at the same time seeking hope and nourishment, every Virgo needs to start looking at the bright side of things and learn to see the beauty of this moment and the magic in the world. They are ruled by Mercury and instead of getting stuck in the element of Earth, they always have to stay on the move. To let go to the flow of time, they should listen to Morcheeba's Enjoy the Ride.
Libra

Although Libra representatives have the need for melodic and emotional tones of character, this moment seems to color their worlds with a deep need for liberation. Their relationships need to be shaken up, and their need to express their inner worlds without tension is vast. Many musical options could go well with this state of mind, but the most profound and honest one is, without a doubt, I Want to Break Free by Queen.
Scorpio

To start returning to the feeling of gratitude, forgiveness, and slow steady calm of love, those born in the sign of Scorpio need to embrace some negative feelings along the way. Their understanding of their heart starts here and if they don't let it out, it overshadows their emotional world and makes them fall into self-pity. To find the supportive energy in the collective, their song of the moment is Youth by Daughter.
Sagittarius

The field of relationships shows a powerful magnetic force for those born in the sign of Sagittarius, and its representatives will feel that fiery pull of emotions and attraction towards one, special individual. Their need for love glows and creates tension in their world, and the freedom they usually seek seems to be lost for the time being. Their song of the moment is Do I Wanna Know by Arctic Monkeys.
Capricorn

This moment brings out every Capricorn's need for special experiences and knowledge that goes beyond that of the real world surrounding us. Their earthly nature doesn't let them believe in possibilities and incredible things this planet might bring their way, and these negative convictions hold them back. To return hope into their hearts and help them set free from loneliness, they should listen to Miracle by Hurts.
Aquarius

Aquarius representatives are a tad sensitive right now, but still easygoing and calm. They seem to have found a way to release some stress and tension, and are now in need of something to remind them of the flow they wish to sink into. To remain in a calm state of mind and heart, and still feed their spite and individuality, they should listen to Mhm Mhm by Manuel Riva & Eneli.
Pisces

The sign of Pisces always seems to float around the ideal of belief in love, but they rarely reach the point of understanding with other people that lasts for as long as they'd like it to. Their need to embrace the truth larger than that of one individual is best seen through faith they nurture that cannot be rationalized or discussed. Their song of the moment is John Mayer's Belief.