Yearly Cancer Horoscope for 2020
2020 Cancer Horoscope
Spirit: Sensitivity, Craving, Ties, Ideal.
Color: English Violet.
Places to visit: Italy, Hawaii, Mauritius.
Things to learn: Diving, Sailing, Jung's Theory of Synchronicity.

The General Feel
Goals and aspirations brought to the world of Cancer representatives in 2020 won't be that easy to reach. Ideals are calling on you and inner voices won't let you settle for less than what truly inspires you and makes you whole. Faith needs to reach a new level if you wish to achieve even one chunk of your own wishes, but with enough of it and with self-doubt left on your shelf, nothing is impossible in the course of this year. This is the right time to deal with some past commitments, loyalty issues, and dishonesties that made your emotional world toxic when it should have brought you joy.
All in all, no matter the strength of character and will, this is a sensitive time when talents are meant to be followed or you could get caught in a haze of desires unfulfilled. Idealization needs to be brought down to a minimum, so you can bring your visions to earth in ways that are logical and possible. Changes will start taking place from May and June, and communication has a chance to help you seek middle grounds and ways to express your uninhibited truth. Although silence is golden, for the most part, choose your words to share the right information when the timing feels right.
The Greatest Challenges
Ties to the ancestral belief system and all those collective efforts to put limitations on the world of ideals while lifting them sky high won't help your common sense during 2020. This is a year colored with numerous emotions, some of them yours, others shared in empathic attempts to make the world a better place. Keep your boundaries in order and do your best to recognize repetitive feelings that spin you in circles and keep you tied to the past. Once their core is found, they will be released with ease and tenderness towards the heart. Try to recognize yourself as free from emotional debt.
The Greatest Rewards
Talents tend to swim out in any possible way, giving you the opportunity to share your inner state and help others feel less alone. This is an excellent time for healing, helping others with any shared goal and higher cause, and a year to connect with your inner state of faith in ways of the Universe as a place of magic. What truly brings magic to the world is hidden in your deep emotions. A wide sense of belonging as you let go to their flow can open your heart for incredibly inspiring interactions and a new direction in life that will make all the difference.
Physiology and Body
The greatest threat to your physique is the state of your mind and feelings shoved under the rug that lead to all sorts of psychosomatic issues. Keep in mind that any problem with the body finds its root in emotion and do what you can to untangle subconscious content that you've been pushing aside for a long time. Alternative healing methods will help, probably more than traditional western medicine, and the best way to heal is through the process of learning where you can end up being your own therapist and healer. Meditate, spend time in contact with Nature, and your body will reward you with the energetic point of inner peace and consequentially - health.
Love and Family
As if you were bound to move through an emotional tunnel, this year could bring deep changes to your emotional world and relationships you nurture along the way. Carefully assess the situation in July and instead of making solid, long-term plans, do something that will allow you to build a foundation in its core. You don't want to think too far ahead when the whole point is living in this moment with love in your heart and the purity of contact intact.
The risk of idealizing the one you love could push you off your track and make you vulnerable for illusion of all sorts. Listen to your own feelings first, before trusting anyone's words or judgment for your situation. Loyal partners could become a burden if there is no more spark to hold on to, and sexuality could become in a way "obsolete" while you seek emotional fulfillment on a platonic level. Keep in mind that the body shouldn't be separate from the mind and heart, and that wholeness of contact is necessary in order for the ideal to truly be touched.
Work and Finances
After the stagnation in March and April that seems a bit unusual, you are about to turn to more productive activities that bring obvious material gain. Thinking about finances first, you shouldn't get lost somewhere away from your talents and the ideal professional world that you wish to build. As if you've been sleeping for years, this is the time to discover new things that you can commit to, and many Cancer representatives will make a turn to change their career path, or start from scratch in areas of expertise that are unknown. Bravely pursue the feeling in your heart, giving a chance to the Universe to set everything you need in its place.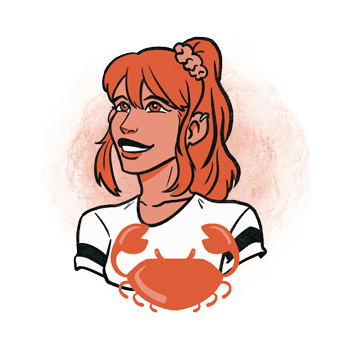 Additional Information
Cancer - traits, personality, dates, characteristics and astrological sign information.
Cancer Horoscopes - daily, weekly and monthly Cancer horoscopes..
Cancer man - information and insights on the Cancer man.
Cancer woman - information and insights on the Cancer woman.
Cancer compatibility - the compatibility of Cancer with the other astrological signs in love, sex, relationships and life.
Cancer history - the history of Cancer and the stories behind it.
Cancer symbol - images and interpretations of the Cancer symbol and ruler.