Yearly Cancer Horoscope for 2023
2023 Cancer Horoscope
Spirit: Learning, Exercise, Idealism, Trust.
Color: Sea Green.
Places to visit if possible: Maine, Singapore, Italy.
Things to learn: Culinary Arts, Gardening, Painting.

The General Feel
People born with their Sun in Cancer are about to feel a new sense of ease in 2023, governed by higher goals and truths that have been discovered in the past couple of years. Although collective situations and atmosphere could become difficult, especially during the spring, there is a purpose to your choices and something that strongly pulls you forwards. Sensitivity is deeply supported by the Universe, as well as any choice to learn, educate yourself, and outgrow circumstances that have brought stress into your life in the past.
It is time to shake up the grounds, release stagnant energies and choices that keep you tied. You will need a lot of bravery to keep the sensitivity going and show your vulnerable side to those who might react in numerous ways. Recognizing hurt in others allows you to flow regardless of their responses, but you must remind yourself to keep the distance where you feel unsafe in any way. Take the time for mental processing that allows you to understand situations at hand. Simply moving with the flow could lead you into danger if you don't give your mind a chance to protect you from harm.
The Greatest Challenges
Believing in other people needs to shift to believing in yourself or you could get disappointed and close your heart to the world. Wounds of others easily overflow onto you. Your sensitive nature brings empathy, but someone else's pain should not be used as an excuse for mistreatment and undervaluing the essence of support you bring into the relationship. Rely on your own openness to guide you through, allowing others to be as stiff, wounded, and aggressive as they are, firmly keeping them on a safe distance, as far as necessary.
The Greatest Rewards
With the end of summer, a new foundation for your convictions should be set. This is a time of great expansion when you have a chance to work on the future guided through circumstances that pull you forwards. Stagnation becomes a matter of the past as you build more honesty with yourself and allow vulnerability to play the important role in your choices. Choose self-care over pushing things over the edge and see where you'll land.
Physiology and Body
Work on your body is essential this year, as loss of touch with reality comes with a routine that doesn't keep you moving and as energized as you truly need to be. Psychological issues are ready to be resolved but this does not come with ease, especially not if you aren't toned, exercising, and giving yourself the strength needed to keep ties to the real world. Walk whenever you can, run, stretch, boost your energy in any way you can think of, and be careful with sugar intake as it might push your hormones out of balance. It is time to get out of your mind so instead of planning to look and feel your best someday, start working on your goals now, leaving toxic routines behind and choosing what is healthy and supportive of the best physical version of yourself.
Love and Family
With healthy boundaries come the biggest rewards. Single Cancers have a chance to build new relationships founded on entirely different beliefs, those that are positive and leave safe space between them and the other partner. You don't have to get too close to understand the potential or the limitations of your relationships. Observe instead of rushing in, and respect your own perception of red flags that show along the way. There is no reason to run from them, but they are a signal to keep the distance and communicate where you have the love motivating you to grow out of certain problems.
Those of you with long-term relationships and their own families are in for restructuring that allows personal needs of everyone involved to be respected. September and October are coloured with challenges of the ego and power struggles that really need to get constructive and work for your own wellbeing. At times, you'll have to be strict and stand firm when your energy gets drained. The function of all close relationships should be support for growth. If something is weighing you down, you need a shift in perspective and enough space to learn from the experience. If your needs aren't being met and you don't receive what you are prepared to give, make the time to give it to yourself instead of scattering your energy where it isn't appreciated.
Work and Finances
Learning and further education are greatly supported in 2023. You will have the opportunity to move to a better position or ask for a raise. It will be challenging to hold your focus if you aren't in the right environment or if your job doesn't allow the growth you truly need. This is a fulfilling year for teachers, students, and those in the business of helping others. The sense of purpose must be present, or you could find yourself in a passive state where things don't make much sense. Feel free to step out of your routine and try yourself out in something new, supportive of talents that have been asleep in the past. Beneficiaries and teachers come to light the way, just make sure you stop following once your heart is no longer invested in the process. For some of you, it is the time to step on your own path, start your own company, and choose a different career path from the one that hasn't made you happy by now.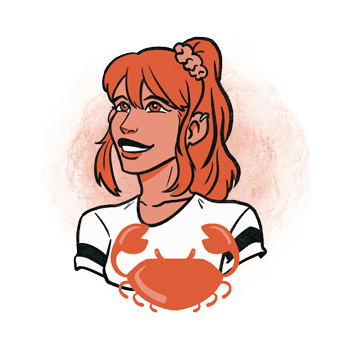 Additional Information
Cancer - traits, personality, dates, characteristics and astrological sign information.
Cancer Horoscopes - daily, weekly and monthly Cancer horoscopes..
Cancer man - information and insights on the Cancer man.
Cancer woman - information and insights on the Cancer woman.
Cancer compatibility - the compatibility of Cancer with the other astrological signs in love, sex, relationships and life.
Cancer history - the history of Cancer and the stories behind it.
Cancer symbol - images and interpretations of the Cancer symbol and ruler.