Tarot Card Meaning, Love, Reversed & More
Eight of Wands Tarot Card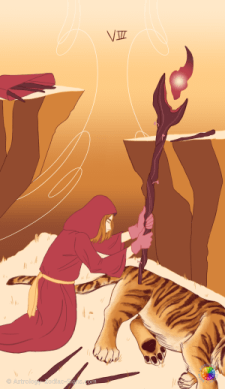 All Tarot Cards
Eight of Wands Meaning
The card of movement and swift action that is supported by the forces of Nature themselves, Eight of Wands is a signal that things are going our way and our actions could quickly lead us to our goal. Destinations that seemed far really aren't, and the sense of religion and higher spheres is closer than ever. This card shows that our mind is expanding and knowledge will change our perspective so that reality can support us on our path as our beliefs evoke all the positive outcomes. It shows easy progress and our ability to ground ideas and creative impulses that pop into our mind, with the help of others, the help of higher forces or something as simple as a pen or a keyboard, if we work alone. It points to positive encounters, laughter and creative relationships that go with the flow of shared causes and emotions, without fear of what we might encounter along the way. This card will take us on a journey, metaphorically or literally, opening new horizons in front of us so we can learn and grow.
Love
When the Eight of Wands shows in a love reading, it speaks of our travels together with our partner or someone we are already in love with. Even if a person is single, this is the time to ground desires, meet a partner one the move, someone who shares similar perspectives and philosophies. Even though things are flowing with ease, there is a lot of passion in this card, and creative energies move towards the inner child and the ultimate creative impact of intimacy. In long-term bonds and marriages, it might point to childbirth or pregnancy. It stands for the importance of a childlike inner force to learn from and follow, instead of holding on to a grudge or any event from the past.
Career
This is a card speaking of an entire team working together, and the stars aligning to help our projects. There are no obstacles shown here and we are about to ground our ideas, visions in our mind, and benefit from the intellectual solutions we have recently implemented. Eight of Wands shows that we have been through a lot but now we learned and understand what needs to be done, as if telling us that we don't need the card reading for the question asked. It is a card of success and progress, but could lead to disappointments if our expectations aren't realistic and in tune with the fact that we are only human.
Health
Eight of Wands in a health reading is a spiritual calling and a chance for us to contact our guides and see what needs to be done to heal. It is a signal that we are doing something right, that our path is in tune with the healing of our Soul and our primal wound, and the symbolism of the card works on a much deeper level than we might anticipate. It speaks of the importance of movement, walking, and a change of scenery that will help us set free from stress and open new perspectives and horizons, giving room to our lungs to fill with air and to our heart to beat steadily, in peace.
Eight of Wands Reversed
Eight of Wands in a reversed position is an interesting situation to observe, as it speaks of convictions that hold us back and delays that aren't as serious as they seem. It shows our detachment from reality, plans that aren't exactly realistic and expectations that won't be met if we don't align our actual feel of the outcome with the setting we try to nurture in our mind. It is the point where optimism brings worries and overthinking distances us from what is truly important to our Soul. When this card is upside-down, it reminds us that we are only human and need our hearts at peace more than anything else.
Eight of Wands Time Line
Past - With the Eight of Wands behind us, we can be sure that we've been using important opportunities and that we have been following the right path so far. It is a signal of our energies in order and situations where our mind and heart were synchronized into one, wise decision. There is very little room for change of direction here, and this card might point out to issues that still need to be finished, especially if we are prone to procrastinate and leave important matters waiting.
Present - Giving us freedom to move, it points out the importance of freewill at this moment in time and should be interpreted with care. With such a strong ally in a reading for the present, one only needs to hold on to their moral imperatives, keep on moving and keep on learning, to grow. There are no obstacles in the path, only the flow of emotion taking us where we need to go, and creative energies will eventually blossom and bring results, in a future that is coming just around the next corner.
Future - The situation will be in our hands even if it isn't at the moment, and things will fall into place sooner than we might think. Fiery energies of the wands are at work here, and while some situations seem impossible to resolve and untangle quickly, with fast moves and enough motivation, anything could happen. This card shows a positive outcome and points to the moment when we gather our inner forces, realize our strengths, and move to take the wheel and get things done the way they should be done.
All Tarot Cards