Tarot Card Meaning, Love, Reversed & More
Nine of Cups Tarot Card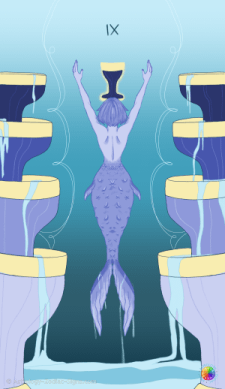 All Tarot Cards
Nine of Cups Meaning
After our obstacles have been overcome, we are about to face the fine flow of emotion with the Nine of Cups, the card of contentment and satisfaction. Its position in a reading tells us about things that make us happy and satisfied, and points out how open we can be for growth and inner visions when we are inspired. Thankful for what we have, we can build a lot more from the foundation of positive emotions and joy, and a new phase in life seems to be ripe for taking. This is a card with a loving energy, one we all wish to feel, and might be defined as an emotional victory of overcoming our own inner shadows and seeing the bright light of gratitude instead of focusing on our shortcomings. It announces positive times, joyful encounters and our expectations met, as we find comfort in the cozy atmosphere of our home or adventures that make our heart jump. Whatever our true, authentic nature needs, seems to be there for the taking and the sense of ease is present in all areas of life when this card is in a dominant position.
Love
With the Nine of Cups set in a love reading, a steady harbor has been found and the emotions that are flowing between two people are stable and joyous at the moment. This is a potent card for any relationship and emotional exchange, as it puts focus on shared goals and ideals, and shows that we have done well and now we earned the right to sit back, relax, and enjoy our own feelings. Absorb and metabolize what you have today, for this is the moment to simply let go and move down the stream, opening new doors in front of you with ease and tenderness. Connections with others are smooth and ready to be jumped into.
Career
Nine of Cups set in our career mostly speaks about directions we have taken and times when rewards are coming our way. Everything seems to fall into place and exists in our surroundings for a reason, and we are growing aware of the fact that all things make perfect sense. Changes can be made with ease and transitions to new stages of life will come easy, while old, cozy territories seem to be something to be truly grateful for. This card shows that our process of learning and personal growth need to go hand in hand, and our profession has a chance to reflect on our true needs instead of being a tool for mere survival.
Health
With certain desires fulfilled and a positive view on life, everything seems to move up and towards betterment, even if someone's health conditions have been deeply troubling. Changes have been made and struggles are followed by a time of peace when we are to rest, enjoying contact with Nature, traveling, and filling our heart with joy in order to heal. This card is one of the best allies we can have in a health reading, speaking of protection we give to ourselves as we realize what we are truly happy with in our lives.
Nine of Cups Reversed
Nine of Cups finds its way into our lives in a reversed position when our expectations aren't in tune with the realism of the current moment. Something needs more finesse and grounding, and there is more to learn before you jump to a higher step on the ladder of personal evolution. The right source of motivation is yet to be found and it can only be looked for in one's heart. Instead of turning to rational choices, the person with this position has a task to bring reason into the equation and in the end - choose their own feelings over any surrounding or collective opinions and norms.
Nine of Cups Time Line
Past - Nine of Cups appears in a reading for our past when the time of contentment led us to the position we are in today. It can either represent ideals we pursued and need to be reminded of, or speak of disappointments we gave into, losing faith that we should regain. This card is always shown for a reason, and carries the importance of the energy of our inner child with all its dreams and aspirations. It tells us not to give up on our ideals, even if they seem lost at the moment.
Present - When set in the present, this card tells us just how satisfied we are with everything we managed to overcome and deal with by now. It is a good position to be in, a place of emotional peace that gives us all the necessary answers for any choice we are bound to make. It reminds us that we are in a good place and perfectly capable to depend solely on our own inner judgment, for the positive state we are in allows us to see things clearly and create even more beauty in life as time goes by.
Future - The end to any struggle is approaching quickly and we can see the light at the end of the tunnel. Nine of Cups comes as a carrot to chase, something to look forwards to, and tells us that we have truly done well in our struggles and emotional battles over time. It is time to be optimistic and see that there is only one outcome to our current situation – the one we hoped for. We are to cherish our rewards and find pleasure soon enough.
All Tarot Cards