Tarot Card Meaning, Love, Reversed & More
Princess (Page) of Coins Tarot Card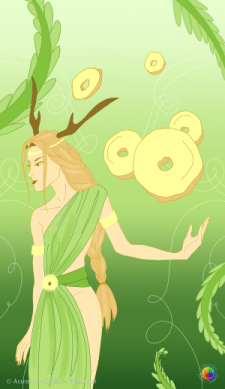 All Tarot Cards
Princess (Page) of Coins Meaning
The practical side of practicality to make life simple, Princess of Coins teaches us that abundance is found as we move through our plans step by step. She brings the element of Earth to Earth, speaking of pure manifestation and our ability to see what needs to be done to get from point A to point B. Everything seems simple, possible, and obvious, and the only source of confusion might come from other people. This card is the link to pure spirituality, one that comes through the peace of body and physiology, and our contact with its messages. It brings understanding of natural processes that keeps us in tune with what we can achieve and opens doors for things we truly desire. Although we might lack experience at the moment, the door is open to manifest what we crave for, and opportunities of the real world are there for the taking, for as long as we hold on to our grounding and stay on the move. It seems to be our responsibility towards Self to move on, step by step, calmly assessing our options along the way.
Love
The slow and steady nature of the Earth is seen with the Princess of Coins in a love reading, pointing out the stability and the possible fixed and unchangeable nature of our relationships. While it is the card to bring physical pleasure and manifestation of a relationship in the real world instead of keeping it on a platonic level, it is also a bit closed for changes and inspiration and might be dull or too physical. Emotional needs are to be examined before we proceed in any direction, for the only actual satisfaction comes from the combination of our physical and emotional worlds.
Career
Objectives are easily reached with a career reading marked by the Princess of Coins. She understands goals as if they were already here and points us in the right direction. This is a plan to be followed and a moment of peace when we have already reached confirmation and the position we wanted to be in. It rarely points to any grand changes and keeps us in a secure environment that leaves room for constant, steady and slow development, while also leaving time for other areas of life to be attended to. It is the balancing entity that allows us to express our inner truth daily, able to combine all things we need in life into a larger whole.
Health
Health conditions are in focus and it is possible that the curiosity for our physiology and its signals takes us one step too far. Princess of Coins will show up here to remind us that we can regenerate on our own, that medication should be double checked, and we have simple ways to improve our quality of life and our physical state. A routine needs to be established so we can come to the point of satisfaction and cleanse our body and mind. It shows a stable progress or a stable condition where we feel good and aware of our physical needs.
Princess (Page) of Coins Reversed
When the harvest didn't bring the fruits we wished for, the Princess of Coins comes in a reversed position. Set this way, she is the symbol of modesty and a test we are to go through to see what we are thankful for, so we can create what we truly need. Her spiritual touch is clearly seen here, as the physical world might be dismissed as unnecessary, as the "price paid" for our spirituality, and our perspective is upside down as the entire side to our reality is cast aside when it should be enjoyed. She brings answers only to those who are willing to see, and the person with this setting is to unify things that have been separated in the family tree for way too long.
Princess (Page) of Coins Time Line
Past - In the past, this card points to the time when our aspirations weren't as high as they are today, and possibly points to the rational mind that kept us satisfied in a stable position for a while. It is a reminder of all benefits and problems with secure and calm choices, and usually points to our ability to create such circumstances – if we truly want to. We have received all the training to be organized and well-adjusted to the situation we are to resolve today.
Present - Princess of Coins will show her face as a guiding light today only when we are truly realistic and aware of our options, challenges and possibilities. She seems to be there to tell us that we are right, that we understand the equation, and we have everything we need to succeed. It stands for our focus on the material world as a stable foundation to build faith on, and speaks of an almost magical ability to create something out of nothing, if our beliefs are set in place.
Future - Future brings knowledge and understanding of our current situation, however hazy or unclear it might seem right now. Everything that is distant at the moment will be close and at the reach of our hands soon, but the process needs to round up so we can reach such a point of stability. Such positioning of this card reminds us that our routine and our body, along with physical activity, stand as a prerequisite for understanding of what's needed and affect the developments in the world around us.
All Tarot Cards