Tarot Card Meaning, Love, Reversed & More
Three of Cups Tarot Card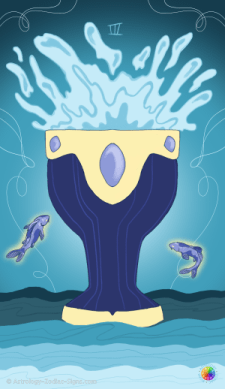 All Tarot Cards
Three of Cups Meaning
Three of Cups is a card of sharing honest and intimate information with loved ones and our way to find a place in social circles that are fit for our emotional needs. It is a card that brings freedom of self-expression to our door and emphasizes the importance of group support for current situations we are going through. It is a place among people we can trust, and carries feminine energies where emotions are freely shared and we feel like we belong no matter what has been happening in our life. The energy seems to be rounded up into a whole, with no one missing from the group and no one becoming obsolete, and the flow of ideas and creativity comes from brainstorming that makes everyone happy and humorous. This card signifies a party or a celebration, time spent in gatherings of close people, or our own desire to gather everyone at home. It shows the need to be a social butterfly that can express without restriction and breathe without shame or the sense of burdening responsibility for behavior among other people.
Love
Although quite emotional and ready to share and spill the truth out, this card signifies group contacts rather than intimate one-on-one relationships in life. In a love reading, Three of Cups could speak of the group of people to which both individuals belong to, putting an emphasis on communication and the sense of belonging to a tribe, rather than a sense of intimacy between two. It is also the card of siblings and close family members and might show up when one's relationship has reached the point where the partners see each other as brother and sister with all the passion, desire and excitement of a new love gone. When surrounded by negative personalities and influences, this card may point the intrusions of one's family into their romantic bond and meddling that could put too much weight on intimate contact.
Career
When set in a career reading, Three of Cups is a sign of important and healthy cooperation, teamwork that brings important results, and the group of people inspired by similar values and moral imperatives in life. It shows strong synchronizing between different personalities, where everyone has their shoes to fill and the right position to work on, using their talents in the best possible ways for the current setting. This card symbolizes sharing of inner most sensitive needs and talents at our workplace as well, that will lead to personal success in the end if we confide in all the right people and follow our feelings when communicating with others.
Health
Three of Cups will be found in a health reading typically when we are tired of interactions that hide our true personality and when healing can be found in social contacts that support our freedom. It may point out our troubles with thyroid function, throat or neck, or show that we need to find a way to express our desires no matter the dogma we face every day. It symbolizes healing from a group or within a group, sometimes even a ritual healing, and points us towards ashrams and systemic therapy, as well as dancing schools and adventures we can share with people who love us, in order to heal.
Three of Cups Reversed
With the Three of Cups reversed, the first thing we must ask ourselves is if we are accepted or trying to adapt to a group that isn't really resonating with our heart. Extensive socializing could drain one's energy away and the lack of balance between mingling with others and alone time could seriously make us tired or distracted from our true goals and interactions. In search for personal freedom, this position stands as a reminder that it is better to be alone than to be restricted and bruised in the company of other people.
Three of Cups Time Line
Past - When set in the past, Three of Cups will be the wind in our sails and proof that it has always been best to be who we are. It is a reminder of people who always loved us no matter what we chose to do or which path we chose to follow. In terms of one significant moment, this card might speak of a party or a gathering of friends, one where we have been in the flow of the moment, allowing ourselves to get carried away by our social role into some fun and adventurous new experiences.
Present - The present colored by this symbolism puts us right in the spot where we can create, socialize and connect. It is a carefree emotion of the moment that brings us in touch with mental efforts and makes a connection of heart and mind through contacts with others that can be used for the greater good. In general, this is a good symbol of a healthy emotional state, for whatever happens in any other area of life, we always have loving contacts in our family or friends to fall back to as support and comfort. It is a shared meal we enjoy and the concert we will go to in a group, as well as all those plans at home that aren't really plans at all.
Future - Fun times are announced, and shared efforts that may lead into new directions we have never anticipated. This card helps us understand that our special contribution to any group will be of value, recognized and appreciated by others, reminding us that we will have our place in the right surroundings if we are free to shine as ourselves. Pointing out the importance of honesty, it reminds us that we have nothing to be ashamed of within our tribe.
All Tarot Cards