Responsible For Self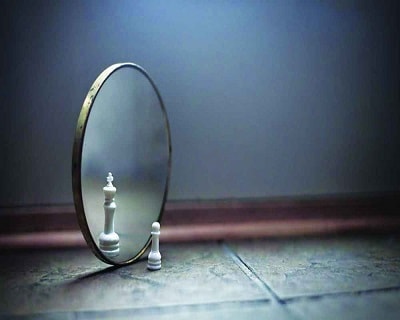 As if the conjunction of Saturn and Pluto in Capricorn wasn't difficult enough, stirring up some deep waters of misunderstandings, opposing convictions, and reminding us of suppressed aggression bubbling below the surface, Mercury and the Sun joined its tone and brought important issues on our plate. This was a time when awareness is turned to the unaware, giving little room for any of those heartwarming emotions and joyful events that we would like to think about. Perhaps it is wise to give ourselves time now, to dive deep, metabolize what was, and sink in the leading forces of these energies, caring for our shadowed instinctive needs as we needed to be cared for ever since we came to be.
What Capricorn Preaches

Remember that Jupiter is also in the same sign, in its fall, showing the tendency for dogma to prevail when we least expect it to. On the other hand, Capricorn itself is a special teacher, one that always brings final order to all things, and Saturn here won't let injustice, lies and immoral choices to live for very long, no matter the ways or means needed to stop the chaos and bring order. Order will be established at any cost. It may come at the cost of one's life or lives of many, even if this means that when the war is avoided, pandemic events make way. Warning signs seem to be all around us, preparing our conscious selves to accept the reality that is being served by the collective. They are showing us how far humanity has come and pointing out the immense impact of nature, its cycles, and cleansing energies that must make room for new life.

On a personal level, the real healthy focus of Saturn is its exaltation in Libra. Our dependency on other people, their opinions and thoughts, words and judgment, is clearly seen in its core. Responsibility is healthy when boundaries are healthy towards others, and boundaries are healthy when balance is created. Instead of projecting our panic, fears, themes and patterns, we are to see the other person for real, as vulnerable as they really are. For as long as we are threatened, saddened or angered by the world and by other people in it, we can see that we are stuck in a theme our ancestors left on our plate. These themes are many in lives of all of us.
Real Responsibility

The first thing we must remember is that we belong in this world, as we are, without effort, guilt or shame, and are already in our rightful place. Even when we feel like someone is pushing us out, that we aren't seen for who we are, and too many projections are glued on our being, we still belong by a much greater law. This is what faith given by Saturn is all about and the essence of love Divine, given by the natural laws of the Universe we reside in. Since we can only affect the system and the larger whole from within, by processing our own issues and giving meaning to internal affairs, this makes life a bit simpler as from this point of view – we are only responsible for personal progress and growth. Relationships already have responsibility shared and set us free to some point, and large social circles, groups, to the point where humanity is involved in its entirety, scatter the focus of intense responsibility away.

Since Saturn and Pluto currently ask for focus, this seems to be the perfect time for solitude and caring for Self. Physical boundaries may involve some locked doors, new fences, dead phone numbers and deleted profiles on social networks, but this all comes down to a matter of much higher order – Self. Each distance created leaves room for our routine to become healthier and more supportive of our physical and emotional needs. Each relationship lost is an open door for a relationship we have with Self, with the inner child (and by symbolism with any children we have as well), that we learned to build through contact with others. Each misunderstanding goes both ways and while we may judge, we may also give the distance needed without much resistance. Love for another is love for Self, and vice versa. To remember this today, when Capricorn is rich with rigid structures and Aquarius makes us turn to look into the same structures while lacking freedom, is a true gift we can give to the collective and its balanced structure.

Take a step back and breathe, see that you won't defend yourself with any approach to your body but a healthy one, and realize that voices pushing you over your own physical limits are a simple reminder of tenderness you really need. Love for Self is often praised as an imperative, but what we never seem to get is a recipe on where to find it and how to "just do it". To start, give yourself some solitude, silence, meditation, a hug, sleep, walk, and eat, enjoying every simple thing within your routine. Inevitably, this will set you free from shadows of overruling and uncontrolled choices over your own life. Change starts by the smallest of steps made and to achieve greatness and Aquarian liberation, we must first create the foundation that will support it, in Capricorn.