The Dance Of The Lunar Nodes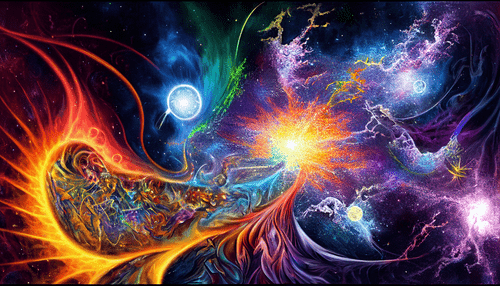 Lunar Nodes carry important messages about our emotional world and should not be neglected in any natal reading. They speak of our ancestral baggage and ancestral blessings, and their complexity seems even more tangled when we realize that each of our planets may be observed in a similar way. Although everything in our chart comes as a "legacy", something predestined and unchangeable on paper, we have all witnessed our own Souls evolve when knowledge is found. This is where the nodes come in handy, as they carry special information of a natural emotional relationship we carry within. They represent sides of our personality opposing one another as partners that never part, no matter aspects, houses, and signs they must deal with.
What Are They?
The North and the South Node represent places where the orbit of the Moon intersects with the ecliptic – surface defined by Earth's orbit around the Sun. Different from all other points in our chart, they stand for places where our planet directly connects with the symbolism shared by both lights simultaneously. This can be interpreted as information about emotions shared by both our parents, how their paths crossed, and how we are the next logical step in our family's evolution. When the Sun comes close to their axis, the season of eclipses begins twice every year, and they are deeply rooted in the negation of feminine by masculine (lunar eclipse) and vice versa (solar eclipse), standing to show where one was quenched and covered by the other to not be seen. In a way, they tell the story about generational darkness of the heart or the ego, as well as the learning and growth that comes out of it.
Although every planet has a unique role in our lives, there is something special about the Lunar axis as it connects the dots and shows us the direction that should be pursued when we are feeling lost. Since they are somewhat constant (very different from the Moon with fast changes of scenery), they speak of emotions that may be stuck, as well as those that we "fall back on" as soon as temporary transits lift us high or push us low. They stand in our chart as a special kind of an emotional skeleton we grew up in, created by interactions and feelings shared between our parents and ancestors, when we were or weren't looking.
South Lunar Node is often seen as maleficent, a place where we must invest more than we receive, making us give up on our ideals due to debts from the past. Here we speak of debts our parents made, or our parents' parents, their parents, etc. The never-ending generational loop may seem overwhelming until we realize that while we invested energy to repay those debts, we were blessed by things we never had to fight for, coming with ease through the North Node in our chart. Even though the North Node is often considered beneficent, it is really a place where debts are made if we lack gratitude for all the things that have been good, turned out fine, and came to us with ease.
Nodes teach us how everything that has been taken from us, unjust and impossible to understand, has opened a different opportunity in our lives. They also teach us that what we consume without gratitude has a price tag hidden in the back. Since we are imperfect and unable to reach absolute balance between the two, it is best to focus on people (planets) supportive of this process through a loving aspect, so we can grow with enough ease.
Position of Lunar Nodes
On a personal level, we should observe houses where natal Nodes are set and aspects they make with planets in our chart. When there is a strong trine/sextile supporting this axis, it is an obvious signal that our ancestors got something right and left us openhearted for someone we can share our deepest inner matters with. On the other hand, planets to square the nodes are often seen through people coming as "karmic" partners and relationships that are tense and never quite right. They carry a story of poor timing, of an inner tearing between authentic needs and "common sense", and may become destructive if ruling planets don't heal the challenging aspect through positive contact. If we are not given tools to bring ease to their opposition and don't have an obvious way out of trouble, it is up to us to commit to the inner conflict that pulls us through difficult relationships. This is exactly where solitude is needed, learning to widen horizons, therapy to create safety, and spiritual practice allowing us to calm the body and mind.
They are not our fastest celestial dots. Their current transit is through Scorpio (South Node) and Taurus (North Node). When in these signs the nodes point out, without compromise, matters of life and death, sexuality and inhibition, hate and love, war and peace, dualities that lead from trauma to healing, and they are never simple or light. They show just how stale some emotions are and that we've been holding on to negative beliefs that must be reshaped so we can embrace change, being thankful at the same time. Parts of us that haven't yet evolved enough trigger conflicts beyond each person's comprehension on a larger scale.
Right now, it is everyone's task and in our best interest to see our feelings through. Use anger for something constructive, release the energy, set free from sadness over issues that are long gone, and look forward to the future we can create. It is time to sit with our emotions until we recognize their wholeness and importance for the direction we will choose, learning about who we truly are in the process. Although this is easier said than done, it is necessary to give enough attention to buried feelings, seeing how well we can deal with current events only when we release past ties and take care of our personal happiness and satisfaction. Love for Self should have no condition and should be made a priority so our inner work can lift the vibration and help us heal conflicts instead of merely picking sides.