The New Moon In Capricorn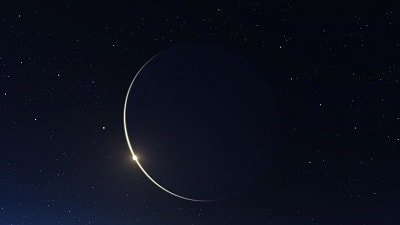 That special phase of the Moon when it touches the Sun to start a new cycle has great value to show us the deep emotional world we carry within. The stage before the exact conjunction of the lights is called "balsamic" for a reason, for it is the time of letting go and finalizing matters that have became obsolete in our heart, crying out and seeing our emotions for what they really are. It is also a time to nurture our Soul and contemplate on things that have lasted too long. This inner recognition allows us to make a powerful move into the future as the New Moon comes and we see it thin and sparkly in the night sky.
The Moon in Capricorn

In charge of all our strength to bury our feelings to protect our Soul from pain, the sign of Capricorn isn't that supportive of the flow of the Moon. It has a way of turning water into ice, and turning our heart into stone if we are not careful and ready to face our demons, our shadows and our fears. Scared of loneliness and abandonment, this is the sign where the Moon fiercely and sadly decides to stay alone, to stay in control of its destiny, and strong in its refusal to be sensitive and vulnerable, sometimes even dismissing all opportunities to be human.

People born with their natal Moon in the sign of Capricorn will feel the deepest impact of this New Moon, as it reminds them of painful mistakes from the past and traumas they tried to bury instead of dealing with them in time. Still, regret has no place here and the only right time to deal is this moment, if we feel we have the strength to do so right now and seeing our responsibility for what it really is.
Come What May

The acceptance we seek in Capricorn needs to overcome religion and faith in the mental spheres and truly come from one's heart. Even though this period asks us all to be productive and think about things we are grateful for, it will also push us into tears, so we can set free from chains of frozen feelings that hold us down. The new cycle that will swallow our hearts for the entire month serves to show us all things that bruised us and all responsibilities that weren't fairly distributed among family members, partners and friends. This is the time for forgiveness and an open heart, but also the right moment to set clear boundaries and return what isn't rightfully ours.

The touch with the Sun always brings knowledge our way and the light of awareness will be strong. If you resist it, it will push you until you break only so you can realize what you need to learn from your life. Starting from our personal feeling of freedom and ending with the higher philosophy we didn't get to incorporate in our routine and our choices, this special moment in time is blessed with extreme support from the Universe to cleanse, recognize contacts and emotions with real depth and quality, and get in touch with our sorrows to be able to feel childish joy once again.
Let go to its flow, however cold the waters might get, and realize that you have always been in the right place, at the right time. Where you'll go next, depends solely on you.