Those Impatient Souls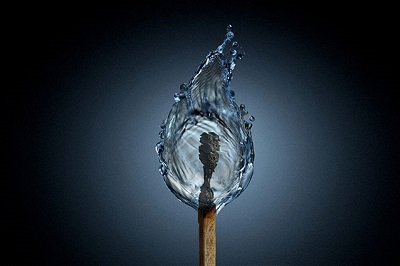 Raised in a home where boundaries are important but speed even more so, you could be one of those souls that carry their fiery Moon in the sign of Aries. This position stands for the story of one's mother with strong will and enough energy to handle really anything coming her way, but short tempered and not calm enough to be the real pillar of support to a sensitive child growing up. Without tolerance for weakness (seen in emotion), those born with their Moon in Aries grow up in surroundings that push them over their limits and into the brave new world, but naked and raw in their expression, vulnerable much more than they even know.
The Beginning

The sign of Aries stands for the energy that starts it all and for the beginning of life itself, the forceful scream of the baby being born. This is the animalistic side inside all of us that is often cast aside as unconscious matter that we don't wish to face. Although the Sun is exalted here, the Moon doesn't exactly understand it, for the passive flow of waters it moves with seems to be entirely different than the active fire of the first sign in the zodiac circle. Imagine an entire boiling lake and this will give you a vivid image of the inner state of persons born with this position.

It is this energy that sparks the heart of those born with their Moon here, as if their Soul has been a warrior lifetimes ago and has something to fight for once again. This fiery approach will manifest through passionate relationships, energetic and fierce, with those that make a person feel strong and capable of really anything. They will know where to search for value and their inner light, but this might be short-lived and somewhat untrue, without the expected manifestation of the future they hoped for from the start if they aren't coolheaded enough and if they don't have a solid plan.
Living with a Weapon

Living with the Moon in Aries is similar to constantly sleeping with the gun next to your pillow. It will manifest more or less tender, just like any Moon for that matter, but it could be extremely scared or feel that excessive protection is necessary every step of the way. On the other hand, lack of balance pushes the person into experiences their heart simply isn't ready for, and this is where weaponry doesn't really do the trick for their responsibility makes it hard to defend themselves when the deeds are already done.

However careful they might get as they grow older, in most cases they learn that their true nature should be colorfully lived through without hesitation and with ultimate bravery. Once they develop patience for themselves, they will learn that they have the right to make mistakes, show anger and negative emotions, bursting into flames passionately and fiery whenever the moment calls on them while still not hurting others, or themselves, along the way. They will learn that the weapon they sleep with is already kept in their beliefs and their heart, and allows them to jump into chances and opportunities without fear, even if they know they might get bruised and hurt along the way.
The Treasure of the Moon in Aries

One cannot outlive their true nature. All we can do is balance it out as much as possible and use its benefits accepting the negative possibilities. This Moon may be hasty, fast, and too active to contain or control, but it is also the Moon that starts a new emotional cycle and teaches us all how to jump into constructive conflict that resolves it all. It is the source of energy in one's heart, truly admirable decisions made in their chest, and the first steps taken with joy and laughter on their faces instead of fear and caution when the waters are clear.
To start a new life in full bloom and without much thought or effort to plan our journey, we need this running Moon to show us the way and lead us into an adventure that will bring out our most childish and innocent source of joy within.