Yearly Gemini Horoscope for 2023
2023 Gemini Horoscope
Spirit: Body, Melancholy, Success, Past.
Color: Tangerine.
Places to visit if possible: Zimbabwe, Germany, New York.
Things to learn: Tango, Mountain Climbing, Paragliding.

The General Feel
Mercury retrograde marks the beginning of 2023 and with Mars also on its backwards spree, Gemini representatives are in for a strange ride. Skies will clear up by the end of January, but the atmosphere will remain a bit hazy and it won't always be easy to find direction. This is a year when your belief system needs to reset to something more positive, in tune with your vulnerable side. Rational choices from the past could become too much to handle if they didn't include your emotional needs. People and rough circumstances are about to be released, so you can move towards something happier, easier, and more fulfilling in months to come.
The most important thing is to look for grounding. Ideas that disperse and take you in numerous directions simply won't do. You need to dial down to practical things, movement, and the physical world. A lot can be done in the field of finance if you are cautious and calculated enough. You probably won't do well with details, but the time is right to set some ideas in motion and finally breathe in life to things that you've wanted to commit to for a long time. Take control and give in to the flow, allowing the Universe to surprise you with opportunities, while you show initiative and take the steps that are necessary to move from any stagnant situation.
The Greatest Challenges
Although work might blossom in 2023 and the sense of purpose is present in the background, it won't always be possible to find the energy needed to push things through in areas of life that tire you out the most. Be careful not to slip into your own resistance, hiding behind work or deciding not to resolve what is making you unhappy day after day. You are not tied by any circumstance but it might be necessary to think outside the box and bravely pursue solutions that aren't easy.
The Greatest Rewards
When you find the center of your authentic needs, you will get creative to set free from certain ties. Once this is done, the rush of excitement and joy will fill your mornings and make you more potent than you've been for a while. The greatest satisfaction comes from your own bravery and a pursuit that makes your emotional world calm and filled with joy. Don't give up on your needs for the sake of practicality or collective expectations.
Physiology and Body
A lot of tension is accumulated in your head, neck and shoulders. Make massages a part of your routine to keep the energy flowing and sleep better. It is important to avoid toxic substances and overeating, as addictions might take over areas of life that you wish to remain stable. Taking care of yourself might be a bit hard with so many things on your mind. Set a schedule that gives your body attention every day, for the physical world is calling on you to find grounding and get in tune with actual circumstances in your life. A drop of immunity comes with autumn months, and peaks in December. Think about proper vitamin boosts and start each day with something healthy and supportive of your physical wellbeing, no matter where the day and your patterns take you later on.
Love and Family
This year is tricky in the fields of romance and loving relationships. You are no longer in the mood to make the same compromises as before, but some habits are hard to break. To get to the root of certain problems, you will need to slow down and spend some time alone, with your feelings just as they are. Patterns from the past are bound to break. This brings changes to old bonds, forgotten friendships, or relationships with ex partners that returned into your life. Some contacts are to be revived, but others are here to teach you not to make the same mistakes again.
Emotional roller coasters will intensify during the summer, when Venus in your third house turns retrograde, with no intention of leaving your thoughts at peace. Emotions that were pushed under the rug tend to make a big drama at this time, coming into focus and becoming the light of the party. You will need your creativity to express yourself freely, understanding what you've been carrying below the surface. Once you get all those feelings out and let them pass, you will be ready for the new chapter of your emotional life to begin.
Work and Finances
Ambition will lead you to great heights if you are inspired enough. Travel and cooperation with foreigners could get embedded in your work routine, opening new horizons and doors that you once thought would be closed. Keeping the focus is your best foundation for anything that you wish to succeed in, but with all the feelings flying around, it might be hard to do in serious surroundings and without a solid, reliable team. Financial stability is a given, for as long as you don't undervalue your work and talents, bringing down the structure that is holding you in a stable, comfortable zone.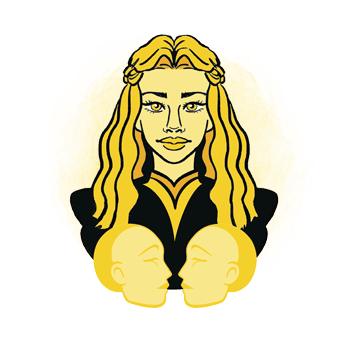 Additional Information
Gemini - traits, personality, dates, characteristics and astrological sign information.
Gemini Horoscopes - daily, weekly and monthly Gemini horoscopes..
Gemini man - information and insights on the Gemini man.
Gemini woman - information and insights on the Gemini woman.
Gemini compatibility - the compatibility of Gemini with the other astrological signs in love, sex, relationships and life.
Gemini history - the history of Gemini and the stories behind it.
Gemini symbol - images and interpretations of the Gemini symbol and ruler.