Yearly Leo Horoscope for 2019
2019 Leo Horoscope
Spirit: Child, Theater, Warm, Youth.
Color: International Orange.
Places to visit: Norway, Morocco, New York.
Things to learn: Archery, Homeopathy, Cartography.

The General Feel
This entire year is marked by the position of Jupiter in your fifth house, putting a special accent to your children, fun time, activities done with loved ones, and your own inner child. This is a year when your creative sides will blossom, but also one that reminds you hard work and responsibility make a foundation for any endeavor you embark upon, if you want grand results. You are to play enough, work hard enough, and be serious enough when it comes to care for your physical needs and grounding, so you can use the time ahead of you and all opportunities the Universe has to offer.
August brings the most interesting encounters, and this is the time when grand loves could be born. This is the right moment to let go to the flow, show initiative and start a new project, a new romance, or a partnership that will be fruitful in months to come. Don't miss opportunities that open in front of you, for even though you don't know the outcome of your efforts, you are about to enjoy the ride if you live in the moment and stop worrying about the goals you set out to reach. Build up the physical strength to manifest and ground your vision with more ease.
The Greatest Challenges
Although putting your head through a wall at the beginning of spring might be challenging, true troubles come with the first glimpse of autumn if you aren't ready to calm down, be tactful, giving, and think about others with respect and devotion. Disrespect could come as a heavy blow, especially after you've reconnected and felt the beauty of life kick in during the summer. The transition between seasons could be tough on you, and you need to find a childish push within to enjoy them all, with their positive traits and all the good things they bring your way.
The Greatest Rewards
Year 2019 brings special dialogues and relationships with depth and clarity. Honesty will be emphasized, yours just as much as the clear approach of those around you, and you have a chance to enjoy socializing with the right crowds and meet impressive people who are just as strong and willing as you are. Relationships will blossom, and the trick is not to get carried away into unrealistic expectations, so you can build a truthful and stable foundation for everything that might come and shake things up ahead of the road.
Physiology and Body
With Saturn stable in Capricorn and your sixth house, your unconscious world might be making a lot of problems, and time will be an issue that leads to stress, finally leading to all chronic conditions showing their stubborn, ugly face again. Whatever repeats itself from month to month should be accepted through your emotional world, so you can swim out of it and do something specific to fix what is broken and let go of guilt and pressure that push you into health problems. Your heart needs nurturing, as well as your blood vessels, and you are to pay attention to getting enough liquids, so you can let the emotional flow cleanse what it needs to cleanse. Keep your knuckles and your spine warm, give them flexibility and return healthy oils into your everyday diet to prevent cholesterol rise and troubles with weight fluctuation.
Love and Family
Love life might not seem that serious at the first half of the year, but it will get serious in months to come. This is a time when visions need to manifest, and new relationships before you are to develop and teach you about the lack of value you've given to your fragile side of personality. Tenderness is as necessary as air, and even if you don't see it clearly enough, you will be pushed backwards every time you try to push the relationship forwards without compassion and clarity of heart to lead the way. Spend enough time with children and young people to grow, expand your heart's capacity, and remember what truly matters in your life every step of the way.
Work and Finances
A bit less serious than you have been for a while, you could feel the need to distance yourself from difficult working ethics and issues that are demanding or tiresome. Stay responsible and keep your feet on the ground, at least to keep your finances stable and your physical existence afloat. You will need a lot of time to rest and enjoy your life, social contacts and new relationships, and this could reflect on career goals in ways that makes you feel guilty or as if you haven't used your chances. It is a good thing that true career advancements come when we employ our joyous selves and our creative side, so you don't really have that much to worry about in the long run.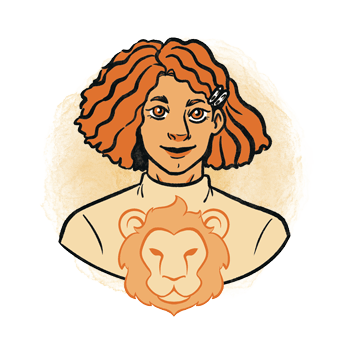 Additional Information
Leo - traits, personality, dates, characteristics and astrological sign information.
Leo Horoscopes - daily, weekly and monthly Leo horoscopes..
Leo man - information and insights on the Leo man.
Leo woman - information and insights on the Leo woman.
Leo compatibility - the compatibility of Leo with the other astrological signs in love, sex, relationships and life.
Leo history - the history of Leo and the stories behind it.
Leo symbol - images and interpretations of the Leo symbol and ruler.