Yearly Libra Horoscope for 2023
2023 Libra Horoscope
Spirit: Serious, Fulfillment, Patience, Boundaries.
Color: Burgundy.
Places to visit if possible: Turkey, New Zealand, Maldives.
Things to learn: Windsurfing, Salsa, Astrology.

The General Feel
An intense year is in front of you, one that brings numerous changes to your close relationships, career path, and the way you perceive your physiology. To keep balance and stability, you will need enough time to look within after interacting with the outer world. Rest is essential, as well as alone time and contact with Nature. Choose your surroundings to fit the need of your heart for peace and calm. What you work on in the beginning of the year has a way of turning around in summer months, and this will only feel right if you have faith in the higher cause of your actions.
Relationships tend to expand and grow, and personal growth can be observed through feedback you get from other people. Still, you need to keep in mind that it is not validation you seek, but your own response to words and deeds of other people. Internal growth towards joyous and happy moments is what matters most and you should be with people who make you happy, care about you, and keep their doors open in the time of need. Return the favors, be generous, and let things flow at their own pace and their own time.
The Greatest Challenges
It won't be easy to see that there is a wall in front of you that protects you from things that were never meant for you in the first place. Finding faith will help you revive parts of yourself that have been lost to goals that are too rigid and too "rational" with no heart and authenticity involved. Challenges of status, ego, and problems with authority are possible, especially during the times of Venus retrograde during the summer.
The Greatest Rewards
Blessings of 2023 come through change and letting go of old baggage that you no longer need. It is the places where you got stuck in that will need revisiting from time to time, until you are ready to face the facts and finally move on with your inner truth visible and acknowledged. Even if other people don't understand your position, you will have enough generosity and understanding for yourself, to embrace parts of you that have been shadowed and recognized as lazy or insufficient for someone else's expectations.
Physiology and Body
Responsibility you've had for your body and the amount of rest you had in the past couple of years are starting to show. Your routine needs a healthy and supportive schedule. This year will be physically demanding and remind you how important it is to keep your routine organized and practice self-care every day. Not only is your body in need of special attention, but so is your home and your closest surroundings. Throw away old things, cleanse your body and your living space, eat enough fiber, drink a lot of water, and turn to meditation or specific breathing techniques to let blocked emotions out of your system. Chronic conditions may reignite, and you should keep your kidneys and bladder in check.
Love and Family
The middle of May brings Jupiter into your seventh house, the house of close relationships and marriage. This is a time when personal expansion becomes obvious through people you love. Give the freedom and expect nothing less in return, as individuality inspires and sparks the light that will help you find direction for any future choices and ventures. Remember that Jupiter makes everything grow, so conflicts might grow too, if you've been leaving problems unresolved for too long.
Initiative could go wrong and point you in a completely new direction if you aren't careful to follow that sense of intimacy and closeness. Closing the door for love will only lead to deeper problems and issues that need your energy and attention. It is impossible to outrun your primal emotional needs, so try not to be too rough on your own heart. Even if you don't trust the person standing in front of you, there is nothing stopping you from trusting yourself to be able to overcome disappointment and build enough love inside you to grow towards healthier loving bonds.
Work and Finances
Areas where you feel the most pressure and obsessively look for solutions could become even more difficult next year. Try releasing the spasm of holding on to beaten trails, things that you are stubborn to reach for, and look for simpler solutions that bring you a sense of ease. To reach professional success, you will need less compromise and more creativity, with your talents clear and on the surface where everyone can see them. Walk away from situations that undervalue your dedication and your deep sense of responsibility. Autumn months bring a raise or a big positive change to your finances, but only if you embrace change that your entire being is craving for and follow your instincts with honesty.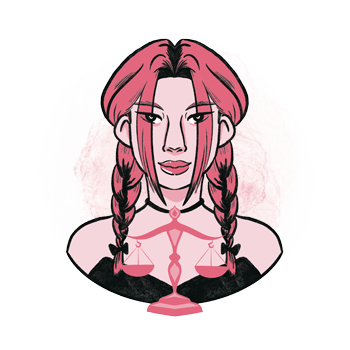 Additional Information
Libra - traits, personality, dates, characteristics and astrological sign information.
Libra Horoscopes - daily, weekly and monthly Libra horoscopes..
Libra man - information and insights on the Libra man.
Libra woman - information and insights on the Libra woman.
Libra compatibility - the compatibility of Libra with the other astrological signs in love, sex, relationships and life.
Libra history - the history of Libra and the stories behind it.
Libra symbol - images and interpretations of the Libra symbol and ruler.