Yearly Libra Horoscope for 2022
2022 Libra Horoscope
Spirit: Idealism, Ability, Grounding, Movement.
Color: Plum.
Places to visit if possible: Madagascar, India, Seattle.
Things to learn: Artistic Swimming, Sewing, Magic Tricks.

The General Feel
In the world of Libras, 2022 is the initial appeal for satisfaction and beauty. You are no longer in the mood to tolerate things you once tried to endure in your life, and this may require conflicts so you can develop to become potent and productive. The spring is filled with colorful and wide ideas, business proposals and possible grand love stories while Venus is in Pisces. Atmosphere tends to carry you away and it is important to observe and listen closely, so you don't get caught up in delusions and projections when relating to other people. Stay honest and open about your intentions. As good as they may be, the person in front of you might disagree.
When certain issues seem too good to be true, ask yourself about your own part and what you bring into them to feel as good as you do. Your sense of satisfaction is not tied to any other person or outer circumstance. The outer world only sparks who you truly are, you can hold on to any version of yourself with a healthy sense of humor and an open mind to listen to your intuition. The collective struggle has been limiting, but this is a year potent for travelling, studying, and expanding your horizons. A change of perspective will follow a change of scenery. Even if you cannot go very far, at least spend enough time in nature, forests, by the river or by the ocean.
The Greatest Challenges
The biggest challenge Libras are about to face in 2022 is keeping their feet on the ground. Too many situations may seem magical when they are really just regular situations that you are ready for right now. Metabolize them with tenderness. Each person you meet is just human and not meant to become any form of obsession or authority. This is a time of high hopes, travel and expansion on one hand, while also a time of great disappointments if you don't act to manifest your vision regardless of debts and ties to those who stand in the way.
The Greatest Rewards
Positive outlooks are about to help any difficult situation in life, especially if you have decided to embark on a solitary journey, ended a toxic relationship, started your own business, or moved out of your family home. Big changes are about to result in numerous open doors and bravery will be deeply rewarded as you invest in things that make your heart joyous. You don't want to stand in a comfort zone for too long. Believing in yourself is your greatest asset.
Physiology and Body
This is a year when toxic substances and surroundings may cause invisible problems in your body, and issues of unknown and unclear origin. Pay attention to allergies, sensitive reactions in certain homes and places that you don't usually reside in. Be careful not to add new things to your routine just because they seem "smart" when you don't feel like they fit your actual needs. Any big change to your menu should be made slowly, while you listen to your physical responses over time. The second half of the year may be risky and tense, so be careful around sharp objects, hasty physical challenges and open flames. On the other hand, caution and a healthy routine of movement and exercise may help you build a strong foundation for years to come. Invest your energy in yourself.
Love and Family
Family time may seem like a lot of work if you don't nurture a joyous atmosphere in your home. Take a trip together, embark on a journey that opens horizons, and don't let this year slide away in professional and financial responsibilities. It is up to you to nurture your heart, your emotional world and people you feel intimately connected with. Show gratitude and seek a feeling of calm and support in any contact you give your time to.
With your birthday and the beginning of autumn, things you thought were stable are beginning to change. This is a time when true value of your relationships will become clear. Your new partner starts to resemble the old one, what made you frustrated and angry in the past resurfaces to remind you of topics unresolved, and in December, you are tempted to think outside of the box and find entirely different emotional paths. Stay in tune with moral imperatives carried within. Don't ignore your feelings in any situation, not even when you seem irrational to other people. While you remain focused on your inner world and a sense of self-worth, it will be easy to see the truth in relationships clearly.
Work and Finances
Financial opportunities that seem promising in April and May won't be as fruitful in November, so keep your grounding when cards turn out good for your future, invest smartly and save instead of overspending. Be smart and don't take risks that are unnecessary unless your gut feeling is good and puling you forwards. Avoid months of September and October for any important documents and signatures that could affect your future poorly. You can get certain things done on your own, even if you doubt it or find too much criticism in the outer world. Choose a path that will prove your ambition and abilities potent.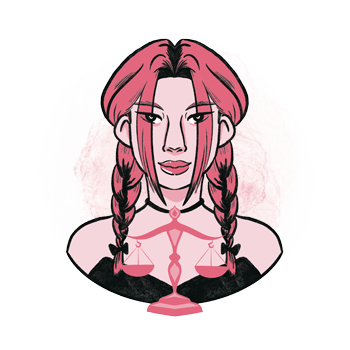 Additional Information
Libra - traits, personality, dates, characteristics and astrological sign information.
Libra Horoscopes - daily, weekly and monthly Libra horoscopes..
Libra man - information and insights on the Libra man.
Libra woman - information and insights on the Libra woman.
Libra compatibility - the compatibility of Libra with the other astrological signs in love, sex, relationships and life.
Libra history - the history of Libra and the stories behind it.
Libra symbol - images and interpretations of the Libra symbol and ruler.