Yearly Scorpio Horoscope for 2022
2022 Scorpio Horoscope
Spirit: Reality, Self-Care, Responsibility, Readiness.
Color: Deep Sky Blue.
Places to visit if possible: Russia, Sweden, Singapore.
Things to learn: Paragliding, Astrology, Financial Analysis.

The General Feel
Year 2022 is extremely interesting for those born with the Sun in Scorpio, not only because of extreme changes they might finally be able to make (after a long while of struggling with limiting circumstances), but also due to the release of beliefs that weigh them down in the process. There is a lot of challenging energies through the course of this year, but communication and focus on self-care and healing may bring benefits that have not been possible up to this moment in time. Responsibility taken for your own life and your body will reward you with incredible outer circumstances and possibilities.
While months of spring bring vision and an intense relationship with the future you wish to build, the rest of the year serves to show what needs to be done for any big goal. The heart needs to heal and emotional processes you go through will be intense, along with mood swings and deep changes of the relationship you have with your own belief systems and values. To keep the mind ready, keep moving, walk, and nurture your contact with Nature as often as possible. Short trips, countryside, forests and rivers bring insights and help you set free from the tension that builds up at work, in a team, or in romantic relationships.
The Greatest Challenges
Scorpios have a big inner challenge to deal with in 2022 and regardless of everyday matters and your ongoing system of habits, there will be an underlining atmosphere that affects your feelings and your perception of circumstances surrounding you. It is important not to get carried away by opportunities that seem valid in months of spring, for what does not relate to authentic talents and abilities turns sour in October and November. Respect your own creative process and things in life that spark your passion and make you happy, even if they aren't socially supported as some ego imperatives seem to be.
The Greatest Rewards
Once expectations of others are shaken off and you focus on your truest inner values and things you love, the energy rises to help you push through any obstacle in the way. This is a potent year in which anything can be made possible with your system of beliefs working for you, instead of working against your true nature. It becomes irrelevant whether you are accepted by anyone else once you are free to accept who you are, with all the shadows and talents to make you whole. Insights you gather have the potential to support you to completely turn dark and burdening issues into a bright future you are responsible to create for yourself.
Physiology and Body
Your body plays the most important part of your healing process in months to come. With retrograde turn of Mars in October and Pluto finally reaching the degree of exaltation of Mars in Scorpio, all circumstances find their root in your routine and the way you nurture and cherish your own material manifestation. Immunity may be impaired, especially in May and autumn months. Stress and too many contacts with people, time spent in large social circles may trigger an intense physiological reaction. Check your liver and kidneys, as they might suffer from conflicts unresolved and unproductive relationships that demean your creativity. Healthy eating habits and deep body cleanses help set boundaries towards the outer world and other people just as alone time preserves physiology from unnecessary strain.
Love and Family
Plans made with loved ones during the spring could be off, so be prepared to change your mind if change comes naturally. Feelings cannot be pressured and imposed. Projections and ties to the past affect all relationships, both ways, so try to listen without prejudice and feel the truth wherever it may be found. Stay as honest as possible, leaving room for the person in front of you to show their own truth, even if it is painful. Some long-term relationships might break due to broken trust, but the truth is about to set you free and bring stronger faith in love into your life by the end of 2022.
April, as well as November may carry new romance into lives of single Scorpios, and this is a time when emotions prevail and easily take over all other areas of life. Keep a creative tone at your workplace, write, sing, dance, and find a way to express your feelings in a productive way that allows growth, or you might be seduced by your own vision, rather than seeing the other person as they are. Time spent with kids, especially if you have kids of your own, brings the greatest rewards. It reminds you of the life you can create for yourself, as you give them more and more freedom to be exactly who they are and enjoy meeting their emerging personalities every day.
Work and Finances
This year could be the turning point in professional worlds of Scorpio representatives. In a professional setting, you won't allow yourself to be carried away by plans and promises that never proved fruitful. You have something more productive in mind, as hard as the process of liberation from past ties might be. Stand your ground, open to learn about the real direction you should take. If your work doesn't support healthy and honest self-expression, it could lead to psychosomatic problems, burden your physiology, and your wallet. Recognize your own worth and don't settle for tasks and employments that don't serve the authenticity that you wish to creatively express. You must invest in yourself and give up on an image of who you should be, to truly be free to earn from your actual talents and who you are.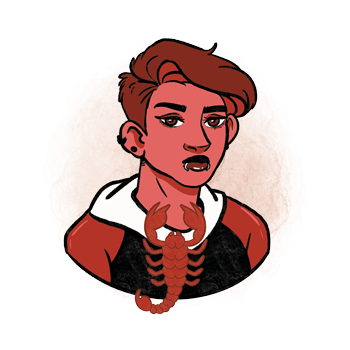 Additional Information
Scorpio - traits, personality, dates, characteristics and astrological sign information.
Scorpio Horoscopes - daily, weekly and monthly Scorpio horoscopes..
Scorpio man - information and insights on the Scorpio man.
Scorpio woman - information and insights on the Scorpio woman.
Scorpio compatibility - the compatibility of Scorpio with the other astrological signs in love, sex, relationships and life.
Scorpio history - the history of Scorpio and the stories behind it.
Scorpio symbol - images and interpretations of the Scorpio symbol and ruler.