Yearly Virgo Horoscope for 2023
2023 Virgo Horoscope
Spirit: Wealth, Inspiration, Travel, Time.
Color: Indigo.
Places to visit if possible: France, Thailand, Argentina.
Things to learn: Fencing, Horseback Riding, Quigong.

The General Feel
For Virgos, 2023 may begin with difficulties, loss or circumstances that spin out of control, but also with structured creativity and an ability to express oneself through important career goals. You may forget a thing or two along the way, lose sight of a plan that you've set for yourself, or get pulled by circumstances that are too attractive to miss. Whatever the situation, February and March support you to make a shift that is needed to get you on the right track. With the end of spring, you will have no dilemma about things you wish to accomplish in the following months.
There is a strong accent on self-expression and ways to speak about your feelings without negative beliefs interfering with your honesty and your straightforward approach. Long-term romance is threatened in July and August by secrets or old ties that you haven't processed and learned enough from. At times, you might feel forced to go with the flow as no stagnant choice brings happiness into your world. Remind yourself not to resist changes that come for future improvements and growth. Stable relationships will bring peace and enough support to get through problems of the mind, worrying and old patterns that are ready to be resolved.
The Greatest Challenges
This year is reserved for grounding, the material world and financial stability. This leaves little room for all the things that are going on in your heart and your mind. If you are not careful, you could miss important signals from your body while trying to keep the rational tone to your choices. Instincts get quenched and this could lead to choices that bury your emotions deep and cause psychosomatic issues later on. Give yourself time to work on your own responses to circumstances ahead.
The Greatest Rewards
Opportunities to grow in terms of self-worth and self-love are before you. While you may need to shake off relationships that have become toxic or things you've outgrown, followed by pain or fear of loss, you are about to build faith into the creative process that helps you blossom and lead your own life right where you want to. Productivity comes with ease, for as long as you stay in tune with what brings joy into your world.
Physiology and Body
This is a tricky time for matters of the physical body, as emotions get stored and stiff within your muscles and liver. You will need more time than usual to process what goes on in your everyday life, especially if you meet many people along the way and work with strong individuals that have a perspective different from your own. Lack of support in long-term relationships could bring a spasm to your lungs and heart, so recognize the moment when you've outgrown certain scenarios and need a change that will bring you more peace. This is a good moment for workshops that deal with the body, spontaneous dancing and movement that will help you release stored energies that are in any way destructive.
Love and Family
With Saturn's transit through your seventh house starting this March, this year is an announcement of a period that no longer allows superficial contacts with people you wish to build intimacy with. Shared beliefs and values could bring incredible progress to long-term relationships when you have the spark of magic to spice things up. Honesty is the main condition for any kind of stability in your love life and you will find yourself sensitive to any lie or shady business that comes your way.
Whatever happens, keep in mind that the love you feel is what truly lifts you up. It is not validation or reciprocity, but the truth that goes on inside your chest. Still, boundaries will have to be set where too many sacrifices have been made. Expect wonderful moments with children, younger individuals, and people that make you laugh. Focus needs to turn to what is healthy for your Soul, even if this means letting go of stability that you've been holding on to. With trust in yourself and all that you can manage in the future, there is no reason to inhibit yourself when you truly wish to go with the flow and allow the ease of change into your emotional world.
Work and Finances
Don't be too hard on yourself about a change of plans that comes and goes throughout 2023. Your focus seems to depend on other people and while this may be frustrating, you need cooperation and teamwork to reach a goal ahead. Be patient, with yourself and others, leaving enough time in your schedule to meet deadlines and build the future you wish for. Financial opportunities are on their way, through creative work, foreign authorities, travel and learning. You will widen horizons and see your chances clearly, with pure understanding how to bring your visions to life. Let life surprise you and pursue ideas and instincts that make you feel passionate and alive.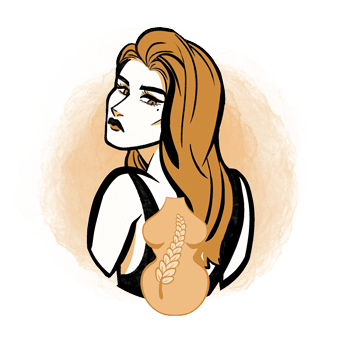 Additional Information
Virgo - traits, personality, dates, characteristics and astrological sign information.
Virgo Horoscopes - daily, weekly and monthly Virgo horoscopes..
Virgo man - information and insights on the Virgo man.
Virgo woman - information and insights on the Virgo woman.
Virgo compatibility - the compatibility of Virgo with the other astrological signs in love, sex, relationships and life.
Virgo history - the history of Virgo and the stories behind it.
Virgo symbol - images and interpretations of the Virgo symbol and ruler.