Yearly Virgo Horoscope for 2022
2022 Virgo Horoscope
Spirit: Balance, Studious, Lasting, Prophecy.
Color: Light Blue.
Places to visit if possible: Bali, Mexico, Alaska .
Things to learn: Engineering, Rowing, First Aid.

The General Feel
Self-expression comes in numerous new ways. This is the year when many Virgos will make big shifts in the path of their career, set new goals, and find commitment in intense work and new projects that give them a constant source of motivation. It is important not to get lulled in any comfort zones when it comes to practical progress, so you can open new doors in front of you when they show up in your path. Opportunities are coming, although your motivation to follow them might go back and forth, throwing you from shore to shore and making you question the foundation you've spent years building.
Romance will blossom in summer months if you allow yourself a relaxed and flexible attitude. Some will change their partner or find a new love, while others find purpose in relationships that ended, however ugly things might have become. By the end of the year, you could reach important goals, but not without a fight and sacrifice along the way. Stay committed and as energized as possible, keeping your body in good shape and building strength not only through activity, but through a routine of rest that is needed for constant regeneration.
The Greatest Challenges
You are ready to break the barrier but currents that keep you back could become extremely strong. The biggest challenge in 2022 is the pity you might be feeling for someone else, not understanding the higher purpose of their path. It is important to accept circumstances and wrongs that seem impossible to understand, so you can commit to your own path and truly choose the best option without a feeling of debt or guilt towards those who weren't so lucky. Once you build your energy high and set clear boundaries, it will be much easier to give a helping hand with respect for your own needs – your primal and most important personal responsibility.
The Greatest Rewards
You may be unable to change the world, but what you change in your personal world can be extremely rewarding, leading to progress, education, travel, and widening of all horizons. Fear tends to fade away as you give in to feelings that are risky and push you to live in the moment. This is an important year when it comes to finding balance, proper partnerships that will blow wind in your sails and point you in the right direction. Finally, many things will be seen clearly and without a shade of doubt. You will feel free to proceed once you leave unnecessary weight and baggage behind.
Physiology and Body
If you become too passionate and invested in professional goals, you could forget what your heart needs along the way, tiring your physiology out. It is of outmost importance to have enough rest and a proper sleep schedule to avoid giving in under pressure, putting too much strain on your spine and neck, as well as pushing your thyroid function to its limits. Be gentle with your body any chance you get, care for the way you look to yourself in the mirror and keep yourself clean on the inside in a balanced and caring way. If you have trouble holding on to a healthy routine, drink a lot of water and make time slots for fasting and cleansing in any way that feels right, to prevent clogging your mind with processes within you that can be controlled.
Love and Family
This is a year of secret affairs and discovering the truth behind the scenes when your feelings carry all the needed information for any relationship in your life. Romantic needs are strong, and they summon just the right person at the right moment, especially in the first half of the year as nature is awakened by spring. Some relationships will feel toxic while others bring numerous wonderful encounters, humor and optimism into your world. Separate the two to not get carried away by unconscious manipulation or your own hunger to be seen and recognized by another. Your primal task is to recognize and validate yourself.
Single Virgos may meet a new partner or start a love story in places of learning and open horizons. New worlds await and as your energy becomes focused, distractions may come through new bonds that don't bring as much benefit to your heart as they promised to. Listen to your hunch and enjoy the moment either way, realizing that at times, skepticism protects you, but at other times, it only stops you from having fun. Family matters may not be resolved, problems might even grow, but so will love and understanding in the process. The flow within close contacts is to be enjoyed and it is not meant to drain you or tire you out.
Work and Finances
Hardships that have already been a part of your professional world won't fade or disappear if you don't set free yourself. Take matters into your hands, cut loose from what is tainted, toxic or unsupportive of progress, especially in August and September if you start doubting your brave steps forwards. Your career is not meant to blossom only through hard work. You also need inspiration and to show your actual talents in the process, or you might get caught in matters that take too much of your energy while not leaving enough financial benefit to you in the end. The material world rewards you when you are brave to take a risk of believing in your own inner voice. It is time to win in a battle against yourself and go where passion and inspiration are.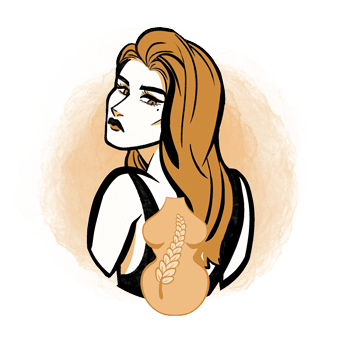 Additional Information
Virgo - traits, personality, dates, characteristics and astrological sign information.
Virgo Horoscopes - daily, weekly and monthly Virgo horoscopes..
Virgo man - information and insights on the Virgo man.
Virgo woman - information and insights on the Virgo woman.
Virgo compatibility - the compatibility of Virgo with the other astrological signs in love, sex, relationships and life.
Virgo history - the history of Virgo and the stories behind it.
Virgo symbol - images and interpretations of the Virgo symbol and ruler.