Tarot Card Meaning, Love, Reversed & More
Five of Swords Tarot Card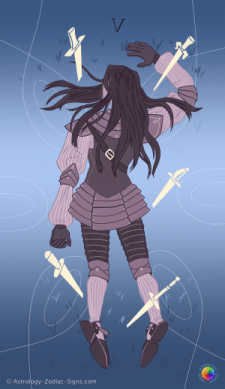 All Tarot Cards
Five of Swords Meaning
Five of Swords is a card of conflicts that leave us drained and battles that have been lost. Even victory doesn't seem like one in this atmosphere, and it represents a time when we need to contemplate on everything that happened and start seeing things in a different light. The struggle has drained our resources and arguments, and there is very little left to say until the core of the issue is found and we are blessed with actual understanding of the heart. There is a lot of toxicity to this symbol, as it stands for the dissatisfied approach to conflict, and one that is hardly productive or resolving anything we wish to resolve. It signifies a moment when we need to turn to different options, our inner strength, motivation and hope, so we can see the purpose of all things that happened, connect with our Soul, accept and count our losses, and see what we can do differently next time around. The greatest challenge of this card is guilt and judgment, for Self or other people, that keeps us in the loop of unresolved patterns and wastes our energy away when we should be motivated to move forwards and clear the air.
Love
The reminder that there is no winner in a love story, Five of Swords comes to show that little ego got involved when we should have been listening, feeling, and protecting our emotional core instead of jumping into conflict. It signifies wounds made to a relationship that need time to cleanse and heal, and reminds us that with enough love, comes more understanding than we received and gave to the partner standing in front of us. If one is single, this card comes to remind them of personal strength and the positive aspects of being alone in this period of life, for only with circumstances embraced and purpose found, can we move on to a different phase.
Career
In a career reading, this card is mostly negative for achievements we wished to reach for. It tells us that we might have chosen the wrong path, one that isn't in tune with our Soul, and since we haven't been using our talents, we lack the strength and energy to fulfill the potential we know we have for a larger cause of personal happiness we pursue. Something is off and we are to look around and see different options, not because we are meant to give up, but because we are ready to follow our inner voice and the true calling that will lead us where we wish to go.
Health
Our physical state can seem like a true abandoned battlefield with Five of Swords in our health reading, especially if one has been through deep and serious illness and gave up on hope. The greatest challenge of this card is to lift our head up and see that there is still something to fight for. When it shows within our physiology, it is a warning sign that some of our convictions are truly wrong, influencing our hormonal balance, and making us feel worse than we need to feel with our lessons learned. The set of personal responsibilities is questioned and our routine, as well as our self-care, should reflect on our desire to make ourselves feel good as an absolute priority. Self-destructive choices need to stop and if we cannot break their cycle on our own, help can be found.
Five of Swords Reversed
When reversed, the Five of Swords is strangely satisfying however painful it might be, as it shows that we have decided to turn our minds around in order to find answers to our current situation. It requires bold yet flexible changes of perspective, and a healthy metabolism to pull us through, but offers an opportunity to learn a great deal from any state of conflict that we might have avoided to face by now. Here, it stands for our curiosity and readiness to try to spin backwards and hand ourselves by the feet only to see things in a light that makes more sense.
Five of Swords Time Line
Past - With this card in our past, lessons have been learned that shouldn't be forgotten today. It is a reminder of mistakes we made and shows us how we had no dilemma about the things that might be testing us once again. The mark of the new cycle and the moment after which everything must go upwards or life would no longer make sense, it stands for the time when we have given up on logic and decided to follow our feelings, even if we had to do it all alone and feeling like we belong nowhere at all.
Present - Five of Swords stands as a light that shines on our true energetic state and possibilities. If one is thinking that they can do it all, maybe this is the moment to reflect on actual strengths, abilities, and emotional needs instead of putting our head through a wall. Our social groups need a change and a shift of sorts when this card colors our present, and we need to expand the circle of people we communicate with on daily basis to learn the actual truth instead of spinning in circles.
Future - The future colored with such an intense card of verbal challenge reminds us to measure our words and avoid conflicts that lead nowhere. Nothing will be resolved by a fight and the only actual understanding comes from emotional and intimate touch of two Souls. Battles of ego are announced and we are warned that we might get bruised if we don't lift our fences up and protect ourselves while holding on to understanding of other people's pain and real limitations.
All Tarot Cards