Tarot Card Meaning, Love, Reversed & More
Four of Cups Tarot Card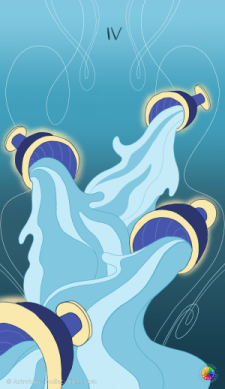 All Tarot Cards
Four of Cups Meaning
When we get tired of relating, Four of Cups reminds us that it is time to be alone, meditate, say "no" to new party invitations or social gatherings, and turn to ourselves for Self-love. This is the important link in the greater order of things that many seem to miss along the way, and it could point to loneliness and times when we are forced by sadness or inner pressure to be alone, lost, locked away or depressed. In general, this is a card of meditation, prayer and rest, of our personal contact with Nature. It reminds us that we need time to cleanse of all outer influences and nurture our emotional boundaries in solitude. It points to stagnation of feelings, ties to the past that we cannot set free from, and relationships that kept us wounded for a long time. It is a natural part of the emotional cycle, for our desire to connect should be followed by our desire to detach, to sleep, and care for ourselves after hours, days, or months of caring for others.
Love
This isn't exactly the symbol of togetherness, although it shows an obvious emotional connection in a love reading. Still, the person doesn't seem that interested in the interaction to begin with, probably still attached to an ex-lover or the one that got away. A new romance requires setting free from old ties and from baggage that holds one of our feet in the past. For those already involved this is a signal that some boundaries have been crossed and the need of the moment is to separate for long enough to determine where one authentic personality ends and the other begins.
Career
Four of Cups is a card of lost motivation and time needed for rest. It will rather point to our need to take a vacation than any large projects getting started any time soon. It shows broken rules or boundaries that were crossed along the way, and might speak of the positions that were taken by others even though we though we deserved them. Dishonesty or injustice puzzle us and we don't know where to move next, so we must connect with God, the Nature and our spirit guides to see if we should make some grand changes to the professional world we have been trying to build. Relationships with coworkers are draining our energy away, disinteresting or unproductive at the moment.
Health
A person is in need of some serious regeneration with the Four of Cups in a health reading. This card tells us to rest, without a doubt, to meditate, relax the spasm in our muscles and our entire body, and to give up on all those passionate chases that have kept us lit but didn't keep us healthy. It is a reminder than our energy needs to be preserved, balanced, and used to cleanse our system instead of scattering it all around on issues that aren't really as relevant as our health should be. A person could be in pain, refusing medical assistance, and not realizing what their body needs. Refusal or stagnation of emotion could lead to things getting buried into our physical realm instead of being resolved on an emotional level where they came to be in the first place.
Four of Cups Reversed
The reversed position of the Four of Cups is the refusal to deal with our own inner world and its shadows. It points out the need to hide from a problem that is painful and deep, and the tendency to project it onto other people instead of finding it within. When solitude and firm sleep are calling on us we shouldn't refuse, for all sorts of physiology issues and chronic conditions come out of this sort of stagnant and repressed energies when they aren't respected every step of the way. Give thanks to your physiology and follow its directions wherever they lead, even if this means doing nothing at all until your heart is at peace.
Four of Cups Time Line
Past - With the Four of Cups in the past, we must ask ourselves if we had enough time by ourselves to regenerate and heal or did we refuse support because we have been trying to hide from our own shadows. Triggers have been pulled and we have seen how our partner or close people could affect us and which patterns they provoked. We are to recognize mistakes that we have learned from and those we shoved under the rug to deal with today.
Present - This card supports solitude and time to rebuild our fences and think about personal space and boundaries that have been compromised. It doesn't come in the moment for any new projects of relationships, for we have been emotionally drained and need to redefine things, see how our perspective should change, and find the meaning of everything that has been happening before moving on. If we ignore this emotional calling, we could end up closing our hearts and pursuing goals just for the sake of them instead of enjoying the ride.
Future - With the future in mind and the Four of Cups set in it, our efforts today might be a bit out of balance and exaggerated even though we don't see that they are at the moment. We are to ask ourselves from time to time if our struggles have a purpose or are we simply following the flow of feelings from the past. We may be following someone else's choices that haven't been in tune with our own heart for a long time. This card is a strong signal that we have someone close who is draining our energy away instead of giving us just as much as we have been giving them.
All Tarot Cards