Tarot Card Meaning, Love, Reversed & More
Four of Swords Tarot Card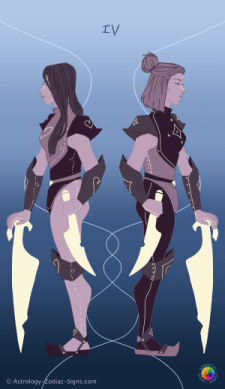 All Tarot Cards
Four of Swords Meaning
Coming after we've been through the pain of sacrifice and the hurt carried by the Three of Swords, the Four of Swords is a peaceful time of contemplation, rest and regeneration from what we've been through. It is a card that brings us in touch with our own core, with our ancestors and helps us understand the process that had to be endured so we can rise to the surface once again. It is a form of rebirth in its structuring form, as if we had to build a skeleton on a different emotional foundation, so we can rise and remind our heart of joy, laughter and intimacy. Although a bit rough on our mind, this card is a positive one to have around, for it puts the final dot to our endeavors and brings us in touch with the moment, with our body, and grounds our thoughts. It is a card of meditation and prayer, bringing us the opportunity to talk to our spirit guides and feel the truth of this moment right in the core of our heart.
Love
The Four of Swords seeks solitude in order for personal power to be regained, and isn't exactly the best of cards to show in a love reading. It is a reminder of personal boundaries and the spot in a contact between two people where a symbiotic bond might start to form and we need to return to ourselves to see how we truly feel. Here, it is important to support time for solitude and spiritual ascension for both ourselves and our partner, realizing that each of our relationships has a purpose on our Soul's plane, that isn't easy to spot on a daily basis. Those who are single will find this card in a reading when they are coming to terms with their solitude, so they can be whole for the next contact they will form.
Career
When career is marked by the Four of Swords, it comes as a reminder to make decisions based on our inner dialogues and needs. No other person is needed in our mental and emotional processes, as we already have the support of the Universe to stand firm on our own two feet. This card will typically come after a long battle for leading or managerial positions or a raise, and signifies the moment when struggles are finally over and we can relax, rest, and enjoy a vacation at least for a short while. We have no reason to work over our limits at the moment, as we have set up a foundation and have room to attend to our authentic needs.
Health
Four of Swords announces special times of healing when found in a health reading. In its purest form, it represents the clean connection of our Soul and our body and the place where we understand the link of our unconscious, physical world, with things we can feel rising to the surface through our subconscious mind. Answers could come in one's dreams, in meditation, in discussion with spirit and animal guides, received in their core from different processes in our physiology that we are becoming more and more aware of. The sensation in our body can be recognized as emotion and recognized in its purest purpose, if we only allow it to lead the way.
Four of Swords Reversed
When the Four of Swords is set in its reversed position, it may be quite tricky, as it represents the level of impatience we have with our own Soul. As if we are trying to fit into certain norms, we might forget our own limitations and emotional needs. Instead of allowing the stress to dial down, we keep on holding on to high expectations from ourselves, until we fall, exhausted and drained out. Think about the way you are treating your body and your heart, and give them time to regenerate after anything that might have taken away their glow and energy, even if it seems small and meaningless in your current set of beliefs.
Four of Swords Time Line
Past - Although Four of Swords typically shows the state of rest and contemplation, when set in our past, it points out to periods of our wise decisions that were made in a form of inner dialogue and belong solely to us. However big the responsibility, this position speaks of our strength to make choices that are stable and focused on our authentic personality and reminds us of this fact when we might be a bit lost and dependent on others.
Present - The atmosphere of this card tells it all. Even if you don't have the opportunity to organize a long vacation at the moment, you should turn to yourself and leave enough time to regenerate from battles that are now left behind you. This is the need for more free time, hours used for sleep, meditation, a healthy routine and movement that will influence our heart in all those healthy, joyous ways as we repeat our routine every day.
Future - A fine announcer of relief after times of crisis, this card comes into each reading as our goal in the future, showing us that there is a light at the end of the tunnel and a moment when we'll have a chance to relax. It typically comes as the symbol of support, reminding us that there are no purposeless struggles lived today, and that our choices have a process to go through so we can finally be ready to find peace and move on to something new as time goes by.
All Tarot Cards