Tarot Card Meaning, Love, Reversed & More
King of Cups Tarot Card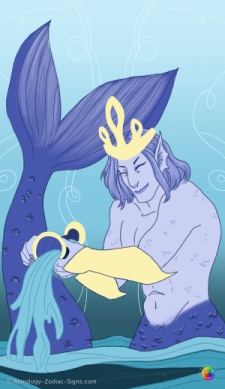 All Tarot Cards
King of Cups Meaning
Representing the highest authority of our emotional world, the King of Cups has an intense role that may be interpreted in several different ways. He is the sense of control which may manifest as coldness of heart protecting us from toxic contacts, or the stable ability to follow our own feelings with caution and cognitive understanding of our direction. He stands for the highest knowledge of Self, the point where we see and fully embrace our emotional world just as it is – the position we are all trying to reach. This card requires dedication and absolute honesty about our feelings, and might point to rational solutions that limit our heart if we are set on a path that doesn't feel right. The coolness around the rational approach to our sensitive world is a bit scary and might be too cold to keep our emotions stable over time. Overly rationalizing won't bring solutions, nor will it take us to the true desired goal. It is important to understand where the boundary is between self-control and self-delusion.
Love
Being the touch of Air and Water, the King of Cups is changeable and fast, speaks of the transitory nature of all our feelings, and typically points to a short-term relationship or a fling that requires a lot more stability and grounding to make something serious of. This card brings inspiration for our brain rather than pointing out to the person of our dreams. Still, this is a good position for our personal stability and understanding of the actual potential of a bond, so we don't get carried away by irrational opinions. On the other hand, it shows that this is the right time to talk about our feelings, and all those contacts that have been waiting to be structured and defined are about to be set in place.
Career
King of Cups is one of the best cards to see in a career reading, for it represents the right balance of words and deeds, feelings that never overflow, and a wise approach to the situation ahead of us. It is a signal that we are doing something right and that we have a chance to move towards our professional goals with a cool head and an open heart. Too much stress could damage our physiology though, for the spasm could build up if we are trying too hard to understand things and respond properly, even when we need to vent and let go without much thinking.
Health
This card stands for the stable process of healing and the point where things are moving in a certain direction that is supportive of our wellbeing in a constant, steady pace. What seems slow is really what we need and faith will never fail us. It is a reminder to breathe deeply, fill our blood with oxygen and move to see our feelings out. Too much restriction for the higher goals might be a bit too much for our physiology to bare. It is our task to remember that we need to be unrestricted and jump in our childlike, joyous, liberated roles here and there, so we can truly focus when things are important and require our coolheaded approach. All physical issues will eventually resolve if we smartly and wisely approach our emotional world, resolving buried issues one by one.
King of Cups Reversed
Things turn out strangely toxic when the King of Cups is reversed, as overthinking takes over and the heart is no longer asked what it has to say. This position might show someone manipulative, using their empathy to understand someone's ways so they can use it for personal gain. It represents overthinking, our desire to set free from emotional baggage in any quick and painless way, as well as too much talk about others when one should clearly put focus on Self. We are to go easy on our own heart to build up the patience needed to cleanse it completely and fully, so our brain can understand its needs.
King of Cups Time Line
Past - As the King of Cups set in our past shows how we once acted on impulse and learned to be more careful. It may be a reminder of past mistakes that led us to this point in time or a clear situation where we needed to grow up, be more serious and find new methods and ways to cope. It is a place where communication gained meaning as we realized that only sensations and feelings began to count, and discovered that some efforts are meaningless if we don't trust our own inner judgment more than anything else.
Present - With this card in our present, we are in a stable position to move in any possible direction. It is a message of emotional stability and wisdom, pointing out a good moment to plan ahead from a solid foundation that won't change with the first winds. There is a sense of ease to it here, as if we are finally allowed to feel anything, for we know that we have the situation under our control and no way of self-expression will be wrong as we won't let it be hurtful.
Future - An introduction to the Suit of Swords in a way, this card speaks of processes in our mind that still need to be finished. It announces a position in which everything will finally be understood, and we will clearly see the purpose of the situation at hand. Representing our emotional stability, it is a good signal to follow, as it speaks of our mind's ability to embrace the entire span of emotions that come in certain surroundings and in certain relationships.
All Tarot Cards