Tarot Card Meaning, Love, Reversed & More
Six of Cups Tarot Card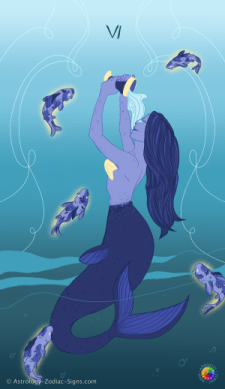 All Tarot Cards
Six of Cups Meaning
Announcing the phase of innocence, Six of Cups is a wonderful card to see in any reading, for it represents our pure touch with the inner child. Pointing out to safety, clear boundaries already made, and the essence of freedom there to light the way, it shows positive emotions, joyful energies, smiling people and contacts with no ill will. It represents a place where things are clear and obvious between us and other people, and we feel the need to give just as much as we are thankful for, and more. This is a refreshing state that comes after a big storm, after we have pulled out of some dark issues and worked on matters that drained us out. Now the satisfaction kicks in as we enjoy the safety of the new towers we have built on an honest and authentic foundation. The sense of emotional liberation is here, and we are to embrace the new circumstances instead of holding on tightly to the past. There is no need to be too serious all of the time, and in good company, we can find the right emotional connections.
Love
A love reading is enriched deeply by a Six of Cups set in it, for it shows the deepest emotional recognition between two people, where vulnerabilities are clearly seen and we have no reason to hide any longer. Representing the need to protect the one we love, just as much as theirs to protect the creative and innocent part of our bond, it shows the importance and the depth of our contact that needs to be cherished. Partially asexual, this is a card of clean loving exchanges where the direction chosen for the future may be platonic to preserve the state of innocence and care. Still, it is the essence of any intimacy and has a grand potential to last and create, when grounded and manifested through physical touch.
Career
With its invigorating and rich energy, Six of Cups is a card that should motivate you and push you forwards when found in a career reading. Showing the purity of our motives and doors open for clear, honest and creative work, it is a very supportive asset in any reading, especially the one that includes our professional world. Standing for the contact with the inner child we held on to, it reminds us that we've learned enough to get ahead, and that we don't need to take any more responsibilities to be happy, just to create and stay in a zone of safety where we are free to experiment and connect with others, just as we are.
Health
The card recharging our batteries, Six of Cups teaches us that all of our physical problems and health issues can be overcome if we touch the right link in our memory and find the core of the issue. It may point to inherited troubles, as well as our need to reconnect with our truest desire that manifests on a physical plane through all sorts of difficulties. Movement should be genuine, and all contacts should be clear of fear for what we haven't yet had a chance to face. It seems to be our priority and our responsibility to have some fun in order to be healthy and happy in our own shoes.
Six of Cups Reversed
With Six of Cups reversed, we may face some sad choices down the road, as it may show our own detachment from the inner child and the feeling of home we wish to find. We are probably out in the open, feeling like many things from the outer world may bruise our core, and need to find the right distance when relating to others to protect our heart and still take in what we need to. The process of learning seems strangely governed by convictions imposed, and the heart needs guidance found as we attend to our inner world.
Six of Cups Time Line
Past - A trip down the memory lane, Six of Cups is a solid reminder of our most vulnerable yet most creative and joyous Self. It stands for the contact we once had with our authentic personality, before we built defenses to stand as the structure of success today. Depending on the following cards, it may be a reminder of true value as opposed to those we live today, or show how our roots gave us the energy to endure and build what we have. In any case, it is a reminder of our joyous life force that keeps us going.
Present - With a card such as this one in our reading for the present, the emotional crisis has been left behind us and we are now certain to act with the best possible intentions and clarity of moral judgment. It pushes us forwards, telling us that lack of experience doesn't endanger productivity or personal happiness for as long as we are excited and curios about each next step that should be taken. Speaking of clean intimate contacts, it connects us with the right social circles and points out those individuals that have been special in our life as pillars of support.
Future - Emotions should obviously be let to interfere with any judgment when the Six of Cups is set for our future. There is no right or wrong here, only the impulse of honest authentic needs and the purity of connecting with others, without prejudice or judgment of any kind. It is a fine mission to work towards, something to inspire and motivate us along our path. When you see this card in your future, you must be doing something right, as you are approaching the ideal of self-acceptance and self-love while holding on to healthy, grownup boundaries.
All Tarot Cards