Tarot Card Meaning, Love, Reversed & More
Ten of Wands Tarot Card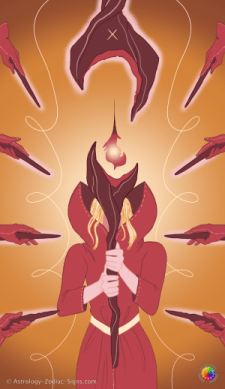 All Tarot Cards
Ten of Wands Meaning
Standing for the main conflict of willpower and too much responsibility, Ten of Wands reminds us just how much we can take and what we can do to reach our goals in life. It is the card that seems burdening, difficult, dark and overbearing, but shows the light at the end of the tunnel and reminds us of our true strength to endure through any challenge. It is a card of true fiery strength, decisions set in stone, and goals that require all our resources put into them if we wish to succeed. There is no compromise here and no room to change our mind. While it may seem like karmic debt we repay, it is in fact the pure consequence of our own actions and decisions we chose to make along the way, over and over again. The strength of will is about to push us through and we should be proud of ourselves instead of feeling burdened, dark and depressed, but we will need time to recover and heal after we have done what we set out to do.
Love
This is a typical card to show burdens of married life when everything seems to fall apart, but the strong power of love and mutual respect still holds us together. Ten of Wands is generally an ally to long-term relationships, but it could be the signal that we are carrying the weight of responsibility for the entire relationship on our shoulders instead of sharing it with a partner. When someone is single, this card speaks of difficulties to connect to another due to internal processes that need to be rounded up first. No matter the advice and comments from our surroundings, we should give ourselves as much time as necessary to see a chapter of our life through so we can relate in pure and joyful ways.
Career
High goals and aspirations pulled a person this far, and with the Ten of Wands set in a career reading, this is definitely not the time to give up. While the sense of personal freedom might be compromised senselessly, it is still done for a much higher level of freedom in the future and the person with this setting needs to be reminded of their own higher goals. Motivation is lacking and too many responsibilities are affecting one's physiology as the end approaches. This card is the consequence of actions made in the past and the final challenge of the Sun where our willpower is tested.
Health
The level of stress pushes one forwards with the Ten of Wands standing in any position relating to health, and sickness to the stomach is almost inevitable with this amount of baggage on our shoulders. Still, large debts are about to be repaid and the efforts will be worth it, even if some physical issues are the price to be paid for the cause. However, this card reminds us to care for our body as our true temple, and to give it enough sleep and a healthy routine to hold on to, so everything else in our life would move in an easier and a lighter tone. In case of serious health issues, the path to recovery is difficult, but the strength of life force prevails for as long as we take responsibility for ourselves.
Ten of Wands Reversed
Reversed Ten of Wands is an obvious trouble with responsibility that comes when we carry too much of other's weight on our shoulders to carry our own in proper ways. When set this way, it wants us to be responsible towards ourselves, our inner child, our heart, instead of following beaten trails and rules of behavior that we are expected to follow. It is our choice to commit to the task, or commit to our own happiness. If the two don't coincide, it might be best to set free.
Ten of Wands Time Line
Past - Ten of Wands in the past reading is here to remind us of things we've been through and the promises of rest we made when we were in the position of deep tiredness. It is a clear reminder to be true to ourselves and to give our body what it needs now that the time of struggle is obviously behind us. We are to let go of the past and of things that don't belong in the now. It is a karmic debt repaid and an important thing we finished willful, brave and aware of our abilities.
Present - What a person needs with this card in a present setting is to be proud of their accomplishments and the history that led them to this point in time. They are required to be strong and pursue the goal that has been set there probably for years, and this needs a clear heart and their strength of will set in place. There is no room for self-doubt for there are no other options but to endure and face our challenges head on, until the process, the project or a relationship in our life is finished with a clean break and our rewards collected.
Future - Anyone with this card in their future reading should really be careful what they choose today. It gives a note of seriousness to any question asked and any decisions that needs to be made, and shows that what we are considering is in no way small or irrelevant as we might presume. This card comes into our future as a symbol of responsibility and dedication, so we can ask ourselves if we truly wish for something that much to go through any amount of trouble to get it.
All Tarot Cards