Tarot Card Meaning, Love, Reversed & More
Three of Wands Tarot Card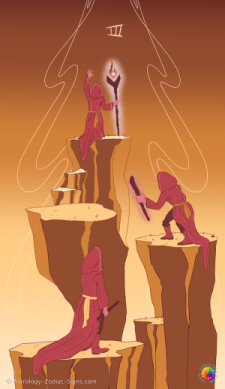 All Tarot Cards
Three of Wands Meaning
Standing for an active, initiating and fiery side of the Moon, Three of Wands is the call of emotion we followed in the right direction. It is a fiery card with the force of emotion on its side, and stands for our foundations that are respected, quick moves we should make and steps already taken that are just now proving to be potent, strong and satisfying. This is a very good image to show in any reading and any area of life, as it is the connection of will and emotion, of feminine passive choosing and evocation, with the masculine brave initiative to follow our dreams. Trust is implied, as well as one's abilities to succeed. There is no more dilemma, just the observation and planning for the future that should be stable, centered, and focused enough to pull us through.
Love
When a part of a love reading, Three of Wands shows a fine line of balance between emotion and reason, initiative and passive joy. Still, it is a card of solitary responsible goals that reminds us to look for an opinion of the person standing in front of us, to see if our wills and desires coincide, and if they are stable just as we are and ready to push the same concepts into a shared future. This card is promising on a personal level and brings our attention back to Self from matters of togetherness that might have shaken our core in recent past. It is also a point of a healthy emotional choice where our energy is in the right position and no matter what might happen with the other person, we will be standing on our own two feet.
Career
Three of Wands symbolizes the point of inner balance and commitment to the goal. It won't announce any grand changes, but rather shows stability in our current situation and the sense of satisfaction and professional growth from that position on, in a steady pace. The big image isn't yet clear, but it doesn't have to be for one to know that they are feeling good where they are, creative enough and in tune with the peaceful waters of their heart. It shows a stable working environment where we can blossom over time if we show all our true qualities.
Health
A good ally for health related issues, Three of Wands is the one to connect our awareness with subconscious matters leading to physical problems. It is a reminder that we have taken a certain course, led to this point in time, and shows that we are on an upwards spiral and cleansing from past struggles and tensions that are no longer an issue. It announces a period of stability, dedication and commitment to a healthy routine, and requires enough time for rest and a balanced lifestyle to keep us under its blessings.
Three of Wands Reversed
When Three of Wands is reversed, it may point out our own impatience and the fact that we aren't really aware of it at the moment. It warns us not to give up on our true calling, to stay loyal to past choices and see them through, before we turn our own convictions around and lessen our own goals for the sake of ease. It may show hard times that we must endure, but also reminds us of the things we are currently working for, showing us that there is a way out even if we cannot see it at the moment. It is our imperative to have faith in the process that we have already given out guts into.
Three of Wands Time Line
Past - In the past, Three of Wands represents our stability, focus and dedication to a certain issue. It might remind us of the inspiration we once felt to hold on to our goal, or show a state of inner health that once was but isn't here anymore. It reassures us that we have done well. Although we haven't had all the information to reach for perfection, we have been well on our way of personal fulfillment and joy of missions accomplished.
Present - This card comes up for this moment in time when we need to stay firm and stable, and when self-doubt is no longer an issue. Giving us inside information on the stable flow of energy that goes down roads that meet us with our inner child, it affirms our current situation and everything we have done that led to it. It is a card to ground us, bring us into this moment, to remind us that we are here and already doing our best with what we've been given. This is meant to spark gratitude and keep us on our chosen path in a healthy atmosphere of personal freedom.
Future - Pointing out the direction to follow, Three of Wands in our future shows that we should strive for personal stability and make choices today that will keep us committed in the future. It is a card of lasting projects and relationships, stable inner states that can be fluctuant but are always a manifestation of our creative impulses and inner needs. It is the support of our potential and motivation found in things we wish to create and expand our horizons to. What we are starting and pursuing right now will reach its steady waters and the point of stability.
All Tarot Cards