Tarot Card Meaning, Love, Reversed & More
The Tower Tarot Card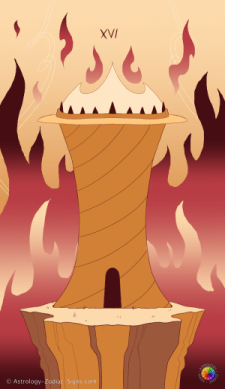 All Tarot Cards
The Tower Meaning
Handmade, built tall, the Tower represents our human effort to build something important, stable and safe in life that might be broken by the collective, the power of Nature, or the intent of the Universe. This card signifies times when our strongest beliefs can be torn apart by circumstance and is psychologically extremely difficult. The ground will shake beneath our feet if we have built our world around matters that aren't profound and in tune with both our spiritual guidance, and our most practical grounding. Our place in this world might as well fall apart if it is set in the wrong stone, where our true, authentic personality never belonged in the first place. Safety will be found only in the free, childlike emotions, however sad or burdening they might be for as long as they are ours. All other areas of life, personality, ways to adapt and reach powerful and high positions are about to fall apart so we can be faced with the core of Self in all its painful and beautiful glory. If our ambitions and goals have been set on dishonest and false pretenses, what we have built was never bound to last anyway. Following the Devil, it shows how things will fall apart if we rely on our own wrong pretenses.
Love
Quite symbolically, the Tower in a love reading might show the "tower of cards" about to fall, disillusionment being the most common manifestation. The purpose and the pose of a bond is to be questioned, and this card might show that partners are getting involved with each other, sometimes even getting married, because they look good together rather than loving each other unconditionally. While they might share mutual respect for a goal, the trouble comes as they face the inevitable loneliness coming from such a choice of partner. The Universe itself challenges such a relationship as if their unconscious worlds have also joint in a shared cause to seek something more from life.
Career
Circumstantially difficult for the field of one's profession when it is built for status or finances without a higher cause to attend to, the Tower can lead to enormous amounts of stress and the entire structure collapsing, leaving one broken, alone, and isolated from the professional world they are used to. It poses for a time when we are to build a truer identity, let go of family businesses that don't inspire us, disappoint authorities and our fathers, only to rise high based on belief in ourselves instead of relying on any structure and system of success. It may be a solitary confinement or our opportunity to see faults and mistakes made to our prior structures so we can build a new one on healthy foundations.
Health
Representing the influence of the collective and of fate that cannot be avoided, the Tower may announce some serious health issues, those that escalate from one point of trauma, to extend to all sorts of manifestations that no one understands the core of the issue to. It may point to trauma itself as something that needs to be dealt with if we wish to preserve our body and keep it safe from our own self-destructive tendencies. The chaos we run from in our hearts may cause serious chaos within our lungs and soft internal organs, cysts and processes that don't deal well with pretending we are just fine with whatever the issue that deeply pains us.
The Tower Reversed
The amount of chaos brought on by the Tower card won't exactly change depending on its upwards or reversed position, but our ability to deal with the stress can be deeply disturbed in a reversed setting. With our sense of purpose shaken to its core, it points out how we may react and feel the circumstances in our life as threatening. It is an invitation for us to protect ourselves, spend time alone, and focus on things that motivate and inspire us no matter if the world around us fell apart as we do. It faces us with Hell on Earth that living in darkness brings if we give up on our inner truth, unlike cards that face us with the regenerative yet destructive force of inevitable outer changes.
The Tower Time Line
Past - This is the best position where the Tower can be found, for it shows how we have handled complete chaos that led to the transformation of our foundation and our entire personality, but from the point where it is clear that we have survived and we are still here, meant to do something in life. No matter how tough the circumstances were, they have showed us where we were wrong, what we should never rely on again, and how our intentions may all fall apart if they aren't in connection with our mission on planet Earth and the true calling of our inner child's desires and talents.
Present - Things are chaotic and falling apart when the Tower colors our now, threatening important foundations in life if we haven't made them structured and stable enough. It calls for caution, to leave something for a rainy day, to face the possibility of failure in long-term projects and the deep intrusion on personal boundaries and our comfort zone. This is where we lose the ground beneath our feet, lose outer things and blessings of the material world to find our much bigger purpose and strivings, love for Self, and the joy that keeps us living free even without outer structures to shade and protect us.
Future - If everything we have and everything we are working on today might collapse, disappear and fade, what would we do? The Tower card set in our future is a deeply disturbing challenge announced, one that only leaves sacred and childlike intentions, values and doings functioning. It is time to rely on ourselves instead of relying on any outer system or social circle, as what our personal world is about to go through demands our personal stability, apart from everyone else and all those shady beliefs that are commonly shared among many.
The Tower History
This card has been used in divination only since the 19th century although it was used in playing centuries before. Early painted decks don't even have this card and in some variations it was omitted even though it was the part of a deck. Depiction of the card has varied greatly over time, but it has held on to the image of burning and fire, symbolically showing the intent and the initiative that led on certain circumstances out of our control. Some versions of the card had naked people in them, others showed the Devil at the mouth of Hell, a burning building, all of which come as a natural consequence of the card preceding it. At a time, it was presumed to be a reference to the biblical story of the Tower of Babel, manmade and destroyed by God. The version Minchiate is considered to represent the expulsion of Eve and Adam from the Garden of Eden.
All Tarot Cards