Tarot Card Meaning, Love, Reversed & More
Two of Cups Tarot Card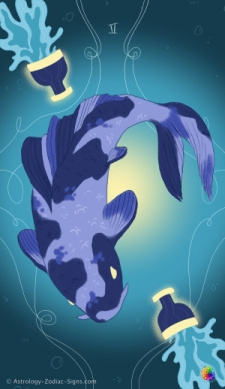 All Tarot Cards
Two of Cups Meaning
A card of deep connection, Two of Cups will most often show romantically involved individuals and couples in touch with each other's heart. Still, this isn't a rule and it might stand for an important friendship or even partnership at work, in case of shared ideals and understanding of each other's roles and needs in emotional balance. In general, this is the card of the flow of feelings and sensations between two people who are opposing, different but compatible, just as they are. It is the point where ego no longer plays a part in a bond for the interaction is so strong that it brings mutual admiration to focus. The flow between the two allows healing and the processes of the Soul are sparked by our contact with someone who shares compatible issues and painful memories as we do. It promotes mutual support and the loving, tender approach that can be grounded and brought down to the realistic realm instead of being kept on a platonic or other distance.
Love
A card such as the Two of Cups announces a love story that is deep and balanced, between two people who understand and cherish each other. It is a card of emotion where overthinking won't bring any suitable or obvious results, and we are to put our faith in the process triggered by the bond in front of us. This card shows that there is enough love in a contact of two Souls to overcome many obstacles, and might point out a significant relationship among many that have never been as important as we thought they were. What we give is in balance with what we receive and we should show gratitude and let go to the flow of such a contact for as long as it stays in a healthy balance, trusting our own inner judgment, ready to let go.
Career
In a career reading, an intensely emotional card as the Two of Cups may show that a new partnership will arise with shared ideals and goals, one that will inspire our moves. It could also announce a romance at our workplace, perhaps hidden from public eye and bringing some trouble to our profession through lack of focus and commitment. Cooperation with such a strong symbol of togetherness is always a good choice, for balance made can bring a lot more benefits and fruits in the future than one person alone could ever create.
Health
Healing methods that will give best results with the Two of Cups in a health reading are alternative ones, longer commitments to flower and animal essences, or aromatherapy. This energy gives us room and the feeling of safety to trust others in knowing where our troubles lie, and points us towards solutions that come out of contact, this including psychotherapy, family constellations, and all techniques that will improve our ability to connect to another. When set in a challenging manner, this card may show problems with reproductive organs and small intestines, ones that can be overcome with nurturing relationships by our side.
Two of Cups Reversed
Two of Cups speaks of the absence of balance and alone time that we need to return our sense of meaning and love for Self. It is the position that could bring illusions, idealization or betrayal to focus, but it is most often simply an emotional turnover when we must know that things in a certain relationship will never be the same again. This doesn't necessarily make it a bad omen, but it points out the importance of Self and healthy boundaries, and shows that we are resisting the natural emotional flow for a reason that has to be understood fully before we make our next step in any direction.
Two of Cups Time Line
Past - Two of Cups will find its way into our past when it shows the importance of certain lasting relationships in our life. It calls for love, intimacy, forgiveness, and reminds us of the easy and clear flow we once had with someone who might have been a bit distant lately. It serves as a wonderful foundation for the future we wish to build with another person, and shows our own inner state of balance that we had before certain situations threw us off course.
Present - The state of peace and harmony in our relationships is obvious with this setting, we give as much as we get, and understand that our inspiration is the consequence of a pure contact with someone else. There is no room for toxic influences and all we need now is some trust that our heart has the best possible plan for us, and that the feeling of home brings us right where our most joyous Self will be. It may also suggest some caution in the flow of emotion, so we don't take over feelings that are the responsibility of others to carry and deal with, or burden them with our own.
Future - With the Two of Cups waiting for us in the future, we can expect to find balance if we continue moving down the same path in the outer or the inner world. This card speaks of a form of compensation or completion we will get from our surroundings that comes in a natural order, and commonly announces a new relationship and harmonious contacts we'll have in days and months to follow. It is an inspiring goal to reach for and gives us information about the struggles with love we have today that will be resolved in healthy ways that allow an open heart and pure contact.
All Tarot Cards