Tarot Card Meaning, Love, Reversed & More
Two of Coins Tarot Card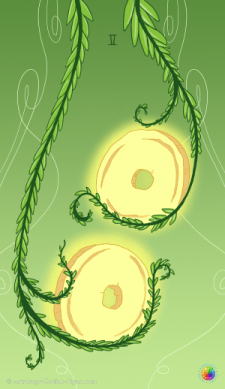 All Tarot Cards
Two of Coins Meaning
It is obvious from the image on the Two of Coins that this card represents a choice of sorts, a task and a challenge of one's authentic Self to find the connection and middle ground instead of leaning in any direction. Here, it needs to be understood that all those in conflict, opposing each other, as well as our inner dialogues and issues that exclude one another, all come down to one point of mutual respect and balance. This card requires patience and tenderness with Self, for falling onto any of these two sides and choosing one presence in the material world won't bring much good if it excludes the other. The knot needs to be untangled so we can see how these two coins actually fit together and combine to make a much larger and more important whole. Symbolically, they stand for the utter opposition of masculine and feminine, mental and emotional, active and passive, and give a much larger time scale than many other cards. The element of Earth is the slowest of all, as it is, but with this dilemma, each effort takes a long time until things are clarified and we can do something creative, specific and touchable.
Love
Although a misunderstanding might arise, with the Two of Coins we can see that there is something extremely normal in a relationship between two people. This isn't the card of solitude, but might show parallel romances and strange choices of partners that are seemingly extremely different from all choices that would seem common. Pointing out to the knot that is to be untied, it may speak of our closed heart and the way both partners defend themselves from one another, as if certain bruises have never been mended and created a stable point of misunderstanding that needs to be resolved.
Career
Two of Coins finds its way into a career reading when we aren't ready to make a call, especially not a final one. Here, time is required to analyze all options and see where they might lead, or even come to new ideas that will be exciting and entirely different from everything that we have tried by now. Sources of income might feel incomplete, as if we needed two jobs to have something in our wallet that feels real. Imperfections are to be embraced, but in ourselves rather than any other thing we are to choose. We cannot seem to see all details clearly and make an authentic choice right now, if we don't take enough time to learn, expand, and work on our ability to see things for what they truly are.
Health
Each health reading with the Two of Coins involved shows a lack of balance in one's life that might lead to all sorts of physical conditions. It is the hormonal imbalance as well as strange functioning of our reproductive organs. Overall physical state seems to depend on the energy behind our relationships, and it is possible that the person quite literally feels that someone is making her sick. Ask for the second opinion, as mistakes are made here and a doctor might see their own trouble rather than that of their patient. Projections and unclear issues spoken by others pose a threat to our system, throwing us from one shore to another instead of giving us stability.
Two of Coins Reversed
The reversed setting of the Two of Coins shows we are hasty, rushing through conclusions and decisions, and openly speaks of the shadow of our personality just to show the essence of the other side without mistrustful interpretations. It will pull us in opposite directions and impose change at any cost, for time hasn't stopped just because we have decided to turn our head away from some conflicts. Resolutions are needed, specific and seemingly urgent, and we are pressured by relationships and fate itself, to start untangling what has been left tangled for too long.
Two of Coins Time Line
Past - This cards sparkles in the past when we have seen how conflicted we might be and what can be resolved when we are stable and patient enough with ourselves, the other person, and life itself. It represents the point in which we had no idea what to do, choosing among things that all seemed like a good idea at the moment. It is time to own some important decisions from the past, remembering that we always had more than one option to choose from.
Present - Present – In the present, the Two of Coins is usually a dilemma between two workplaces, two teams, two salaries, two physical problems or two partners. What seems to be disconnected really isn't and an obvious connection needs to be seen in order to fully understand the process or where it might lead in the future. It is a plea to find the present moment, live in the now, and stop obsessing about dualities that don't have to be obsessed about when we should simply gather enough information.
Future - Our search for balance is seen in the future reading marked by this card, and we are to see that our current choices lead to several different endings, all of which will feel "halfway" if we don't commit to the middle between them. Conflicts could grow over time and that point of perfection we all seek seems to be closer than ever but still far enough to leave us free for searches and endeavors that fall outside of our comfort zone.
All Tarot Cards