Yearly Aries Horoscope for 2023
2023 Aries Horoscope
Spirit: Freedom, Transparent, Untied, Movement.
Color: Pink.
Places to visit if possible: India, Philippines, Croatia.
Things to learn: Figure Skating, Sign Language, Sculpture.

The General Feel
This year begins with Mars out of bounds and retrograde in Gemini, and there seems to be no higher goal or purpose than that of personal freedom. Many Aries representatives will enter 2023 with thoughts on breakups, divorce, quitting their job, or materializing such ideas as soon as they feel stable and supported enough. There could be a lot of tension to an area of life that you've already been responsible for with too much seriousness or guilt. With months of spring, creativity will rise, opening new opportunities that will help you choose a completely different direction than the one you've been holding on to, stuck in a pattern that tires you out.
A private business might be born at this time. Make sure your foundation is set and a careful plan is in motion, as hectic decisions might slow you down and inhibit your rush of energy, affecting your motivation and trust in yourself. For as long as you hold on to the ideal of making yourself happy, problems that arise won't be that hard to endure. Make your days enjoyable and add color and light to your routine. It is time for life to bloom and it is up to you to add water and sunshine to it.
The Greatest Challenges
You can expect a drop in energy in April and May, as well as trouble with finances and solid connections with other people. Consider this a time to turn within and work on emotions through some form of artistic or creative expression, thinking about ideas for the future that are in tune with your authentic and vulnerable inner Self. Sacrifices should only be made if they serve tenderness and an open heart.
The Greatest Rewards
The beginning of the year brings expansion that you'll need time to adapt to. A drop is natural after a high, and it might take some time, but big actions will serve your overall stability and strength if you remain true to yourself. Late autumn will fill you with extreme personal satisfaction and self-sufficiency, reminding you that you have chosen well when you choose yourself.
Physiology and Body
There will be triggering situations throughout exciting changes, especially those that put you outside of your comfort zone, and this will affect your body the most. Make sure you get enough rest throughout the year. Meditation is the best possible choice, especially during Jupiter's transit through your sign, up to the middle of May. If you get carried away by circumstances and an energetic approach to decisions that shift your entire foundation, don't steer away from healthy exercise and sleep. This might not be enough to keep your physiology at peace and inflammatory processes are possible, as well as short high fevers and spasms that remind you to rest some more. Pushing yourself over the limits should not break you down, but build you up. Keep this in mind every morning when you grab onto responsibility for the way you treat yourself.
Love and Family
The most important thing for Aries representatives in 2023 is their own internal wellbeing and the sense of peace. This will affect their relationships greatly, as their choices might seem selfish or irresponsible. It won't be easy to find balance. What you deserve and what you are stumbling upon may differ, leading to all sorts of conflicts or misunderstandings that throw you off track. If you are in an intimate relationship, make sure you are all in and fully invested in finding middle grounds. Everything you wish to create for yourself can coexist with the needs of others as well, at a proper and functional distance where everyone's personal boundaries are respected.
February and September could bring new love stories to those of you who are single, but there is a challenge to slowing down enough to understand emotions that come with every new encounter. Take your time when it comes to closeness and love. Rushing through it could push your expectations too high, or distance you from who your partner actually is. If you have children, time spent with them is time well spent, giving you insights on your own inner child. Share joyous occasions with generosity and forgiveness for limitations of others, as well as your own.
Work and Finances
Financial stability will have its ups and downs, depending on the foundation that you've set in the past couple of years. Some situations will go to extremes, but you have a vision to hold on to, and won't give up on it no matter anyone's opinion or circumstantial limitations. Doors are wide open for career changes, opening a private business, and becoming your own boss. This seems like a good time to question your structure and plan ahead, so you can avoid confusion and losing touch with what is realistic and what is not. You won't be able to do everything by yourself, so nurture teamwork and relationships that support your individuality. Coworkers and employees should be open minded and bring new ideas to the table.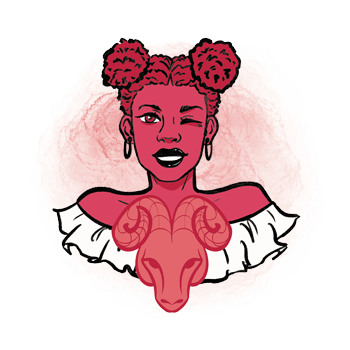 Additional Information
Aries - traits, personality, dates, characteristics and astrological sign information.
Aries Horoscopes - daily, weekly and monthly Aries horoscopes..
Aries man - information and insights on the Aries man.
Aries woman - information and insights on the Aries woman.
Aries compatibility - the compatibility of Aries with the other astrological signs in love, sex, relationships and life.
Aries history - the history of Aries and the stories behind it.
Aries symbol - images and interpretations of the Aries symbol and ruler.