Yearly Libra Horoscope for 2019
2019 Libra Horoscope
Spirit: Universe, Core, Speed, Words.
Color: Mountbatten Pink.
Places to visit: Israel, Turkey, Mexico.
Things to learn: Diving, Rafting, Unicycling.

The General Feel
This is a year of many resolutions when an entire cycle of Venus will end for another one to begin, in your seventh house and the sign of Aries by the end of April. Some relationships could fall apart, leaving room for new ones to begin. You are ready for passionate encounters and feel free to work on the emotional foundation that feels right, instead of holding on to feelings that are long gone and have their place in history. Turned to the bright future with Jupiter in your third house filling your mind with hopes, dreams, and optimism, there is really nothing to fear.
As autumn begins you will see yourself mature, ready to make drastic changes to your career path and your chosen direction in any area of life. Be brave enough to make the first step, and careful when September begins and pushes hard on your sense of self-worth. You should be certain of the value of tact and care for others you carry as a pillar of support for your own growth, and strive high to accomplish goals through positive contacts, communication with a purpose, and your wide attitudes.
The Greatest Challenges
The most difficult time in 2019 is in April and May as the transition of Venus through Aries squares Saturn in your fourth house and the sign of Capricorn. This is a tricky time when goals will drift away, along with your focus, and you could feel pressured by too many outer influences into things that simply don't feel right. This is a time to strengthen your boundaries to the outer world and other people and look within to find answers that will get you to a fulfilling destination. Although it won't be easy to let things go and find inner sense of control for your own life that might exclude some important individuals from your processes, it will be worth it.
The Greatest Rewards
Grand cycles of rewards and growth come in January and somewhere by the end of November, and you will have time and energy to prosper, learn, travel and expand your horizons through new unexpected adventures. Although stable relationships might suffer due to your newfound directions, you will return to them as time goes by and find your balance once you make your heart happy and your Soul wide enough to metabolize new experiences. This is a year of important movements, but you should think twice about relocating if you had it in mind. Check your choices twice before making any thorough moves and shake the ground beneath your feet.
Physiology and Body
If there was ever an important year to exercise and hold on to healthy routine, it would be 2019. Your mind will be filled with so much information, your words and thoughts scattered all around the place, and actions will be numerous while your focus might lack. To cleanse your inner state and stay true to the life you wish to live in all its areas, you must not let your physiology suffer no matter the amount of responsibilities you have on your plate. Stay on the move, walk wherever you go, and stretch as much as you can so stagnant energies can finally get entangled and released. Troubles with bones, headaches and psychological issues may arise if you don't spend enough time grounding yourself. For any troubling issues, don't hesitate to turn to alternative medicine along with your usual routine.
Love and Family
Libras with a stable family life could approach a large crash in July, but breakups and negative turnouts should be avoided in the end. This year enriches your entire emotional world and might be difficult at times for it is your task to dive into deep feeling, so you can come out with your desires clear and your moves obvious. This is a bad time to start an affair or indulge in immoral activities that bring a sense of guilt your way. Hold on to your dignity every step of the way and keep close people even closer when times get a bit rough. Family issues could become intense if you don't spend enough time at home and in touch with those you care for. Try to balance out your professional and private worlds as much as possible.
Work and Finances
Lack of focus could lead to some disturbing professional consequences in July, but crisis should be averted or resolved by the beginning of autumn. Too many things you wish to do could mess with your ability to organize well, and this will reflect not only on work related matters but on your wallet too. With such incredible ideas, a raise and a solid flow will color your finances, but you will overspend with too much ease and you should stick to moderation when it comes to little things that you don't actually need. This is a time to think big and prioritize, so instead of spending enormous amounts on shoes, accessories, restaurants and weekends away, buy a ticket to a faraway land and lay all small things to rest.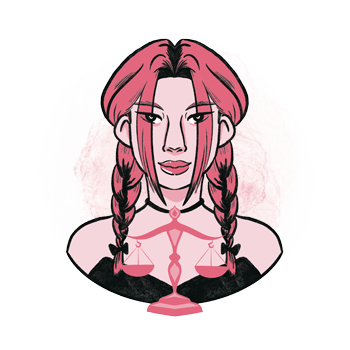 Additional Information
Libra - traits, personality, dates, characteristics and astrological sign information.
Libra Horoscopes - daily, weekly and monthly Libra horoscopes..
Libra man - information and insights on the Libra man.
Libra woman - information and insights on the Libra woman.
Libra compatibility - the compatibility of Libra with the other astrological signs in love, sex, relationships and life.
Libra history - the history of Libra and the stories behind it.
Libra symbol - images and interpretations of the Libra symbol and ruler.