Yearly Libra Horoscope for 2020
2020 Libra Horoscope
Spirit: Shock, Electric, Innovation, Founded.
Color: Fandango Pink.
Places to visit: Finland, Egypt, Niagara Falls.
Things to learn: Ice Skating, Fencing, Solo Singing.

The General Feel
In lives of Libra representatives, 2020 is a year of great creative value and important social contacts, when numerous fast turns are expected with the right foundation set for growth. This is a time to evolve, when your mind and words could rush forwards even though the atmosphere and the level of understanding doesn't support them. Slow down with explanations that need to be heard and hold on to strength of character and decisions that inspired you from the start. A successful year is before you, one that allows you to set up a structure for your own emotional journey and all those things you wish to be surrounded with in your everyday routine.
An excellent time to kick off some nasty habits, many Libras will quit smoking, make a decision to choose a vegetarian lifestyle, or do something that changes their routine in a direction that feels right. Big decisions can be made with a certain ease, and even though long-term efforts could stress and tire you out, you are ready to pursue your goal and endure for as long as it takes. The flow of the year moves from highly creative and quick solutions, through innovation and learning, towards confusing autumn days when emotions cover rational choices and values you nurtured for years. Stay open for all sorts of contacts and interactions throughout this year, just make sure you don't put deep and lasting bonds to risk due to light needs that can be met without a destructive approach.
The Greatest Challenges
This is a year when Venus will find its backwards ideals during May and June, and one that brings numerous illusions and delusions on the side. While some dreams need to inspire you and be followed, others could turn you away from actual contact and take away the ground beneath your feet. Vulnerable to secret affairs, partnerships and love stories from the past, take your chances but only to the point where your grounding is kept safe and common sense is still there to protect you. Idealistic views could flood your world and taint the image, and toxic romances and friendships are best avoided if anything feels strange or takes your energy away.
The Greatest Rewards
A time of grand ideals and dreams that are finally there for the taking, this year brings numerous opportunities that resonate with your emotional world and allow you to set up a structure for the future you wish to build. If you hold on to the routine that keeps you healthy and stay on the move, walking, exercising, and choosing a healthy diet, this will be a time when incredible ideas could find their way into the real world and special connections with other people could be made, ones that will last you a lifetime.
Physiology and Body
The stress of creativity and new social contacts could affect your eyesight, throat and thyroid function, and you should be careful to have enough rest and freely express your personality in any surroundings and crowds. Numerous relationships and atmospheres that change day to day are about to leave their mark, and your body will need a sense of security found in regular meals, walks, and a routine that releases dopamine and sets you free from unnecessary surprises and shocks to the system.
Love and Family
The springtime brings new ideals and visions to your emotional world, ones that will color your entire year in numerous colors and open your heart for new interactions. Single Libras will fall in love quickly and with a certain haste, but also idealize the person standing before them easily. Hold on to common sense even as you let go to the flow, and don't neglect the feel behind the main scene that might warn you of certain troubles coming down the road.
Those of you who are married and have a family of your own need to recognize the gratitude in your heart and measure your priorities carefully. If you get carried away by certain impulses, make sure this doesn't damage the bonds you are deeply grateful for and all those that stood as a pillar for numerous things you've been through in the previous several years. Allow emotions to flow however intense they might get, but don't act on impulses that go against your own heart and your inner moral compass.
Work and Finances
While the springtime brings blossoming of new ideas, special professional chances and financial risks that could bring benefits your way, it is wise to save something for a rainy day and think about the future while on an upwards spiral. Some difficulties are possible later during 2020 but the innovative spirit shouldn't leave you, as modern solutions bring numerous opportunities to the table. Think wide and outside the box and remember ideas that popped into your mind in April and May throughout the year. They will get their chance to be implemented, as inspiring and rich as they get.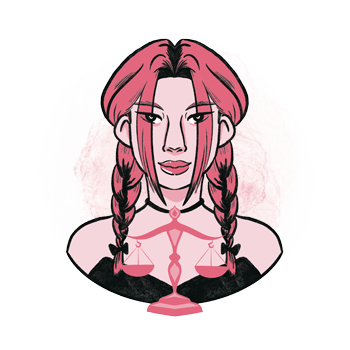 Additional Information
Libra - traits, personality, dates, characteristics and astrological sign information.
Libra Horoscopes - daily, weekly and monthly Libra horoscopes..
Libra man - information and insights on the Libra man.
Libra woman - information and insights on the Libra woman.
Libra compatibility - the compatibility of Libra with the other astrological signs in love, sex, relationships and life.
Libra history - the history of Libra and the stories behind it.
Libra symbol - images and interpretations of the Libra symbol and ruler.