Yearly Libra Horoscope for 2021
2021 Libra Horoscope
Spirit: Future, Friendship, Creativity, Grounding.
Color: Turquoise.
Places to visit after the pandemic: Norway, Thailand, New York.
Things to learn: Skiing, Fencing, Tango.

The General Feel
The strong pressure of 2020 is about to wear off with Jupiter and Saturn finally transiting to the sign of Aquarius and your fifth house. Although personal creativity and joy might be buried, you have a chance to find them and free yourself from other people\'s ways, opinions, and expectations. Mental processes are powerful and leading you in a new direction, opening doors for the child within to peak through and express itself without as much limitation as it had in the past. Keep your activities joyous and liberating from ways of your ancestors and the past that you have held on to for too long.
Not all business will be finished and done with so lower expectations from your own processes and see how deep they really go. What negates your authenticity must be left behind with a solid boundary put into relationships that are toxic, dishonest, or manipulative in any way. This will not be an easy task but the fulfillment you reach will prove it all worthy of the struggle. Spend enough time alone, see the potential to your current circumstances, and use them to ask yourself what makes you happy, keeps you smiling, and gives meaning to your life. Gratitude is not revoked as you set boundaries, for as long as you have your priorities in order and put yourself on top of that list.
The Greatest Challenges
The big challenge in front of you is one of comfort, control, and satisfaction. Physical touch and your daily reality must be in tune with your desires or the discomfort will push you into old patterns and spark the inner opposition waiting to be resolved. A lot of love for yourself, your body, and your authentic needs is necessary to make those steps towards fulfillment and creative expression that are uninhibited and true.
The Greatest Rewards
You could call 2021 a year for You, as it takes you on a rollercoaster of turning relationships into a healthier soil for your Soul to rely on. Distances that have been burdening by now are proving fruitful and you will see their effect on your overall wellbeing. Although you cannot resolve everything that makes you uncomfortable at once, you are free to choose your pace and satisfaction comes with every issue you commit to and bring down to a rational and less chaotic plane. It seems like you are about to learn than the way you live your everyday life depends solely on you.
Physiology and Body
Months of spring bring a lot of pressure on your physiology with numerous matters that need to be done at once. When you try to commit to all areas of life that require fixing to some point, you could lose contact with your body and its actual needs. Pay attention to your hormonal balance, drink enough water, and avoid all toxic substances that could distort the image and push you further into any form of denial. The lungs and the heart need a lot of liquids and as emotions cleanse you will have more room to choose activities that will bring back the strength that many of you lost in the course of this past year.
Love and Family
Who knows what you will choose to do by the end of 2021? The future is wide open and loving contacts could happen unexpectedly and bring a lot of joy into your life when you least expect them to. With so many new energies rushing to find their way into your world, past chaos will have to be resolved in order to not miss new opportunities to grow and make progress where true emotions and connections are found. If support isn't found in your primal family, look for it with your partner or someone who listens and understands your position.
Libras with children are about to turn to their offspring with more focus and generate more happiness in their lives. An addition to the family is possible, perhaps even as a surprise or in unexpected ways and relationships. Rely on friendship and communication to resolve any emotional issue at hand, but instead of rationalizing, keep your heart open to listen to yourself when choosing what to do with relationships that weigh you down. You cannot change other people, but you can distance yourself from individuals that don't bring promise of a future that you wish to pursue.
Work and Finances
Financial stability can finally be achieved in 2021, and those of you who had trouble with money, loans and savings have a chance to fix things and do something differently this time around. Keep your feet on the ground, don't jump into expenses that are not reasonable as soon as you get a chance to, and deal with the past before continuing the loop that has not been productive. You may change your professional circumstances, turn to something modern and more creative, with innovative and freelance solutions more likely to bring benefits your way. New technologies and flexible working hours may be a good idea, but only with your time organized and priorities set.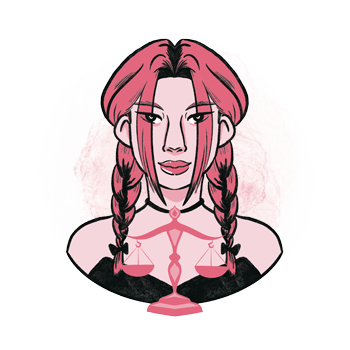 Additional Information
Libra - traits, personality, dates, characteristics and astrological sign information.
Libra Horoscopes - daily, weekly and monthly Libra horoscopes..
Libra man - information and insights on the Libra man.
Libra woman - information and insights on the Libra woman.
Libra compatibility - the compatibility of Libra with the other astrological signs in love, sex, relationships and life.
Libra history - the history of Libra and the stories behind it.
Libra symbol - images and interpretations of the Libra symbol and ruler.