Yearly Pisces Horoscope for 2023
2023 Pisces Horoscope
Spirit: Responsible, Goals, Guilt, Friendship.
Color: Raspberry.
Places to visit if possible: Bolivia, China, Las Vegas.
Things to learn: Kickboxing, Sailing, Massage.

The General Feel
With the beginning of 2023, while everyone else seems to be struggling with all sorts of leftover problems, you are making room for what is joyful and supportive of your heart. It is important not to set your personal responsibilities on the side at this time, but instead breathe life to them and make them more fulfilling. With Saturn entering your Sun sign in March, you aren't in for an easy ride if you skip what is hard instead of resolving certain patterns and giving them room to become something more, something better, as the process of learning helps you protect yourself from the outer world.
This is a year when things are about to get serious. Short-term flings could become deep relationships with a future, and planning plays an important role in any of your activities. As uneasy as times ahead might get, bringing trouble with authority figures and emotions you once tried to bury, you are ready for the challenge and will feel motivated to move on and leave the past in the past. Try not to get yourself to the point of breaking with too much work and responsibilities that aren't your own. Rest is a necessity that will keep you in balance.
The Greatest Challenges
No matter the pain or the struggle that might come along, the biggest challenge this year is to not close your heart while setting boundaries with other people. Autumn months could be gloomy and challenging if you get stuck trying to hold on to things that no longer make you happy. It won't be easy to finish what was started and respect deadlines that push you over the edge or tire you out. Leave enough time for rest and activities that put a smile on your face.
The Greatest Rewards
With Jupiter finally in Taurus in May, friendships bring abundance and rewards your way. This is an excellent time for teamwork and relying on humanity to keep the wheels turning even when stagnation starts pulling your legs. If pieces of your emotional world get broken with intimate contacts, there is an open door to find new love and healing intimacy in social circles that are stable and nurturing.
Physiology and Body
Your spine is your support system that is keeping you going. Take good care of it, stretch, extend, rest, and give it time to adjust to changes of habits that you might wish to implement along the way. Too much physical stagnation could lead to imbalance, challenge your digestion, and lead to problems that easily turn into chronic conditions. Your stomach is at test, especially if you are dealing with struggles of power and ego with those who don't respect you, or those that you have no respect for. If you feel sick or find yourself physically vulnerable, make time to be alone, distance yourself from other people, and rebuild your energy to deal with the world.
Love and Family
Single Pisces representatives might start a new chapter of romance in February or March, one that will become stable over the course of 2023. Matters of intimacy could also become difficult if there isn't enough space, flexibility, and freedom to express one's needs. Personal limitations play an important role in the future of any relationship, and this comes to light more often and more intensely in the following months. Some inner cravings should not be compromised no matter your priorities of the past.
Keep the romantic situations going. Make time and make room for your significant other, for matters of the heart, and try not to bury yourself in work, seriousness, or shadows that keep you away from light and loving activities with another. You need healthy contact to step out of certain problems, so communicate freely and calmly observe what happens next. Those of you with children and families might find themselves in rigid or strict attitudes that don't help anyone grow. Make sure you are consistent with your words and promises and expect nothing less in return.
Work and Finances
If you work more, you'll earn more. There is simple reciprocity in your actions throughout 2023, bringing you a sense of calm, but also pulling you into a loop of too much seriousness and distance from what usually feeds your heart. While some fences are needed and essential for progress, your overall openness for the world and loving, healing emotions should not become more narrow. Keep relationships at your workplace healthy, even if this means speaking up when you would usually remain silent. There are things that should be clarified, information to be freed, and you are not bound to walk on eggshells around those who are responsible or set in positions of power. Let the responsible ones bear their true responsibility.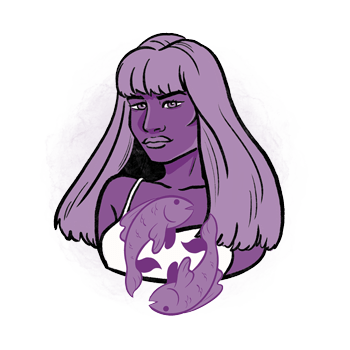 Additional Information
Pisces - traits, personality, dates, characteristics and astrological sign information.
Pisces Horoscopes - daily, weekly and monthly Pisces horoscopes..
Pisces man - information and insights on the Pisces man.
Pisces woman - information and insights on the Pisces woman.
Pisces compatibility - the compatibility of Pisces with the other astrological signs in love, sex, relationships and life.
Pisces history - the history of Pisces and the stories behind it.
Pisces symbol - images and interpretations of the Pisces symbol and ruler.