Yearly Scorpio Horoscope for 2018
2018 Scorpio Horoscope
Spirit: Depth, Research, Expansion, Education.
Color: Red Violet.
Places to visit: Spain, Nevada, Zanzibar.
Things to learn: Business Management, Piano Playing, Developmental Psychology.

The General Feel
With Jupiter in your Sun sign, this is a year that should bring expansion, travel, and knowledge your way. Everything will be done with more ease, even if times are hard and professional challenges pressuring and stressful. This is the time for positive change, growth, and family issues that left you bruised. With forgiveness found, you will have a chance to move on, see the future as bright as it can be, and work on your goals without constraint. The dim light of Pluto in Capricorn will be summoned by the retrograde movements of Mars, and by the autumn, you will feel like forces of Nature took over and build your personality and strength up to a point where you know exactly what you are capable of.
Your mind will be strict and thorough, easy to follow and with depth needed to resolve practical issues. Building a solid foundation for love to bless you in any form, 2018 makes you stronger, wiser, and finally turned to the future you wish to build instead of leaving you stuck in the past. Allow things to change and reshape, aware of all opportunities and doors open in front of you, as time and Nature support you in your strivings and make you exactly who you were supposed to be. Learn, enroll in courses, begin college, or travel, expecting nothing but the best in return for all the good you are ready to do.
The Greatest Challenges
Dedication and career choices will be tested with spring coming to its end, and you will have to check twice if you need to change direction or your entire path. Stressed out by authorities that don't seem to understand your ambition, you might come to find that you need something entirely different to show your worth and creatively use your talents. Bravely work for your goals and let go of matters that cannot be affected at this time. October brings change into your emotional world and makes things hazy and unclear. Be ready to return to issues that burdened you in the past and resolve them so there is no doubt left in your heart.
The Greatest Rewards
After cleansing and emotional rollercoasters, returning to past issues and work that didn't get done in time, by the end of the year you will finally have time and feel open for new experiences to take over. This is a rewarding year in which every move made is returned with interest and you have so many chances to do something big, incredible, and out of the ordinary. Use them without hesitation.
Physiology and Body
Whatever the routine you hold on to, it is important to keep your ankles and knees warm and protected. Strains and sprains are possible, as well as sudden hits and bruises, especially in the springtime if you suddenly turn to intense activities. Headaches are possible with season changes, mostly because too much content is held up in your mind and stress won't let you rest as much as you need to. Avoid fast food and keep your sleeping patterns as stable as you can in order for your body to get what it needs. Things will grow in 2018, and this could speak of pregnancies, but also swelling and benign changes to soft tissue. Keep your body in check and don't neglect signals that show you what you truly need.
Love and Family
The autumn brings stories of love your way and this is something to look forward to, even if your attention gets turned to matters of the past that weren't resolved sooner. Many Scorpios will meet someone new, but idealization could make you vulnerable and emotions you buried deep could distract you from emotional goals. Family time is influenced by career chases and high goals you strive for. Be sure to leave enough room for your heart to get the attention it needs, and don't fear returning to people from the past, or connect to those you might have met lifetimes ago. Let go to the flow, allowing yourself to feel the good with the bad, opening up to laughter and tears, making your time on Earth richer and truly fulfilled.
Work and Finances
Every effort you put in will double in benefits and advancement. Use opportunities for professional growth and use knowledge you are about to receive to make large steps forwards. Although trouble with authorities is possible somewhere in the middle of 2018, you have the strength to endure through any conflict and find middle grounds that will satisfy all parties involved. Start something new, something in sync with your character and talents you know you possess, and develop in a direction that supports your creative needs. It is important not to stay in one place for too long, understanding that change is what shapes you and gives you strength. Love for your job may lead into sudden turns and a cooperation that is unusual and unexpected. Embrace it with an open mind and an open heart wherever the flow might take you.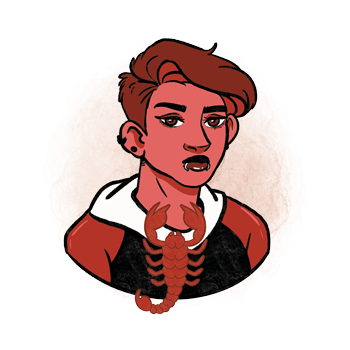 Additional Information
Scorpio - traits, personality, dates, characteristics and astrological sign information.
Scorpio Horoscopes - daily, weekly and monthly Scorpio horoscopes..
Scorpio man - information and insights on the Scorpio man.
Scorpio woman - information and insights on the Scorpio woman.
Scorpio compatibility - the compatibility of Scorpio with the other astrological signs in love, sex, relationships and life.
Scorpio history - the history of Scorpio and the stories behind it.
Scorpio symbol - images and interpretations of the Scorpio symbol and ruler.