Yearly Scorpio Horoscope for 2019
2019 Scorpio Horoscope
Spirit: Whole, Existence, Circle, Material.
Color: Palatinate.
Places to visit: Japan, Madagascar, Ireland.
Things to learn: Hand Walking, Pilates, Diving.

The General Feel
This year is a fully direct period of Mars, one of your sign's rulers, and it will slowly define starting positions and consequences they lead to as time goes by. You will be surprised to find that some moves exceed, while others fail your expectations into extremes, but you still seem to be guarded by shielding and beneficent energies of all positive convictions and perspectives you've gathered in 2018. You will feel the need to enjoy entire cycles and processes, see them through, and won't settle for any unfinished business even if you run out of time or move past the deadline.
Preparations for large life changes are about to begin as autumn approaches. It would be smart to do something important for your physiology at this time, give up on some toxic or damaging habits, and dig up reasons for some of your self-destructive choices. Focus on romances and loving relationships will be intense, as the year begins with a fiery trine of Venus and Mars and you discover just how much energy is needed invested in resolutions, constructive moves, and shared ideals. Be joyous, have some fun, and don't let dark conversations and thoughts take over. You need to see things through, but you also need balance and a touch of light and carefree approaches to make everything fall into place.
The Greatest Challenges
In March and October, your strength will weaken, and you will feel like things are slipping out of your control. These are times to let go to the flow and allow others to lead the way if they are meant to, while at the same time holding on to your own attitude and judgments. It will prove, once again, to be impossible to change anyone else but yourself, and all issues in close relating that seem too fixed to change, too stubborn to move, or simply stuck, are there to show you that your inner being needs work and your energy is to refocus on yourself.
The Greatest Rewards
The beginning of the year will be a faithful reminder of all positive experiences you've gathered by now, and you will see how easy it is to choose a new direction and do something about stagnant energies in your life that need to move. Material rewards are coming, and your financial situation should improve. New projects are on their way, as well as the possibility of working with foreigners or even moving to a distant land. Recognize open doors in front of you, seize your opportunities, and bravely pursue the emotion that feels right.
Physiology and Body
A new way of thinking and a new approach to exercise could change your life drastically by the end of the year. Many options to work on your strength, endurability, and especially your lung capacity, are there to be tried out and committed to. You need active choices and movement and shouldn't stay still or sit in your office for hours without taking a break. September will open new opportunities to get healthier and regenerated, but it is also a time when your intestines could have trouble metabolizing everything that has been happening in your life. Be careful in any dangerous or demanding activities in June and the beginning of November. Too much pressure could cause some serious bruises, cuts, and breaks that can be avoided if you listen to your senses and a fine emotional tuning with your activities.
Love and Family
With sexuality being an important topic in 2019, you could feel a bit torn between emotional and rational choices and need some sort of balance to make your relationships as nurturing and loving as you wish them to be. If you neglect any aspects of your life for love, it won't come back as you'd anticipate, and sacrifices won't serve a purpose if they aren't made entirely without expectations. Hardships and quarrels are possible as summer approaches, as if the warmth in the air triggers all sorts of hidden problems to bubble up. Deal with focus and dedication but protect yourself from energies that taint your image and make you too vulnerable. This could be the year when some Scorpios will tie the knot, as this is also a time of materialization for romances that combine love, friendship, and warmth of attachment into one for a long time.
Work and Finances
This is mostly a time for financial opportunities for your mind is grounded and your ideas and plans clear and obvious in their manifestation. In your professional field, you will have a chance to show your organizational skills and your ability to focus when others fail, averting times of crisis on a pure hunch. Although energy drops are expected, and you need time to achieve the position of respect you strive for, summer months will prepare grounds for a special contact with authority figures and make things possible in new and different ways. New projects won't last for years, but they will last long enough, and you will work well inside the system and the collective efforts that sometimes push you out when you get carried away in your battle for freedom.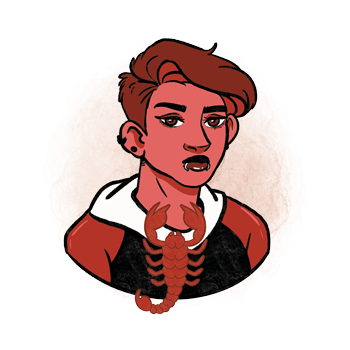 Additional Information
Scorpio - traits, personality, dates, characteristics and astrological sign information.
Scorpio Horoscopes - daily, weekly and monthly Scorpio horoscopes..
Scorpio man - information and insights on the Scorpio man.
Scorpio woman - information and insights on the Scorpio woman.
Scorpio compatibility - the compatibility of Scorpio with the other astrological signs in love, sex, relationships and life.
Scorpio history - the history of Scorpio and the stories behind it.
Scorpio symbol - images and interpretations of the Scorpio symbol and ruler.