Yearly Virgo Horoscope for 2018
2018 Virgo Horoscope
Spirit: Creation, Family, Dispersed, Sharp.
Color: Brown.
Places to visit: India, Italy, Texas.
Things to learn: Construction, Economics, African Dances.

The General Feel
For the most part of 2018, Virgo representatives will feel like they are on a mission to hunt down love. Many of you will fall in love, begin stable relationships that bring a lot of promise for your future, and others could make a decision to have or adopt a child. Turning to any form of artistic expression will help the fog in your mind clear up, and everything you can do in your home to improve your state of heart should be done as often as necessary. Renovations will come naturally, and you will rush to tear down the walls that limit your movements, metaphorically and literally by the end of this year.
This is one of those years when joy is found in serious matters, career leaps, and the material world. Whatever you make with your practical personality will work in the end, but might need some extra effort put in to truly be used in the best possible way. Instead of talking, do, for too much talk takes away your sense of purpose and makes you restless. The best way to use your brain is through organization, fixing what is broken, and building a solid foundation for things you dreamed about ever since you were born.
The Greatest Challenges
There simply isn't enough initiative in your attitude to move you forwards as fast you'd like to move. A mutable sign such as Virgo cannot stay put in one place for too long, and you seem to like the sense of security this behavior brings even though things around you don't make you satisfied. Get out of your usual routines, travel, embark on a new adventure, and change your location and perspective as often as possible to feel the rush of energy needed to make this year count.
The Greatest Rewards
Your usual love for details will bring actual results and you can finally relax being yourself in the right crowd and the right professional surroundings. Some of you could start a new career path that will be incredibly rewarding, doing what they love however demanding this path might be. This is a year when problems are fixed and all you need is the primal spark of passion to push you into making all the large steps that could take you higher than you've imagined.
Physiology and Body
You aren't exactly in the best shape but with the right maintenance, you could fix your body problems just like you are about to fix other important things. Take matters into your own hands and steer clear of any friendly advice that doesn't feel right. Problems with knees, hips, and thighs are possible, and your body won't handle toxins very well. Avoid places filled with smoke, as well as natural remedies that contain strange or unknown ingredients. The joy you will feel for work you are about to get done could tire you out and change your sleeping patterns, and this could lead to all sorts of chronic conditions resurfacing. Lack of rest could also lead to depression and strange psychological states you'd rather avoid. Have enough time for yourself, however passionate you might be about things that need you to be fully invested, and allow the body to regenerate to be able to cope with the challenges of 2018.
Love and Family
Hopeful and optimistic when it comes to members of your family, you will see what hides behind the curve and understand activities of those close to you much better than you did before. Set in some positive ways, things that make you satisfied will allow a shift in perspective that might change some of your life-long relationships, reshaping them and filling them with more understanding, forgiveness and love. July is a wonderful month for the love life of many Virgos, when others will show initiative to make them smile. Be careful not to give in to criticism, searching for flaws in everything others do for you. Gratitude should light your way and help you understand what you already have in your life every day.
Work and Finances
Private businesses are a solid option in 2018, although you normally enjoy working for someone else. This is the year when you can take any responsibility thrown your way and easily choose solitary activities and business plans that will bring the best possible results. Knowing what to expect, quite rational and grounded, you can bring your visions to life if you analyze things deeply and see them for what they truly are, without a doubt. Your brain won't fail you and plans will finally develop the way you wish them to. Don't be afraid to change the course of your career if opportunities become obvious in your path. It is time to do something you love and build a new foundation in the real world using your talents and creativity.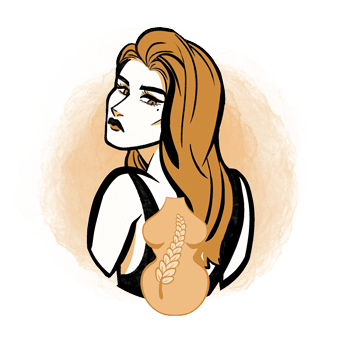 Additional Information
Virgo - traits, personality, dates, characteristics and astrological sign information.
Virgo Horoscopes - daily, weekly and monthly Virgo horoscopes..
Virgo man - information and insights on the Virgo man.
Virgo woman - information and insights on the Virgo woman.
Virgo compatibility - the compatibility of Virgo with the other astrological signs in love, sex, relationships and life.
Virgo history - the history of Virgo and the stories behind it.
Virgo symbol - images and interpretations of the Virgo symbol and ruler.