Yearly Virgo Horoscope for 2021
2021 Virgo Horoscope
Spirit: Release, Ending, Work, Stressful.
Color: Silver.
Places to visit after the pandemic: Philippines, Iceland, Hawaii.
Things to learn: Karate, Ice Skating, Diving.

The General Feel
Tired and spent, Virgos don't really expect much from 2021, and enter it with practical matters in mind and a list of things that need to get done. In the beginning of the year, relationships are thoroughly questioned and no contact that has crossed too many boundaries will be kept safe. You are about to realize that you must put your happiness first, for better or worse, and it will be easier to overcome any issue that ties you to another, than to give up on your own peace of mind. Carefully observe your internal moral compass and see the possibilities as they are, open and wide and not as narrow as you once thought they were.
Although a process was completed and brought to its ending for most people in the past year, you are only about to embark on an ending quest and see things through until they are dealt with and done. You could find yourself in service of what is no longer useful. Emotions you once felt should not weigh you down as the year comes to its end. Keep in mind that a lot of hard work is needed both for your financial stability and for your stable psychological state, so seek balance between the two and keep your physiology safe by walking and lifting your immunity within your standard daily routine.
The Greatest Challenges
You must do what makes you content and peaceful, and for this, purpose must be found in your daily routine and activities. Work will suffer greatly if its only goal has become that paycheck at the end of the month. Numerous sensitive boundaries will be tested if you are constantly in toxic surroundings, subjected to gossip and negative criticism that has no productive side to it at all. Work to improve yourself through a routine that supports your wellbeing and lower stress in your life, especially in February, June and October. Give a second thought to other people\'s expectations and where they no longer resonate with who you wish to become.
The Greatest Rewards
Practical innovative solutions and ideas have a way to find their grounding and many new things and improvements could become a natural part of your life. Keeping your mind open for change, especially in your workplace and daily routine, will help you understand the connection between constructive deeds and your healthy habits. The process of learning goes deep and it is in tune with your physiology and inner motivation, helping you to bring visions to life for as long as they move your heart and put a smile on your face.
Physiology and Body
With Saturn entering your sixth house, all those usual stressful issues will become even more stressful if you are not careful and well grounded. You need an exercise routine that will improve your overall stature and condition, as well as balance of work with rest and a healthy sleeping schedule to rely on. This is a good opportunity to track the connection between the way you treat your body and thoughts that pop into mind. Your nervous system is challenged and could stop you in your tracks if you don't choose activities that leave enough time for rest and healthy activity.
Love and Family
Many changes are due in the field of relationships and romance. Some contacts simply don't have a future and must be released, while others need to go through changes in order for both people involved to be expressed freely and without judgment. Keep in mind that everyone has their own moral imperative and it is not up to you to be anyone\'s savior or expect help from those unable to give it to you. Quality must come before quantity or loyalty and you should not settle for less than what fulfills your needs. You are being tested for your own sense of worth.
Expect an easier flow of emotion to come in August, but the air will clear and open doors for something new only with the beginning of autumn. If you catch yourself repeating patterns, work on them and see your feelings through instead of negating your own needs that stand behind them. Doors are open and opportunities may come to communicate with family members and those close to your heart, even if you turn out to be the black sheep and the one standing out from all expectations and traditional norms that you used to abide by.
Work and Finances
With strong focus and the feeling of purpose in your heart, you will be unstoppable. Nearly anything can be created, a raise will come for thinking outside the box, and creativity will be greatly rewarded for as long as you are following that shy inner voice. However, the stress may overcome all positive influences of this time and if you cross too many of your own limits, your body will warn you that you've gone too far. As inspired as you might get, keep your options open and leave enough room for rest and your personal world to be well fed. Professional success comes easy through things you learn along the way, but the speed that circumstances develop in may be too much to bear. Leave something for a rainy day from each paycheck and by the end of the year, you will have the sense of security needed as the foundation for future progress.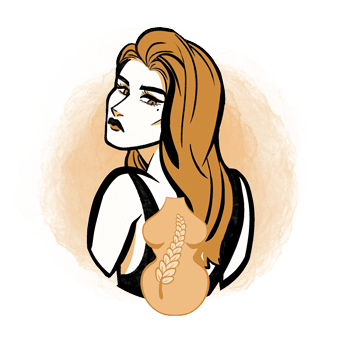 Additional Information
Virgo - traits, personality, dates, characteristics and astrological sign information.
Virgo Horoscopes - daily, weekly and monthly Virgo horoscopes..
Virgo man - information and insights on the Virgo man.
Virgo woman - information and insights on the Virgo woman.
Virgo compatibility - the compatibility of Virgo with the other astrological signs in love, sex, relationships and life.
Virgo history - the history of Virgo and the stories behind it.
Virgo symbol - images and interpretations of the Virgo symbol and ruler.