Tarot Card Meaning, Love, Reversed & More
Ace of Coins Tarot Card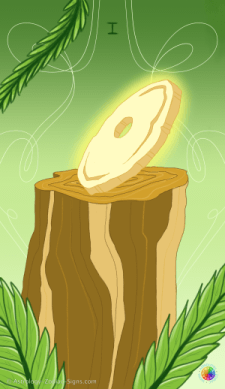 All Tarot Cards
Ace of Coins Meaning
In the Suit of Coins (also called Pentacles or Discs), the Ace of Coins stands as the root of all material progress and the initiative to move towards a goal. It requires slow and grounded action, as its element of Earth is slow but real. It stands for the world we live in with its actual opportunities and its actual limitations. Although it still isn't possible to see things clearly and see what might wait ahead, there is a sense of confidence and just enough energy to push through any obstacle for as long as we remain motivated down our path. It is an impulse, the first push, a figurative jump off the cliff into the unknown material reality, and the first touch that connects our body to someone else's. The energetic exchange is incredibly powerful and for the most part – unconscious. We are to remain as aware and tender towards our hearts as possible to see how we actually feel with every small step we make and keep on moving forwards protected from our own hasty choices.
Love
In a love story, the Ace of Coins represents the point where the first physical touch happens, and stands for passionate encounters and things that might spin out of our control. It is the search for physical pleasure and needs the purity of the emotional world to be manifested in a way that satisfies both people involved. This card speaks of open doors and opportunities, as well as the importance of the physical part of a relationship, showing that it won't be possible to settle for something philosophic or friendly when the attraction is needed and passion not to be restricted. Sexuality plays an important part of any bond with this setting.
Career
Ace of Coins is a wonderful ally to have in any career reading, opening new doors and opportunities for a bigger salary or a new working routine that can be incredibly productive. This is a place where things aren't yet defined, but the idea got its seed and now it is ready to manifest. It is time to get creative, work on matters that require our attention, and move step by step towards any goal to reach it slowly and steadily. Even though there is a strong energy of initiation here, it gives permanence to our decisions and we can see that the intent isn't flaky or easy to shake as time goes by.
Health
The entire Suit of Coins belongs, in a way, to our health reading, as it directly gives us an energetic connection to the material world and our body, as if the message of the reading itself came from our physiology. With the Ace of Coins set here, we can see the rise in immunity, our ability to protect ourselves from invisible toxins and influences high, and the overall energy rising, governed by some positive emotions. It is a change to heal our wounds after a while, governed by new cleansing energies, exercise and the beginning of new ways to train and strengthen our muscles.
Ace of Coins Reversed
With the Ace of Coins reversed, opportunities might be given to someone else and the material world along with its circumstances could fail our expectations and leave us empty-handed. This is a time to keep in mind that all such things happen for a reason, as we have neglected our creative side and the beliefs that help us evoke what we truly need. Even though disappointment could kick in, we are to learn that we have been saved by the circumstantial from something that was never meant for us in the first place. This position may also speak of our ties to possessions or issues from the past that we are meant to untangle from and throw them into trash so we can make room for the new energies to rise.
Ace of Coins Time Line
Past - This card will show in our past when we are to remember the commitment we made a while ago. It typically comes to our reading when we are thinking about giving up or grew tired of certain battles for the creative process we thought would come easier. Showing the purity of our energy as we started along, it tells us not to give up for as long as we have our focus in place and didn't steer away from the original idea that motivated and energized us.
Present - In the present, there is really no dilemma about our situation and the person should be confident that they are ready to make the next move. There is no room for insecurity or being held back by our past, when the moment has come to shine in the real world. It is a time when we have just met our truth and we wish to act on it, but we don't see the road ahead just yet. A reminder to live in the moment and simply start moving, step by step, this card tells us to stay open for new things and step out of our comfort zone freely and bravely.
Future - Ace of Coins comes to our future reading as a clear destination and a point in time where our idea and feel of the certain situation will be brought to the material world. Announcing times of creativity, a raise we have been waiting for and contacts that push us one step forwards in life with every word, it speaks of grounding we will be ready to find once we overcome the challenge of the present time.
All Tarot Cards