Tarot Card Meaning, Love, Reversed & More
Justice Tarot Card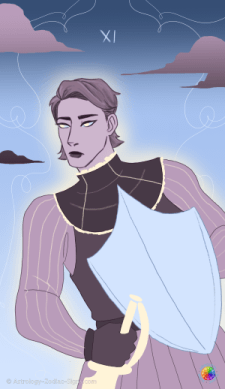 All Tarot Cards
Justice Meaning
The essence of Saturn's exaltation in Libra, the card of Justice represents perfect order as well as perfect relationships and our own state of balance. It shows our need to get organized, to set things in place and fill our world with what we lack so we can dial down on matters that started to burden us. It is the key to sensible and structured decisions, our view of reality that allows progress and shows that discipline and structure are necessary in order for our attempts to lead to success. This is a card of rest and contemplation as well, where solitude is required to make sense out of our relationships, and healthy boundaries are the core of growth we should rely on. We may read it as the "come what may" card, depending on the reading and the topic in question, as it reminds us that there are larger forces at work that cannot be controlled, and the only thing we can do is to take full responsibility for our own deeds and circumstances we create. Practical presentation here comes through trials, law, jury, and the order seen on the level of state and its system of justice, but it always speaks of a much higher law that we must accept as limited human beings, until we set free relying on internal balance.
Love
When Justice appears in a love reading, it shows the level of responsibility that partners did or did not share in their bond. If a relationship turned sour, it reminds us of healthy boundaries that should have been made, and with new love arising, it reminds us of solid foundations that need to be set while we respect our own needs instead of getting tainted by emotions into unhealthy compromise. It is a card of protection as well as the one to bring marriage and important ties to another person, and we must be careful when giving interpretations to those who need more personal structure to give in to a healthy intimate bond.
Career
The card of Justice points out the need for perfection in our endeavors, where success cannot slip us by for as long as we are reasonable and in tune with a rock-solid plan. Hard work will be rewarded and our dedication to the final goal leads the way, but we must find enough time to rest for it represents long-term efforts that need our care, attention and focus every step of the way. This may as well be a card of punishment for shady issues, and represents structured growth that is in tune with the system surrounding us and incorporating our professional choices into a much larger scheme in any way possible, with or without our consent.
Health
In general, health problems speak of responsibility taken that isn't our own, leaving little room to take responsibility for ourselves. When Justice appears in a health reading, its interpretations will depend on the current status of the client and show that any troubles that might arise are the consequence of unclear boundaries to the outer world. Mistakes made are followed by guilt and self-judgment, this leading to illnesses and chronic conditions we wish to heal, and too little time for rest could form new issues and problems if we don't slow down to listen to our inner guidance. The card is related to our skin and our bones, the inner and the outer boundary of Self. It shows progress that sets us free from past issues, reminding us that our body is our own, however difficult our problems might be. It calls on meditation and time spent in peace of mind and connection with God and the Universe so we make room for us to heal. Any sickness might be a form of unconscious self-punishment for the guilt we have been feeling, and to get to the core of the issue, we must see that guilt and responsibility should be separate and forgive ourselves for not knowing what we couldn't have known in the past.
Justice Reversed
In its upside-down position, the card of Justice is a tricky symbol to understand and follow, for injustice seems to be the issue that doesn't allow us to see the bigger picture and the actual purpose of things we wish to achieve. It is the weight of too much responsibility and too little rest, and points out to all those circumstances out of our control that might distract us from our goals or push us into isolation and solitude. This image shows that it is time to find acceptance, lay low, sleep and relax for long enough to see our goals clearly and understand which stepping stones can be carefully used for growth, and which aren't ours to follow, no matter the status or promises it might offer.
Justice Time Line
Past - It is good to have Justice as a past ally, as it speaks of the solid foundation that couldn't have been built in any other way. Speaking of old legal battles and processes that took their toll on our energetic state, it shows progress we've made over time and how our joggling with different responsibilities was productive and successful to lead us towards today. Things were done right, in tune with the need of the moment and higher forces than those of our tiny personalities and human perspectives. This card shows that it is time to accept the past just as it is, for there is a reason why each thing in it happened.
Present - Requiring a state of internal balance and balance with others, this is a card of personal space and boundaries needed to succeed. It is the turning point where things are measured and questioned, and doesn't exactly allow instant action, not until all weights are shown just as they are and our Soul light with a solution at hand. It might keep us from making the wrong or hasty choice and clearly shows that God protects us with circumstances that might arise, and all those things that seem to be out of our control while at the same time representing our choices.
Future - Announcing large decisions and possible changes, Justice appears in the future reading as a logical consequence of all other cards preceding it. As a dot at the end of a sentence, it gives only one outcome that cannot be avoided, unless our actions are changed and we choose a different direction to move in. Although it can seem a bit stiff, it in fact gives us room to weigh our options with care and make choices that are new and liberating as time goes by.
Justice History
Justice appears since the early tarot as a part of the major arcana, usually following the Chariot as the number VIII card. It is considered to find its core of meaning in four virtues of classical European philosophy and Catholicism, representing balance between selflessness and selfishness. Cards of Temperance and Strength accompany this card as two other virtues. Interestingly, at some point its position was switched to number XI where Strength was traditionally found, with Strength given the number VIII. This is interesting to observe from the point of numeral astrology where balance must have been achieved to bring Strength to the position of Mars' rule (number eight) and Justice where two Suns (one and one in number eleven) combine to add into an intimate contact of Souls – the Moon (number two).
All Tarot Cards