Tarot Card Meaning, Love, Reversed & More
Princess (Page) of Wands Tarot Card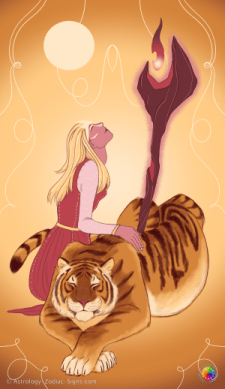 All Tarot Cards
Princess (Page) of Wands Meaning
A bit childlike in its expression, the Princess of Wands (most often referred to as the Page of Wands) is the fiery energy of the Suit of Wands, seeking manifestation. It is the first impulse of creativity on earthly planes that is still inexperienced and fresh, new, different from all other ways of expression, and passionate about living in the moment. There are many interpretations to this card, going into extremes of untamed anger as the inner fire becomes visible to everyone, all the way to peaceful contemplation and gathering information about each next step that should be taken. With such a wide range of options for interpretation, we must ask all the right questions and see the person in front of us as realistically as possible. Energies here are fresh and shown, one doesn't care much about opinions of others, as a child that just found a perfect idea and discovered their talent, now going through the process of sharing it passionately with the world, bumping into frustrations or support, depending on the setting. A grownup, steady and responsible approach is needed, but without restraint and as authentic and true as possible. From such pure idealism, success here comes with the support of Nature if not people.
Love
The Princess of Wands carries a price tag of individuality and might be a bit of a strain on love relationships, especially in long-term bonds where one could feel the need to break free so they can once again feel like themselves. She is passionate and a tad asexual, still learning about her true strengths and calling, and ready to experiment and expand horizons of both people involved. In the ideal case, this card will announce a new relationship, one that requires a lot of freedom, a solid friendship, where both individuals are willing to sacrifice their belief that they can only be free when alone. It is a card of support for each other's inner child in its way of honest expression in the material world and the realm of physical pleasures.
Career
The Princess of Wands will show up in a career reading when a person needs to pursue their talents without compromise, and speaks of our ability to ground our ideas and bring them to life. It breathes in life into new projects, approaches that no one has thought of, and opens doors that we never thought about in the past. On the other hand, it shows frustration in the wrong workplace or any surroundings where we've been led to by choices that didn't come from the heart. A chase for status, leading positions or success has little actual accomplishment here as the inner child wants to come out into the real world.
Health
A bit mischievous but uncompromising, this card brings in the healing energy of the element of Fire and might bring a high fever along with it. It speaks of cleansing mechanisms that are true to our core and not thought about as much as lived through. The Princess of Wands requires grounding, movement, a routine that allows us to stay in touch with our energy, and something spicy or hot to eat every day as an antiseptic and a boost to the metabolism. No matter the anger or frustration that might get out of our system, it should be let out as a cleansing force that took a long time to set free from our body.
Princess (Page) of Wands Reversed
When the Princess of Wands is in its reversed position, it calls for a spiritual or solitary path and typically stands for the level of maturity we are meant to come to, before achieving big things through plans we already made. It reminds us that we must slow down, gather information thoroughly, and be responsible enough to ourselves to understand that we must accept any sacrifice or price paid for the cause that is big enough.
Princess (Page) of Wands Time Line
Past - With the Princess of Wands waving to us from the past, we can see the childlike efforts we put into certain things to manifest them. This will definitely give us perspective today. We need to see what we have done so far, the first impulse we listened to and the path we followed to get where we are, so that actual pride and the sense of self-worth might kick in. On the other hand, it might show that we desired something else but succumbed to the frustration and the lack of support from our surroundings, and need to be reminded of the energies and actual personal desires we carry within.
Present - A card such as this one set in the present shows a state of mind that is individualistic, just a bit stubborn and uncompromising (as it should be in our healthiest expression of Self) but still inexperienced in relating and showing itself to the rest of the world. Energies need more balance here, as if the feminine is too active and boyish, and the boyish not yet grown to be responsible and calm around others. A person needs more protection and to allow themselves to be childish and free, rather than giving in to restrictions of the cause just because their behavior might be judged.
Future - Announcing a time when we'll feel the inner authority burst into action, this card shows that we will soon be ready to take action and do what it takes to succeed. It reminds us that truly passionate ideas lead us away from social affirmation and meeting norms that we don't really depend on in a greater sense. A return to the inner child we are meant to love and support unconditionally, it shows the point of breaking where we are ready to take control over our life and make ourselves happier.
All Tarot Cards