Tarot Card Meaning, Love, Reversed & More
Queen of Cups Tarot Card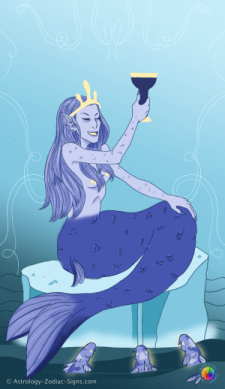 All Tarot Cards
Queen of Cups Meaning
Carrying memories of the deepest love and support we hold in our heart, the Queen of Cups may be represented as the force of life itself for she is the energy of Water holding the light as we grow. She is compassionate and kind, the one to always understand the other side of the story, and with enough empathy, she teaches us that our contacts can be clean and loving. As the queen, she stands for our ability to ground the Divine Love from the heavens, showing us that each human is capable of giving and receiving to some point, and that our tender Soul isn't defined by the walls we build to protect ourselves. Her closed cup represents her emotional wholeness and her ability to protect her vulnerable self when protection is needed. Only a few will enter her personal world and tests could be many, but there is a secret garden there to be found where the flow and the exchange never stop. This is an extremely supportive card to speak about our own state of heart, for it shows that we have found a way out of an ordeal, and now we understand, have faith, and we are prepared to give love over any problem that might arise.
Love
Standing for the deeper intimacy and the feeling of home, the Queen of Cups is a wonderful signal in any love reading as she represents closeness between two Souls. As if they have met before, these individuals can foresee each other's needs and share a contact that is worth having, for however long it might last. She may announce a long-term relationship if there is mutual understanding of her principles, or show that one person is committed to holding on to the loving nature of the contact, while the other needs a motherly image to lead them out of their shadows. Whatever the case, these individuals came together for a reason.
Career
The Queen of Cups may seem to be too much of a cozy familiar feeling to be seen as strictly professional and organized, but her people skills are uncanny. She has a way with words and sees how certain atmospheres and stressful issues affect those in a team. The power of connecting with others shouldn't be devalued, as it represents the most powerful asset one could have when working with other people. This card is an excellent pointer for healers, astrologers, and shamans, as well as all those who work with people, in human resources and lead the way for those in need.
Health
Carrying the healing energies of pure love, the Queen of Cups is a helpful person who will resolve our issues, someone to show that we are not alone, and represents deep emotional healing as we protect our hearts from the world. When she is set in a health reading, she may show that a person isn't ready to open up to heal, and bottles too many emotions inside instead of letting them out in the open. It also represents a doctor, healer, or anyone who shares in these emotions who is there to be relied on every step of the way.
Queen of Cups Reversed
The reversed setting of the Queen of Cups is often too passive, attached and inconsistent, or unable to dig out confidence to make a move. This is a sleeping beauty, a queen without authority, or the point where we don't see why our emotions won't stay under our own control. In its most negative setting, it stands for manipulation and abuse of emotional power, for one understands deep wounds and motives of others, but uses them for personal gain. Even when this is the case, such behavior is an invitation to respond and follow it as a signal that they are in need of human touch.
Queen of Cups Time Line
Past - With this card in our past, we are getting a clear reminder of love we received from our mother. It is the nurturing principle that led us to become dignified and loving individuals we are today. Her role is to remind us that each mother has this spark of love within, just like each child feels it below all other possible issues or problems in this primal bond. She is the essence of contact and stands in our past for us to know that we have always been loved and shouldn't doubt it today or any other day.
Present - Our present is colored by wonderful Waters of the Queen of Cups when we are ready to round up the process, heal, see the other side to the story, and show compassion to those in need. This is a wonderful card to have today, as it tells us we've evolved and have enough support to step out of our shell, no matter how tough and difficult the world might get. In a negative setting, it could point to our lack of initiative or clingy nature, but this comes out of our need to be tender with ourselves, the need that should be met at any price.
Future - Announcing motherhood, healthy emotional contacts and our ability to overcome our shadows and come to a clean spot where we understand our own feelings fully, she is the destination we all strive for in her purest manifestation. With this card in our future, we are approaching a time when things will flow, relationships will be cleansed, and we'll have a chance to connect in pure intentions and feelings with other people. She is our ally in our deepest human need – to belong.
All Tarot Cards