Tarot Card Meaning, Love, Reversed & More
Queen of Wands Tarot Card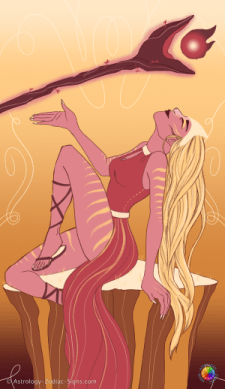 All Tarot Cards
Queen of Wands Meaning
Queen of Wands stands for a healthy connection of the feminine, patient, supportive and warm, with the initiative and strength given by the archetype of Fire that the suit of Wands belongs to. She is human and humane, the Sun set in feminine surroundings, and the one to give support to those around her who are ready to grow. She is respectful of herself first, dignified, and ready to leave another stranded if they aren't willing to take responsibility for their own doings and their own life. She is a kind leader, an authority with incredibly high goals and all the empathy needed to reach them with teamwork and using strengths and talents of those surrounding her. She sees her human resources clearly and the light in others is as obvious as her own. This card requires directness, stability and a dignified, generous approach, with enough understanding for another but even more respect for the Self. It is the love of Self, forgiveness for being only human, and the sense of leadership that is colored by togetherness, hope and a steady road to success.
Love
In a way, the Queen of Wands connects natures of the Sun and the Moon, this making her love stories serious, mature, and filled with respect and mutual understanding. The rest of this suit is turned to passion, but this card incorporates the vulnerable inside the instinctive, passionate and uncontrolled, and brings balance and stability to each relationship in our lives. It might show single individuals that the person they have been looking for is already a part of their life, or that they are in a phase of transition to "adulthood" where they no longer seek the same kind of excitement from a bond. Long-term relationships have an ally in the Queen, as she wouldn't give up on her a goal of a mature connection and knows where healthy boundaries lie.
Career
A career reading recognizes the Queen of Wands as the person in the position of power that will join those working below her in the mud if necessary, just to show that she understands that we are all human. She is an excellent and respected leader, and shows the ability of the person to relate to employees and coworkers in all positions, to powerful authorities with the same respect as those who are just starting out. The balance held here takes more than experience. It involves a fine upbringing or a person to overcome troubles in her family tree, being grateful even to some truly demanding personalities who bruised her along the way.
Health
With the Queen of Wands involved in a health reading, we can be sure that help will come through other people and our own ability to recognize value in things around us. Able to see what is right and what is wrong, our moral imperatives might just save us if we have a problem to deal with. We can put our trust in the hands of those who are in leading positions, authorities, doctors and healers of all sorts. The life force in this card is strong and in general, it speaks of a balanced lifestyle that gives enough room for rest and metabolizing experiences in ways that don't leave deep scars to one's physiology.
Queen of Wands Reversed
Queen of Wands is set in a reversed position when we must find balance in order to succeed. It won't tolerate selfishness or deeds done to chase for dishonest goals or money, just for the sake of it. This lady wants us to follow our passion calmly, confident about our ability to achieve what we came here to achieve. This setting shows that we are doubting ourselves too much, believe in too many things that aren't our inner truth, and that we need to check on our moral imperatives before moving any further.
Queen of Wands Time Line
Past - Queen of Wands shows in our past speaking of good guidance and the way we have handled certain situations, dignified and empathic enough, aware that we are good enough just as we are. This card returns us to the core of personal value that the image we wish to show is based on, of good deeds we do out of common sense and the moral imperative to help our own inner world. This is a selfless deed we chose to do, sharing our blessings with those willing to share our cause.
Present - This card comes in a time of stability, when we are meant to stay in position rather that succumb to anyone's influence. It protects us with its balanced atmosphere, reminding us of the personality we wish to nurture and the incredible individual we already are, when we are being ourselves. Its message is often there to keep us away from listening to ill advice or manipulation, to stand our grounds and remind ourselves of the constant touch with our creative power that we need to hold on to in our pursuit for happiness.
Future - If the Queen of Wands is your future ally, she brings steady and logical success. There is a line of authority in her understanding, and as soon as we do what we need to get done, we will reach our advancement and new positions. Things develop with ease, moving forwards in a natural pace, and we shouldn't be too worried about the outcome. The clarity of the dignified approach of this card reminds us what we are seeking, and that we must cleanse our world of toxic influences today, so we can move in tune with our own heart.
All Tarot Cards