Yearly Aquarius Horoscope for 2018
2018 Aquarius Horoscope
Spirit: Planning, Optimism, Internal, Giving.
Color: Yellow.
Places to visit: Germany, Israel, North Pole.
Things to learn: Aikido, Tango, Theory of Relativity.

The General Feel
Slow planets seem to be less interested in large movements in your life and it is possible that this won't be such a big year in lives of some Aquarius representatives. Still, Jupiter in your tenth house has ten months to rise you high and make you see who you wish to become, and you will find yourself learning, growing, and expanding in your profession as much as your inner emotional world. As if you were the one born under the lucky star, your accomplishments will come with a little more ease. Still, there is something off in your set of expectations that makes it impossible for you to hold on to any kind of focus even though you know you should.
Authorities could change and people you have a lot to learn from could enter your life. Love stories are possible in your workplace but also your dreamland that is rich and deep, as if all of your subconscious content is pushing hard to get out. This is a time when your sign is about to clarify, cleanse, and clear up messes made in the past with a lot of ease, letting go of old patterns that have become obsolete or unworthy of your deep inner world.
The Greatest Challenges
Warm months of summer will be extremely hard on you and you will feel the negative impact of Mars in retrograde motion more than many other signs, especially when the reign of Leo begins in July. Without a clear focus, your energy will disperse and you could make too many rash decisions, being too proud to let go of your ideas as you discover some of them simply don't work. Allow the world to show you the way and don't try too hard to go against circumstances you cannot change.
The Greatest Rewards
This time around, your superiors and authority figures will be your greatest support, as well as parents and family members with vast experience and a big heart. Whatever happens, you will be protected by higher forces and invisible frontiers that never allow your world to fall apart, however tough life might get.
Physiology and Body
Your stomach is truly sensitive and every experience has to be thoroughly metabolized to be processed, and leave your body and your emotional world free of residue you cannot get out. Holding on to too many things at once could lead to problems with your colon, your intestines, and your entire digestive system. Dreams are a fine way to vent and let the content out. Now that Saturn is in your twelfth house, you could find yourself emotionally and mentally unstable, depressed, or prone to dark thoughts that never seem to end. The easiest solution might be to relax your body, breathe, and see what your mind and heart will be able to handle after you do.
Love and Family
Focused on the family you are about to create, the usual liberal view on life might be a bit different in 2018. The seriousness of this time and the questioning of your actual dreams could lead to marriages that aren't as stable as they seem, as well as all sorts of compromise that won't make you much happier in the end. Honesty is the only weapon that allows you to win in battles ahead of the road, and tenderness should be incorporated in every word you say and every activity you turn to. By the end of January Venus will move into your Sun sign, bringing new, sudden feelings and partners into lives of single Aquarius representatives. Still, the greatest emotional impacts comes in June when you could meet someone you cannot resist. This is a relationship that tends to fill you up with frustration that could become destructive towards love itself. Give love and don't expect much in return. This should help you keep your focus on true value and get what you wanted to, driven by laws of the Universe.
Work and Finances
Turning to shady businesses and unsure choices might not be your best option at the moment. This is the time to work in secrecy and work on projects that need careful planning, but without a moral structure that is clearly set, they could all be in vain. You have someone to guide you, show you the way, and support you in the toughest of professional decisions. Value relationships that help you set up a foundation needed for your bright future. The more you struggle with your identity, anger issues and your emotional world, the harder it will be to keep your distance and separate work from all other things in life. Stay creative and childish enough to see the good in every exciting situation coming your way.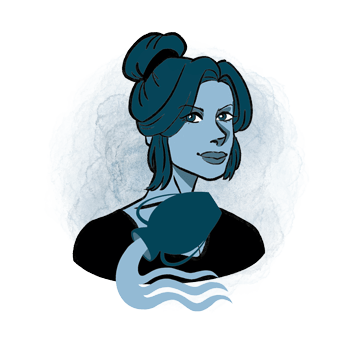 Additional Information
Aquarius - traits, personality, dates, characteristics and astrological sign information.
Aquarius Horoscopes - daily, weekly and monthly Aquarius horoscopes..
Aquarius man - information and insights on the Aquarius man.
Aquarius woman - information and insights on the Aquarius woman.
Aquarius compatibility - the compatibility of Aquarius with the other astrological signs in love, sex, relationships and life.
Aquarius history - the history of Aquarius and the stories behind it.
Aquarius symbol - images and interpretations of the Aquarius symbol and ruler.