Yearly Pisces Horoscope for 2021
2021 Pisces Horoscope
Spirit: Trust, Sails, Security, Background.
Color: White.
Places to visit after the pandemic: Papua New Guinea, Easter Island, United Kingdom.
Things to learn: Synchronized Swimming, Homeopathy, Graphic Design.

The General Feel
In lives of Pisces, 2021 is something like a teaser for 2022 and for what can be expected in the future. A lot of promise is hidden behind hard work and structures, norms, and systems that you have respected so far. Not only is your Sun\'s alternate ruler Jupiter moving to the sign of Neptune\'s exaltation, but it will also reach the sign of Pisces in May and stay there until the end of July. The inner voice is calling, the sense of mission is in place, but time is still necessary to set free from ties of the past and emotions left by trauma or dark places in your world.
Separations of all sorts are to be expected, especially in the first couple of months of the year, but things are easier now that you remember there is a sense of purpose to rely on. This is a year when prosperity comes from the support of others, your ancestors, people from the shadows and those who never reveal their identity. The image could remain unclear and idealism is possible as well as ideas that take you away from reality and into alternate worlds that spin out of control. Pay special attention to your body, grounding, and the food you take in, so you can stay in touch with things that are controllable and enjoyable on the material plane.
The Greatest Challenges
The end of summer brings in disappointments and a lot of stress over relationships that turn sour. This is a time when high ground won't solve the issue, and what you truly need is order and the ability to see the balance that is already established, as it is. Realistic views are tested throughout autumn months up until December, making your mind intensely active and distancing you from your true abilities and the real world. Keep your feet on the ground, care for the financial security, and stay firm in structures that bring a sense of peace if existential fears kick in along the way.
The Greatest Rewards
Beneficent energies are shining upon you however stressful outer circumstances may become. It is the right time to release past trauma, deal with matters that led to deep disappointment and negative beliefs and focus on talents that allow you to blossom. Although times will not be easy and expectations of the world are still a lot to bear, you will swim through any ordeal ready to resolve the emotional setting that led you here in the first place.
Physiology and Body
Pay attention to the overall balance of the blood, take iron rich vegetables and spend enough time in touch with nature to boost the oxygen supply. You need deep forests, deep breathing, time spent away from large cities and large groups of people. Stay away from medicaments that are not well-researched, as well as alternative solutions that are shady and might bring out things that you are not yet ready to commit to. What is not addressed and seen with all its emotional messages will grow, and this could help spread conditions that have a psychosomatic foundation if you don't pay attention to them. Stay balanced, drink a lot of water, and use deep energetic work to reach the core of any issue that may arise.
Love and Family
This is a time for healing that will require a lot of tenderness, close contacts, understanding and solitude. Family matters could stress you out if people around you are too loud or intense in their struggles, and some boundaries will need to be set to preserve your own peace of mind. Give a helping hand but do not force yourself to give what you don't have enough of yourself. Take care of your own needs before attending to someone else\'s and stay aware of the line of responsibility that should be respected in any system you belong to.
Romance and love could blossom, but only if there is undisputable equality between you and the other person. Balance is the basis for anything healthy and supported at this time, and balance will be hard to maintain, especially once the summer ends and struggles arise in close bonds. Stay in touch, listen closely, and try not to get too excited about the person standing in front of you. They are only human, just as you are, and doors between you must open simultaneously for the energies to flow both ways.
Work and Finances
The end of spring and summer months may bring instant prosperity, but overspending could become a serious issue if you are not careful. Think about the future and plan ahead. Holding on to short-term solutions and parttime risks and investments is not your best option. You need structure, insurance, papers to be signed and sealed instead of letting information float in the air. This is also an excellent time for professional growth, learning, new courses and exams, as well as mastering foreign languages to meet the standards of the market you work in. Think outside the box and don't be afraid to implement modern solutions while keeping your expectations low and your foundation firm.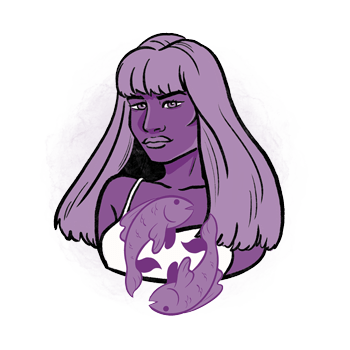 Additional Information
Pisces - traits, personality, dates, characteristics and astrological sign information.
Pisces Horoscopes - daily, weekly and monthly Pisces horoscopes..
Pisces man - information and insights on the Pisces man.
Pisces woman - information and insights on the Pisces woman.
Pisces compatibility - the compatibility of Pisces with the other astrological signs in love, sex, relationships and life.
Pisces history - the history of Pisces and the stories behind it.
Pisces symbol - images and interpretations of the Pisces symbol and ruler.